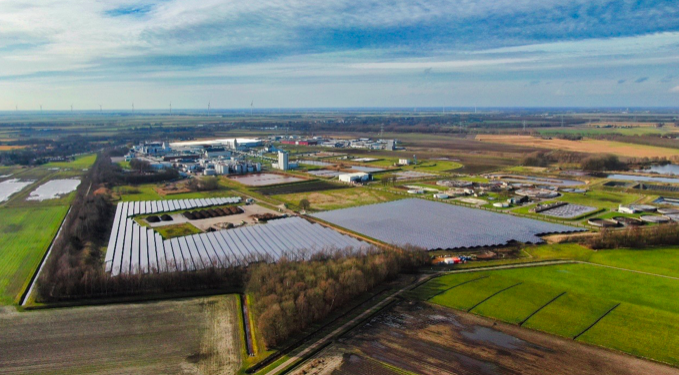 LONGi, the world leading solar technology company, has announced a cooperation with PowerField, its partner in the Netherlands, to deploy 15.49MW of its Hi-MO 4 modules at Ter Apelkanaal, one of three production locations of the Dutch potato starch producer Royal Avebe. As a result of a joint collaboration between Royal Avebe and PowerField, a 10-hectare park has been built and, exclusively equipped with over 34,000 LONGi modules, was connected to the grid earlier this month.
Royal Avebe's sustainable ambitions are clear: to save energy and make the energy it uses greener. It is estimated that the capacity of the Ter Apelkanaal park will provide for the electricity needs of more than 4,000 households annually and reduce CO2 emissions by nearly 8,000 tons. 
"We have several large factories surrounded by a lot of land, but we didn't make use of all the space," commented Barbara Huneman, Royal Avebe's director of Energy & Public Affairs. "So we could easily build a solar park there, our goal being to install solar panels at all our production locations and offices. In this way, we are working towards 2050, the year in which we have to be completely CO2 neutral."
Ter Apelkanaal is the second project that PowerField is operating itself. "It is really good that we can transform land that is not suitable for agricultural use into a solar park. In this way we make good use of the available space and help organizations such as Royal Avebe with their sustainable plans," added Ivo van Dam, PowerField's Chief Technology Officer. "The cooperation with LONGi was very smooth. Even considering our high quality and CSR standards, they were able to meet our requirements with ease."
"LONGi is delighted to cooperate with PowerField to develop sustainable and green solar parks in the Netherlands. We have made significant progress in the DG (Distributed Generation) market with our Dutch partners since 2018. We are confident in supplying our state-of-the-art modules to the owners of large-scale ground-mount projects and together move towards the country's sustainable development goals," commented Dennis She, Senior Vice President at LONGi Solar.
As of the end of 2020, LONGi's market share in the Netherlands stands at an impressive 20%. The Dutch market is typically dominated by DG and, with increasing annual demand of 2.5~3 GW, it has a mature structure and ranks among the top five markets in Europe. The Netherlands is an indispensable part of LONGi's presence in Europe, underlined by its European warehousing center being located in Rotterdam, home of Europe's largest seaport.