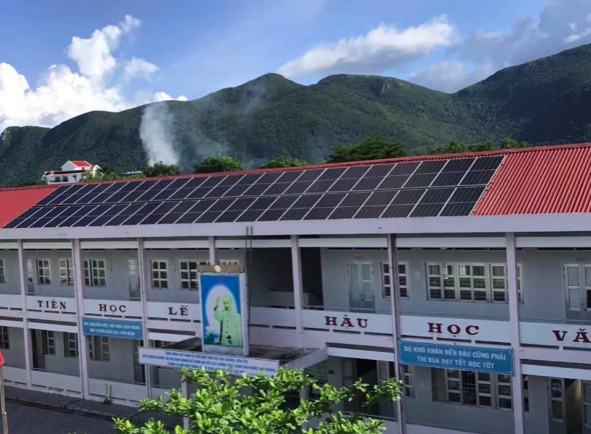 LONGi Solar is pleased to announce that it has donated solar modules for a 20.2 kWp rooftop system at Vo Thi Sau High School in Ba Ria, Vung Tau Province, through its distribution partner in Vietnam, PowerTech Engineering and Trading Co., Ltd., who provided free installation support for the project.
Estimated to have a cost of over 300 million VND, the project was initiated and commissioned by Ba Ria – Vung Tau Power Company (PC BR-VT). This is the second rooftop power project installed free of charge by PC BR-VT for schools in Con Dao district.
LONGi's APAC Sales Director, Jia Chao, said that in addition to promoting green energy through economical and reliable solar products, the company is also committed to fulfilling its social responsibilities by contributing towards rooftop project developments at educational locations.
"The 20.2 kWp rooftop system will not only help the school save on monthly electricity bills, but also create greater awareness among students of a modern, intuitive solar application model," added Mr. Pham Tri Cuong of PowerTech.
At the project's inaugural ceremony, Mr. Tran Thanh Hai, Deputy Director of BR-VT PC, commented that the project would help students gain practical experience of clean energy, while contributing at the same time towards the spread of knowledge to the community at large on the importance of using clean energy, which is not just economically advantageous, but also plays an important role in environmental protection.