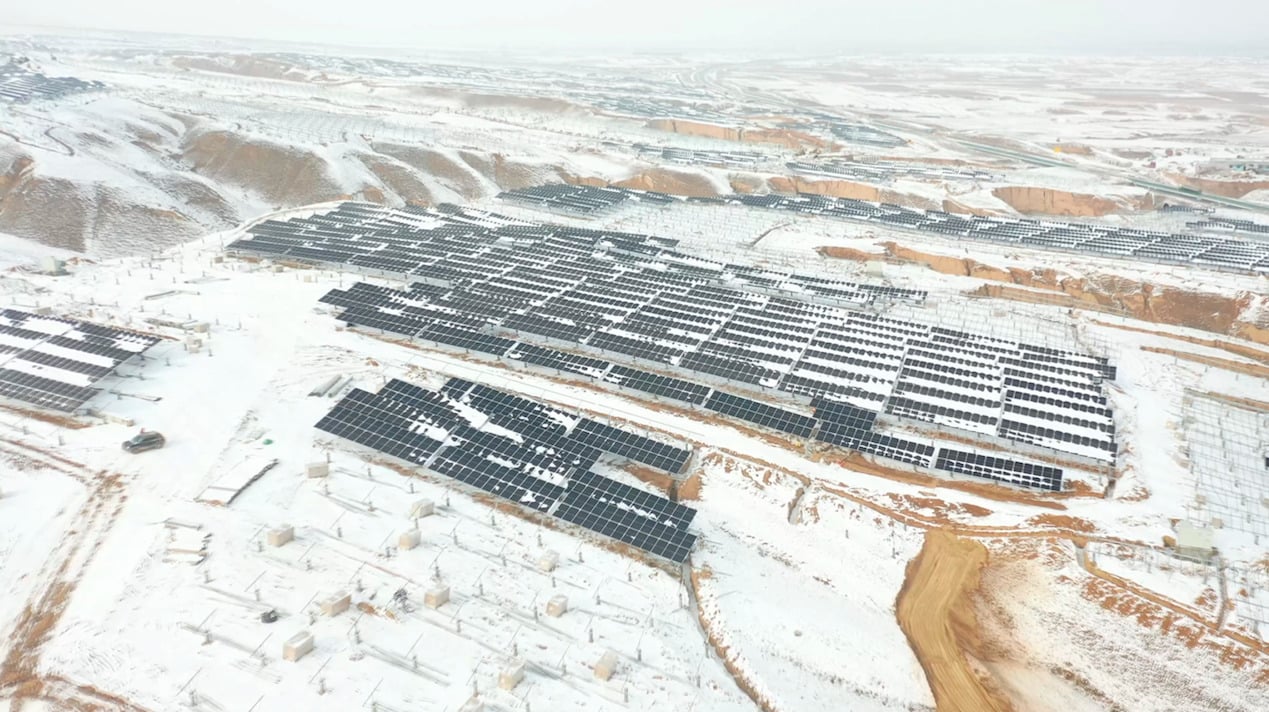 LONGi, the world leading solar technology company, has announced that it has exclusively supplied 200MW of its Hi-MO 5 bifacial modules to the China Energy Engineering Group's Northwest Electric Power Test Research Institute for a solar project in Ningxia, China. The project, developed by the Ningxia Zhongke Ka New Energy Research Institute, has already entered the construction and installation stage.
With rapid volume production of Hi-MO 5 series modules at LONGi's bases at Xianyang in Shaanxi Province (5GW) and Jiaxing in Zhejiang Province (7GW), the new-generation product, based on M10 (182mm) standard gallium-doped monocrystalline wafers, has quickly entered the stage of large-scale mass delivery and has gradually begun to be widely deployed at numerous PV projects.
The topography of the project in Ningxia involves terrain undulation which limits rack length, with each rack only able to carry a reduced number of modules (2P fixed rack, 13×2). The 182mm-size Hi-MO 5 rack used in the project has a length of 15m, which reduces both rack and pile foundation costs as well as enhancing ease of construction.
In addition to the terrain undulation which impacts on maximum power generation, the tilt angle, the height of the module from the ground and the system capacity ratio are all important factors affecting the power output of the module. The Ningxia project adopts a 15° tilt angle design and uses 535W Hi-MO 5 bifacial modules with an efficiency of 20.9% to maximize installation capacity.
The EPC company reported that, although the size and weight of a Hi-MO 5 module has been increased to a certain extent, it can still be installed smoothly and overall installation efficiency has been improved, ensuring on schedule connection to the grid. In terms of electricity, the project uses Sungrow's 225kW string inverter with a maximum input current of 15A, which is perfectly adapted to the 182mm-size bifacial module and brings cost savings on cables and inverters.
Based on the larger cell (182mm) and innovative "Smart Soldering" technology, the LONGi Hi-MO 5 module made its debut in June 2020 and, after a short ramp up in production capacity, cell efficiency and production yield achieved excellent levels comparable to Hi-MO 4. At present, the capacity expansion of Hi-MO 5 modules is progressing steadily and is expected to reach 13.5GW in Q1 2021.
The design of the Hi-MO 5 takes into account every parameter in each link of the industrial chain. During the module delivery process, overall installation efficiency is significantly improved, with the LONGi team able to complete delivery of this project in less than three months.