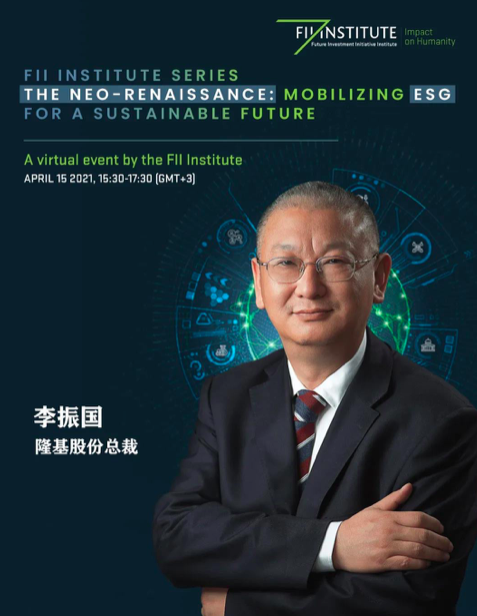 On April 15, the Future Investment Initiative Institute (FII) organized a series of online events on the topic of "The Neo-Renaissance: Mobilizing ESG for a Sustainable Future". This event brought together leaders from all walks of life to discuss ESG (Environment, Social and Governance) issues. Mr. Li Zhenguo, LONGi Founder and President, was invited to attend the opening ceremony and share his experience.
​​​​The FII is an international platform for expert-led debate between global leaders, investors and innovators with the power to shape the future of global investment. It is focused on utilizing investment to drive growth opportunities, enable innovation and disruptive technologies, and address global challenges. ​
Mr. Li said that ESG is a key area of corporate management and the core content of corporate branding. The attitude, ability and achievements of an organisation to solve environmental and social issues constitute the proposition and value of its brand.
LONGi adheres to its concept of "Solar for Solar", acting as the portal and advocate for clean energy. In March 2020, LONGi officially joined the RE100 initiative launched by the Climate Group and committed to achieve 100% renewable energy use in its global operations by 2028 at the latest.
"I believe that in the era toward zero-carbon, more and more companies will plan for the sustainable development of low-carbon energy consumption in terms of ESG," Mr. Li continued. "It is an honour for LONGi to be the designated supplier of photovoltaic solutions for the China Pavilion at Expo 2020 Dubai, the greatest affirmation of our efforts over the past 21 years. See you in Dubai in October."
In a post-pandemic period, global economic recovery has naturally become a hot topic, and concerns have been raised about ESG indicators, especially in emerging markets. These indicators have also become an increasingly important consideration for investors. The plan for peaking carbon dioxide emissions before 2030 and achieving carbon neutrality before 2060 make a solid foundation for ESG.
LONGi successively joined RE100, EV100, EP100 and SBTi in 2020. Through the target management of these four international initiatives, the company promotes its own intelligent digital, green and low carbon development, its continuous innovation in technology and scientific methods injecting "green impetus" into global sustainable development.