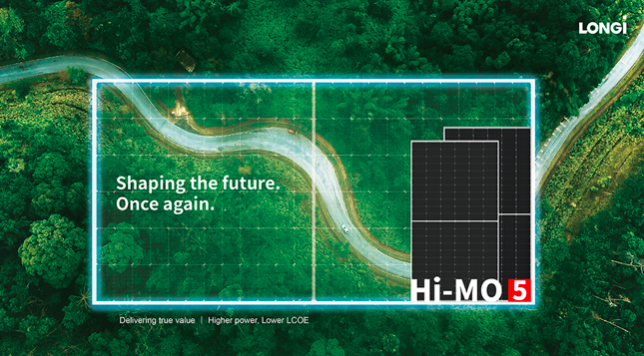 LONGi's Hi-MO 5 series module has received a "Simplified Carbon Assessment" certification from Certisolis. Complying with French carbon footprint standards, the company's entry into the French solar market is now already well underway.
The new certification adds to the current CFP approval for LONGi's Hi-MO 4 series products, allowing customers in France to apply for subsidized electricity tariffs under the CRE4 framework for projects using the company's high efficiency modules.
As the agency in France responsible for issuing ECS certification, Certisolis ensures the safety of projects submitted to tender through rigorous inspection of modules, their sources and relevant performance calculations.
The excellent performance of the Hi-MO 5 series module has been recognized by certifications from numerous worldwide authorities. Offering up to 540Wp performance with gallium-doped, M10 (182mm x 182mm) wafers, half-cut monocrystalline cells and 9BB (busbar) "Smart Soldering" cell interconnect technology, the module provides higher power, long-term reliability and an efficiency of over 21.1% to achieve sustainable development.
"We are very excited to receive the carbon footprint certification from Certisolis, which is a validation of LONGi's leadership in green production," said Dennis She, Senior Vice President, LONGi Solar. "LONGi always advocates the concept of using clean energy to produce clean energy products and we take sustainable development as a core measurement for business decisions. The successful certification of the CRE carbon footprint is affirmation of our green commitment to the whole process of production. In the future, we will continue to improve production management and manufacturing processes and further reduce the carbon footprint of our products."
LONGi is continuously providing green energy for all industry sectors with its solar energy technology. At the 24th United Nations Climate Conference, the company announced the green development concept of "Solar for Solar" and became the first Chinese solar energy company to join all three of the RE100, EV100 and EP100 global initiatives.
With China aiming to have reached the high point of its carbon dioxide emissions before 2030, with a view to achieving carbon neutrality by 2060, decarbonization initiatives provide major opportunities to accelerate technology innovation and industrial upgrades in the PV industry. The verification of the CRE carbon footprint represents recognition of LONGi's success in its continuous innovation and green manufacturing in the renewable energy industry. The company will continue to deliver against its corporate social responsibilities, further developing its "Solar for Solar" concept of manufacturing products using 100% clean energy in order to accelerate progress towards carbon neutrality.