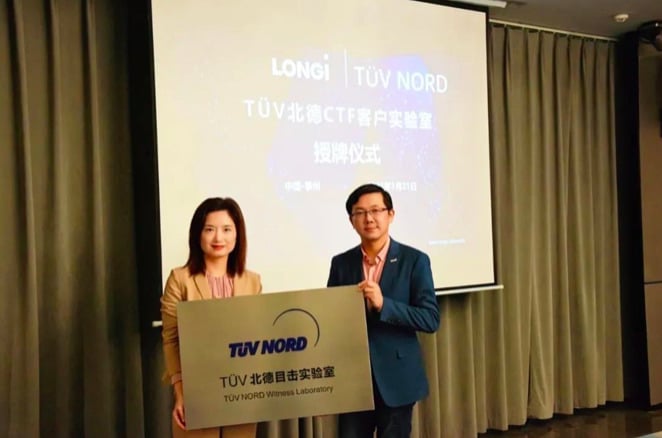 LONGi has announced that it has been awarded CTF (Customer Testing Facility) witness laboratory recognition by TÜV NORD for its Taizhou module laboratory in Jiangsu Province.
Dr. Lv Jun (right), Vice President of LONGi Solar, received the award plaque from Ms. Angella Xu (left), Senior Vice President Renewables of TÜV NORD GROUP
CTF witness laboratory status means LONGi is now able to conduct on-site testing on its products, in accordance with industry standards, using its own testing resources. This will shorten the certification and testing period for new products and materials, reducing associated costs and enabling more rapid response to market changes, while also significantly improving certification efficiency and customer service quality.
Dr. Lv Jun, Vice President of LONGi Solar commented, "LONGi obtaining CTF witness laboratory certification from TÜV NORD underlines recognition of our lab testing capability and management competency. As an industry-leading PV manufacturer, LONGi adheres to technological innovation, continuously increases R&D investment and creates high-performance products to help maximize value for its customers and partners. This is a great step forward in the relationship between both parties. We are hopeful that our collaboration with TÜV NORD will be further strengthened in the future and we will continue to meet customer demands by offering high-quality products and services."
Angella Xu, Senior Vice President Renewables of TÜV NORD GROUP and Vice President of TÜV NORD Greater China added that:"LONGi has made remarkable progress in promoting industrial upgrade through technological innovation. As a third party, TÜV NORD has already been in partnership with LONGi in many ways. We are delighted to be able to provide support for LONGi products in this process. After rigorously auditing the company's management system, environment, staffing and equipment qualification, we are convinced that the module testing laboratory meets the management standards of TÜV NORD. The certification confirms that LONGi has high competency in quality control and is also a symbol of an industry-leading manufacturing organization. We are looking forward to further technological exchange with LONGi and we will continue maintaining strict control on product quality to promote healthy development of this industry."