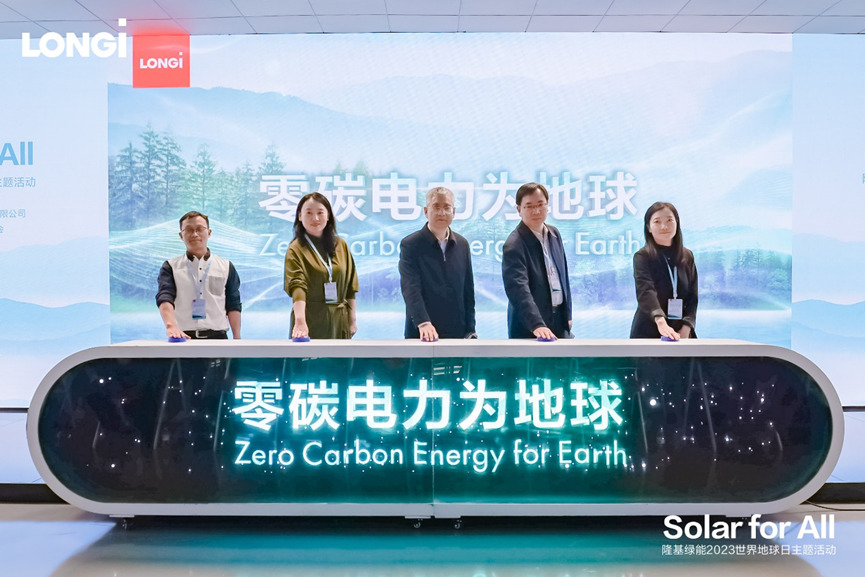 LONGi has unveiled its "Zero Carbon Energy for Earth" initiative on the 54th World Earth Day, joining hands with the All-China Environment Federation (ACEF) to host a 'Solar for All' themed event attended by representatives of the China branches of United Nations departments and international and domestic NGOs.
The initiative included the following action points:
1/the strengthening of scientific understanding and awareness of zero-carbon technologies such as photovoltaics.
2/increasing the use of zero-carbon power, so that under-developed regions have the opportunity for eco-social development.
3/increasing research and support for development of zero-carbon power technologies.
4/encouraging society as a whole to procure products manufactured using zero-carbon power.
LONGi vice president Li Wenxue commented that in the context of carbon peaking and neutrality, the zero-carbon energy represented by photovoltaics is now receiving unprecedented attention, with global issues such as mitigating climate change and the promotion of a green energy transition having become the subject of international consensus.
An estimate by IRENA forecasts that solar power will account for up to 50% of all renewable energy sources, meaning that the global installed capacity for PV power in 2050 will need to be 24 times that of 2018.
"The reduction in cost of solar PV products is dependent on growing manufacturing capacity and continuous technological innovation", added brand general manager Talisman Huo.
With affordable clean energy essential if UN sustainable development goals are to be achieved, the continued decrease in cost will be the foundation for energy equity on a global scale.
Over the past decade, LONGi has donated net-zero power solutions in many regions across the world, offering distributed PV products to local residents, schools and clinics.