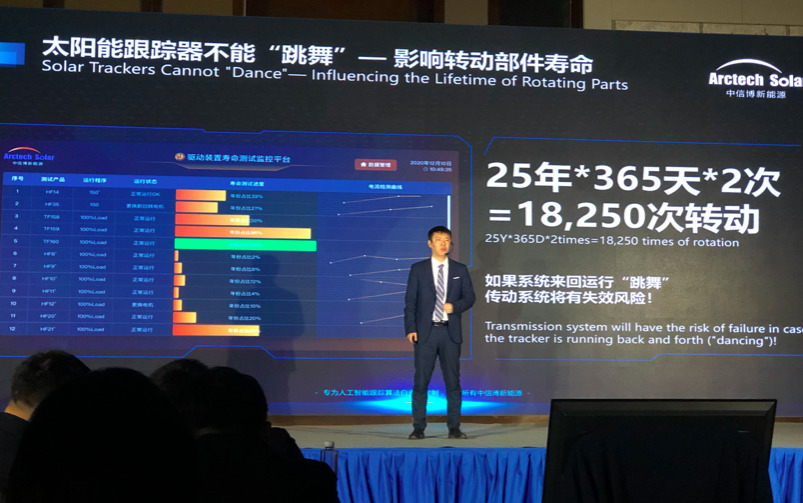 New technological innovations and industrial changes are already underway around the world, and a new "smart+" era is dawning for PV.
Arctech Solar has just released a white paper entitled "Next Generation of the AI-powered Solar Tracking Solution", giving details of a smart solution capable of delivering gains in energy output of up to 7%.
"Data in the white paper was obtained from our own simulation calculations and empirical power generation statistics. The third-party certification body, DNV-GL, confirmed the reliability of the published data and other well-known certification organizations, such as TUV Rheinland, TUV Süd and the China General Certification Center, have also validated DNV-GL's assessment report," said Bruce Wang, Arctech's CTO.
As a smart control technology, PV tracking can drive modules to always achieve the best power generation angle, thus significantly increasing overall power plant output. From the data obtained, a bifacial module and tracking rack combination can achieve the lowest cost of electricity in 93% of the world's countries, and is expected to be the mainstream combination for future power plants.
A suitable tracking solution is required to achieve a satisfactory increase in power generation. The conventional tracking control strategy, which generally maximizes the direct radiation received by the front side of the PV module, is only applicable to projects using mono modules, during sunny days or on flat lands. However, this simple strategy ignores both the different absorption characteristics of modules in different spectra and the influence of weather and landscape on solar radiation, making it difficult to achieve a significant power generation increase in actual PV projects – even having a negative impact on occasions.
According to the white paper, four strategies are integrated into Arctech's tracking solution. Adaptive to mono/bifacial modules, these strategies can easily cope with various terrain, climatic and topography conditions found in real power plant environments, supporting parameter sharing with DC side combiner boxes and string inverters to secure power generation gains for the plant.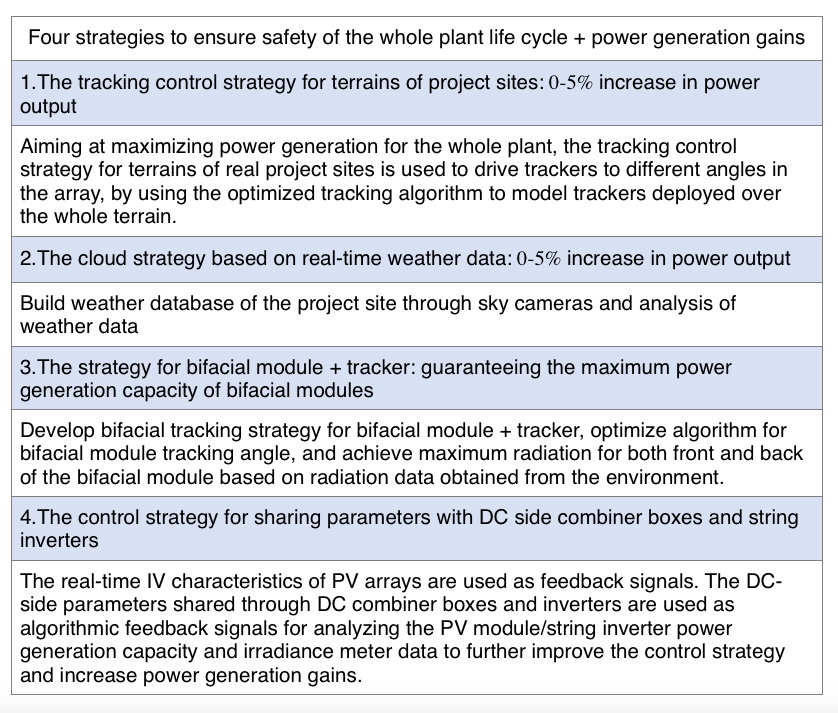 Bruce Wang underlined the evolution direction of the PV tracking solution: "In the future, to obtain more actual power generation data, Arctech will conduct field validation tests in multiple locations under different climate conditions, further localizing the control strategy. At the same time, we will also provide our customers with a tracker-based SCADA (data acquisition and monitoring system) to provide O&M advice to the local/cloud-based O&M staff of the power plant."
"Arctech has also introduced module cleaning robots into the overall PV tracking solution. Designed with additional control strategies, these robots help customers to obtain higher returns by resolving all possible O&M related issues. We are always looking to assist our customers achieve success with best-in-class products and services," added Guy Rong, President of Arctech's Global Business. "We will continue to focus on lowering LCOE, enhancing customer profitability and helping, through technological innovation, make feasible projects previously considered economically unviable. At the same time, we will ensure life cycle security and maximum power generation gains for solar PV power plants. At Arctech, we believe our customer's success is also our own."