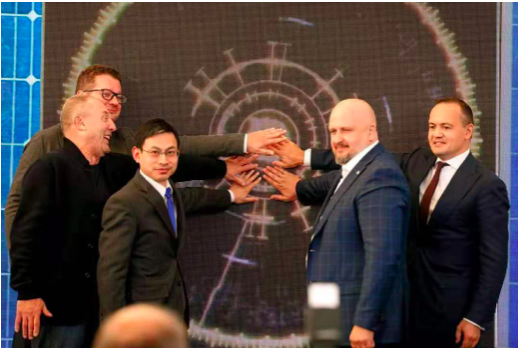 RISEN ENERGY has, in early November, inaugurated Ukraine's largest – and one of Europe's biggest – solar plants, together with DTEK. The inauguration ceremony attracted many distinguished guests, including the President of Ukraine. Maxim Timchenko (DTEK CEO) and President of Risen Energy Group, Xie Jian, also attended the ceremony.
The newly commissioned solar plant has a total capacity of 323MW. As the exclusive supplier of the modules for the Pokrovskaya SPP project, Risen Energy managed to deliver in excess of 873,000 solar panels on demand. The modules were placed in a disused, 437-hectare mining quarry which DTEK deemed unsuitable for agricultural purposes. The whole project construction was completed within only 8 months and its efficiency and quality has received recognition and praise from numerous sources.
Maxim Timchenko (DTEK CEO) said, "For DTEK, the Pokrovska SPP solar power plant is a quality milestone and proof of our growing expertise. With the experience we gained from our previous projects, we have built a professional team, procured and installed electrical equipment from the world's leading manufacturers and ensured the successful integration of the solar power plant into the country's energy system. "
"It's amazing that the project was finished and connected in such a short time," commented Risen's President, Xie Jian. "In January 2019, DTEK signed the exclusive module contract with Risen Energy for the construction of Pokrovskaya SPP. Risen Energy supplied all modules on demand, with the delivery completed ahead of time during a booming PV market period. Risen couldn't have finished that task without DTEK's support, understanding and trust."
It is expected that Risen Energy's annual module supply to the Ukrainian market will exceed 1 GW by the end of 2019. From the current performance and statistics, that forecast could be even more optimistic.