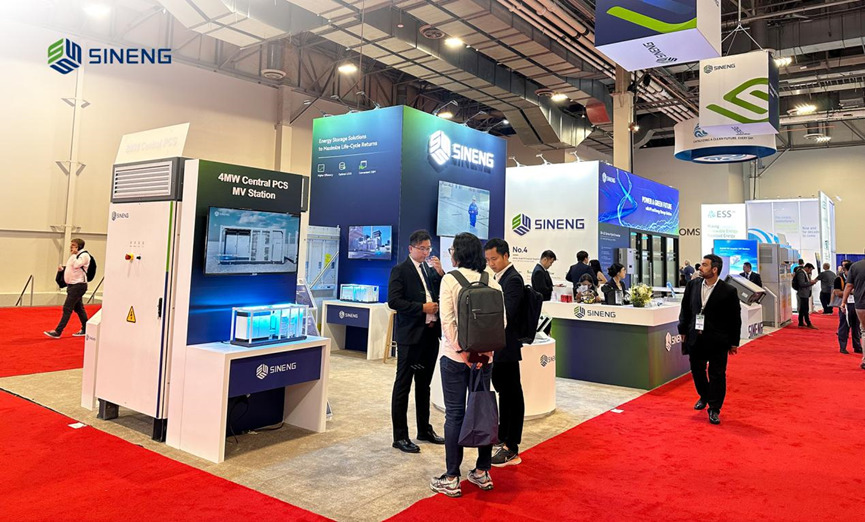 Sineng Electric has launched its next-generation product portfolio during RE+ 2023, aligning  with the US' ambitious objective of reducing the cost of solar energy by 60% within the coming decade.
Taking centre stage at the event were the company's 3.6/3.75MW central inverters, which ensure optimal LCOE with 2 MPPTs and a high DC/AC ratio. The product lineup extends to the 3.6/3.75MW MV turnkey stations, with the integration of a medium-voltage transformer. Engineered for ultimate convenience, the compact 20-ft container size and pre-assembled design simplify both the delivery process and susequent commissioning procedures.
The SP-350K-USH string PV inverter solution offers a great deal of versatility across a variety of scenarios. Equipped with 12 MPPTs and supporting up to 32 strings and a flexible DC/AC ratio, the product is tailor-made to meet specific customer needs, while its CEC efficiency of 98.5% ensures superior performance and higher yields.
A standout among products showcased was the 3.45/4MW MV turnkey station, made up of two units of 1.725/2MW central PCS and a transformer. The product is designed to be compatible with batteries above 306Ah and features phase change heat dissipation, NEMA type 3R protection rating and a PCS efficiency of up to 98.9%.
The attention of visitors also fell on the company's 2.4-4MW MV turnkey station, an assembly of 200kW string PCS. The incorporation of rack-level battery management translates into enhanced charging and discharging capacity, while the modular design simplifies on-site replacement, significantly increasing system availability.
Sineng chairman Qiang Wu commented: "Through our wide range of offerings which cater for diverse requirements, Sineng Electric looks to redefine industry boundaries and act as a driving force in the journey towards a more environmentally-conscious future."