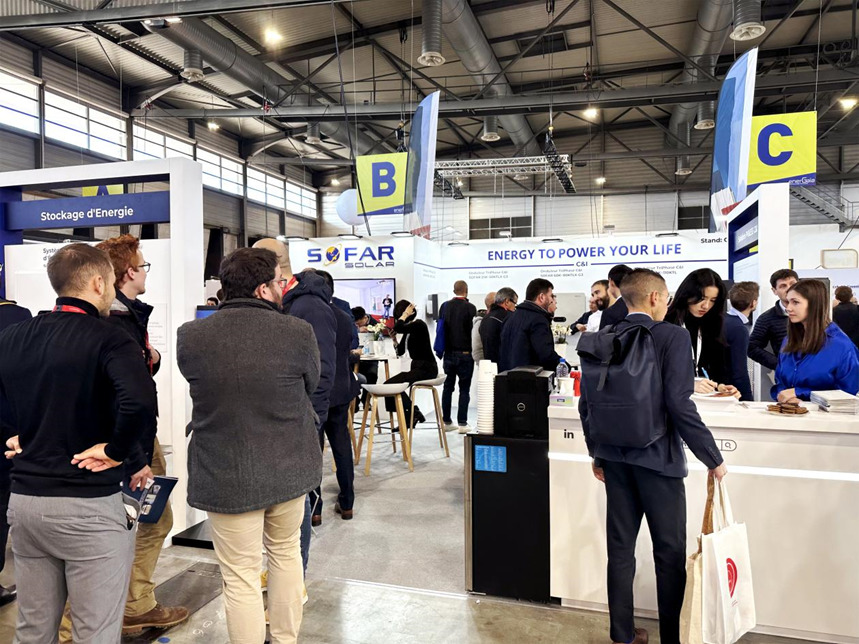 SOFARSOLAR has displayed its storage and high-power PV solutions at EnerGaïa 2022, held in the French city of Montpellier.
With Europe in the grip of an ongoing energy crisis, the increasing importance of residential energy storage has become clear, with SOFARSOLAR presenting its SOFAR 'PowerAll' as a reliable, future-proof solar-plus-storage solution. Adopting a fully modular design, the all-in-one system's battery capacity can easily be expanded, its lithium battery modules coming with an integrated management system and power control unit, through which the system can monitor the real-time status of a PV system and automatically optimize its power distribution. It also allows for the mixed use of new and old batteries, saving on the initial cost of investment.
Tailored for both residential and commercial storage applications for French customers, the company exhibited an energy storage solution incorporating an HYD 6000-EP single-phase storage inverter and a GTX5000-PRO low-voltage battery storage system. Its versatility enables the HYD 6000-EP to serve as an off-grid inverter when grid power is absent, an EPS function allowing for a seamless switchover from grid to battery power within less than 10ms, ensuring an uninterrupted power supply in the event of grid failure. Coupled with a GTX5000-PRO battery pack and an HYD 5K~20KTL-3PH hybrid inverter, this represents an excellent residential storage solution. The product incorporates an extensive range of operational modes for optimal performance, supporting parallel operation with up to 10 units and unbalanced load to maximize power generation. In combination with the BTS E5~20-DS5, SOFARSOLAR's modular and scalable battery storage system, the solution can be flexibly configured for residential and C&I applications.
Visitors to EnerGaïa were able to view the company's wide array of C&I PV solutions, ranging from 15 kW to 110 kW. Its most recent flagship model, the 60-80 kW, is lightweight while powerful, an excellent match for power-consuming C&I solar applications.
Utility-scale projects are addressed by the SOFAR 255KTL-HV PV inverter. Maximum efficiency of 99.02% combined with 12 MPP trackers and a built-in PID recovery function provides 24/7 protection for modules, with IP66 and C5-rated corrosion protection guaranteeing safe and stable operation outdoors.
"It is a great pleasure for us to attend EnerGaïa 2022, where we can introduce our tailored-made PV and ESS solutions to French customers," commented Allen Cao, head of SOFARSOLAR Europe. "Since entering the French market, we have built a solid team with highly experienced pre- and post-sales service professionals, who can now provide rapid local service. Building on our localized sales network, warehouse and servicing outlets, we look forward to expanding our presence in Europe and helping the region transition to clean energy," Cao added.