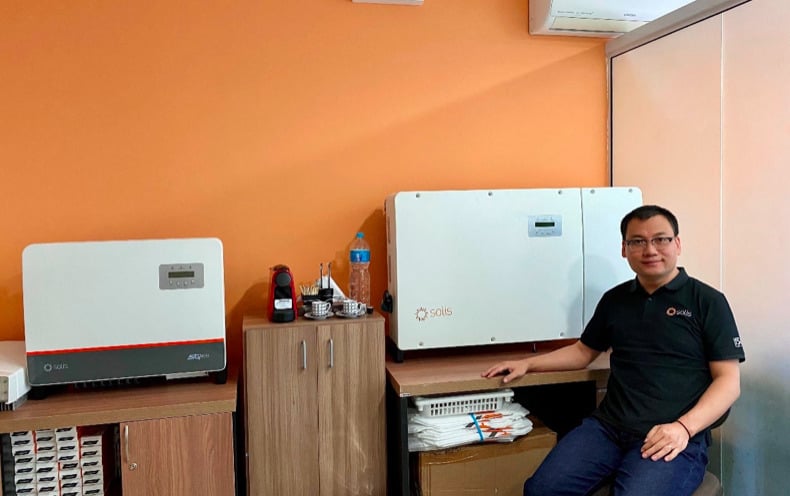 Solis is one of the top solar inverter manufacturers in the world, and a company that focuses on string inverter innovation. This year is Solis' 15th year of operation and the company's mantra has always been the same – 'Developing technology to power the world with clean energy'.
Why are Solis products so popular around the world? Desheng Lei, Solis' country manager for Brazil said 'we believe the most important things are quality and reliability, and they are always at the core of our innovations'.
How to define Solis' innovation?
Innovation for clients. Solis has enjoyed significant success globally, including in the US and Europe. 'Solis is successful because we are close to our clients, and we know what our clients need', said Lei. 'For instance, we are one of the first inverter suppliers to offer 7-10kw single phase inverters with 3 MPPTs and three phase inverters with 220V output in Brazil'. Lei also stressed that Solis always installs protective solutions in its inverters, including DPS and AFCI to prevent arcing. In terms of technical support, Lei continued: 'we built our technical support team and repair centres in Brazil to be able to support our clients locally and, where necessary, forward their requirements to our inverter development team in China. In this way, we can quickly respond to clients' requests and even change the design of the inverter!'
Innovation for partners. Lei went on: 'Firstly, we can offer more than 35 models of inverter in the Brazilian market, with a range of power from 700W to 255kW, making it easy for our partners to choose the most suitable solution. For single phase, Solis can offer from 700W to 10kW and for three phase, the company has solutions from 10kW to 110kW in Brazil. Solis three phase inverters always have more MPPTs than other alternatives, so the inverter will be safer on the DC side and is better protected against overvoltage and overcurrent. For utility scale, Solis has 1500V solutions of 125kw and 255kw, and we have already installed more than 100MW of our 1500V inverter systems in Brazil.'
'Secondly, training is very important in Brazil because the solar market is very new and, as a manufacturer, we need to teach clients how to choose and use suitable equipment, Solis offers several levels of training to all our partners in Brazil', said Lei. The company is also working on establishing a marketing structure: 'We have a strong partnership with Aranda, Intersolar and other channels and have also developed Portuguese language social media channels for the Brazilian market.'
Innovation for quality and reliability. The inverter is at the core of any solar system. Since a system can operate for 25 years, it is obviously important to choose a reliable brand of equipment. Solis inverters are equipped with the highest quality components and the company is the first inverter manufacturer to pass the PVEL (formerly DNV-GL) reliability test in the USA, having also won the TÜV Rheinland 'All Quality Matters' award for two consecutive years in 2019 and 2020. 'With our innovation and patents, all Solis inverters being offered in Brazil support at least a 50% overload, The Solis 75Kw inverter can even support a 70% overload, whereas the 255kW inverter is one of the biggest string inverters in the world – with outstanding performance at high temperatures, it is able to generate 10% more energy at 50 degrees', pointed out Lei.
Innovations for the Future and Beyond. For future innovation, Lei said Solis is committed to bringing more renewable energy solutions to Brazil and the world. 'We will bring our new hybrid and off-grid systems to Brazil and will also welcome the Solis Cloud system to the country during 2021. This system enables an inverter to be smarter and can also extend its applications with IOT and Big Data. In short, Solis aims to become an overall renewable energy management solution supplier to our global clients'.