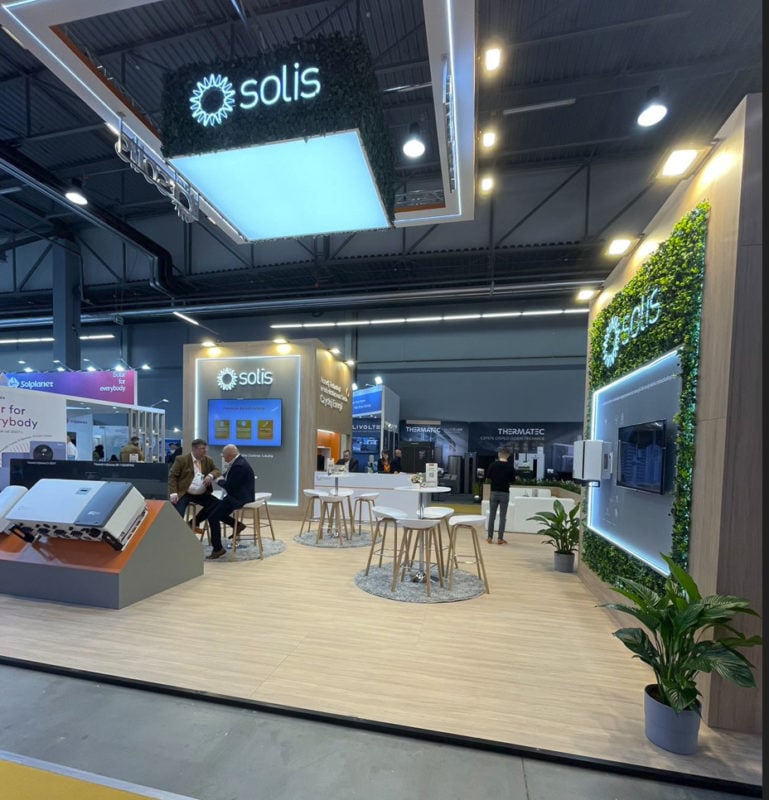 Ginlong (Solis) Technologies has showcased two of its updated inverter ranges at the ENEX trade fair in Kielce, Poland. Products on display included the 100K-5G-PRO series, for higher powered commercial and industrial (C&I) applications, and the 255kW-EHV three phase inverter for large area utility-scale systems.
The Solis 100K-5G-PRO inverter incorporates component and manufacturing upgrades that enable full compatibility with today's high power 182mm and 210mm PV modules, allowing greater capacity and a lower Levelised Cost of Energy – all from a smaller footprint. The comprehensive re-engineering of the PRO series has also helped overcome escalating supply-chain bottlenecks for a number of hard-to-source components.
Travis Snyder, Product Manager at Solis Europe, commented: "The Solis 100K-5G-PRO is a new generation of inverter designed to accommodate the growing adoption of higher powered 182mm and 210mm PV panels in the commercial and industrial market. The 5G PRO has an increased power rating of more than 600W, greater current capacity up to 18A per string, and eight Maximum Power Point Trackers, each with access to two groups of strings."
The 255kW-EHV comes storage-ready and offers a large single power capacity (up to 1500V and 255kW) with high Maximum Power Point Tracking (up to 12). It can also accommodate 24 string inputs and support 500W+ high power and bifacial solar panels.
Snyder added: "With an efficiency of up to 99%, our 255kW-EHV high voltage string inverter is designed to maximize PV power plant yields in the new era of high-performance large-area solar systems, while significantly reducing the Levelised Cost of Energy."
Reliability and efficiency in a wide range of climates is ensured by the Solis-255K-EHV inverter's IP66 classification and a corrosion protection rating of C5. Its unique and efficient heat dissipation design, combined with intelligent temperature control protection, can result in 5%-7% higher outputs at extreme temperatures than the competition -equivalent to producing an additional 50-70 kWh per MW per hour.
As Eric Zhang, Solis Global Sales Director, concluded, these enhanced product ranges come at an exciting time for the company: "In 2022 we were proud to be ranked third in worldwide inverter shipments by S&P Global, to win the Green Leadership category in the Asia Responsible Enterprise Awards and to be rated in the top two Chinese listed inverter companies. Combined with the enhanced performance, scalability and flexibility of our revised 5G-PRO inverters, we are confident of a continued rise up the industry rankings in 2023 and beyond."