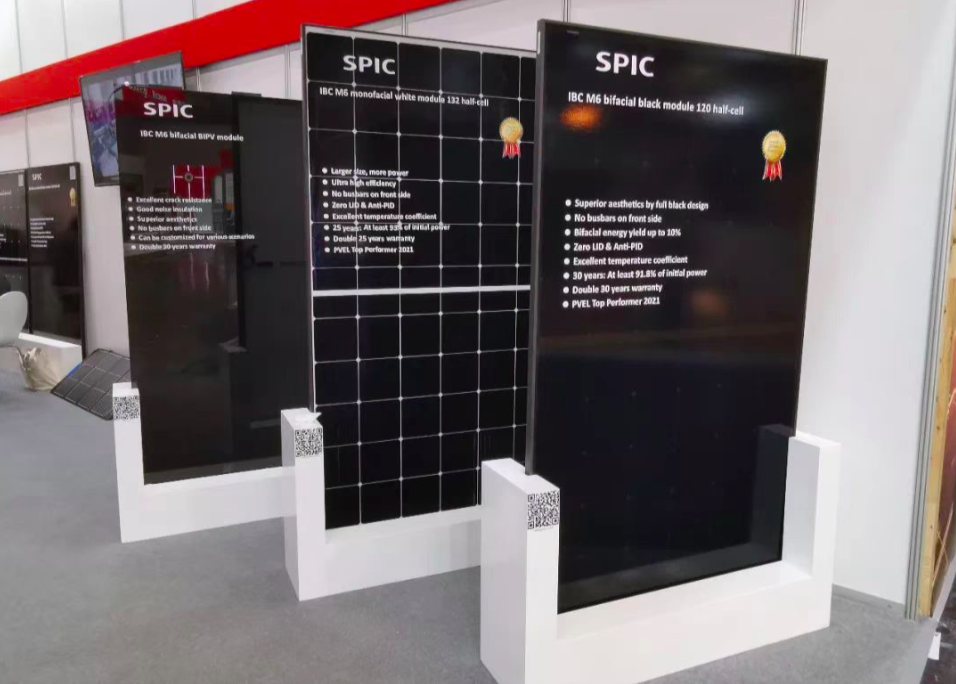 As the world's only PV company with bifacial IBC products in mass production, SPIC solar, with its latest Andromeda series of IBC modules, attracted significant attention from exhibitors and visitors at Intersolar Europe 2022.
At the exhibition, SPIC showcased a new generation of Andromeda series glass-backsheet, double glass bifacial, BIPV and VIPV IBC modules to meet the needs of different scenarios. IBC products are recognised for their high efficiency, low temperature coefficient, low life-cycle degradation, low hot spot temperature, low light response, high power generation gain, reliability and elegant appearance.
At present, the company has an average mass production efficiency of 24.2% for cells and 22.1% for modules, which is the highest efficiency for mass production IBC cells and modules in China and the second highest in the world.
As the first PV company in China to manufacture n-type IBC products and achieve mass production, SPIC Solar has been deeply involved in IBC technology for many years, with a background in large-scale application of PV products, using a low-cost, high-efficiency industrialization process route.
The company is widely recognized by customers for its technological strength and the high quality and reliability of its products and services.
Chris Guo, the company's CTO, commented: "Intersolar is the most influential professional exhibition for solar energy in Europe, and our Andromeda series of IBC products has been receiving a high level of attention at what is our first exhibition. This is due to our pursuit of high quality in the technical development and production process of IBC products, and it strengthens our confidence to continue to further research our products and create an n-type future."