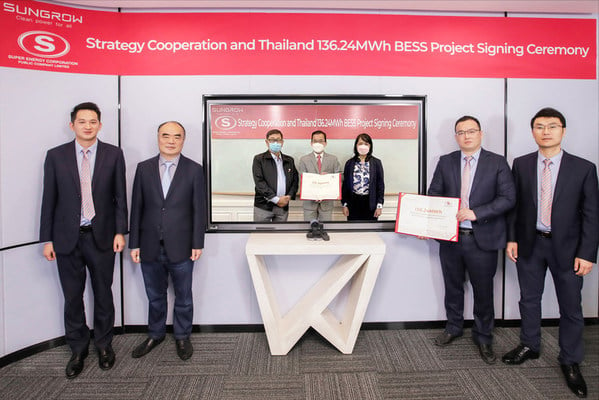 Sungrow has announced a new cooperation with Super Energy, South East Asia's leading renewable energy provider, to build the region's largest battery energy storage system (BESS) project in Sa Kaeo, Thailand, supplying 49.01MW of PV inverter solutions and a 45 MW/136.24 MWh storage system.
Super Energy and Sungrow have now been strategic partners for six years and have jointly completed several successful projects in Southeast Asia, including a landmark 330MW PV project in Vietnam last year.
The Thai project is planned to start in April 2022, and will be commercial in December, its completion opening a new phase for Sungrow's long-term strategic progress in the region's solar and energy storage field.
The plant is a pioneer for the SPP Hybrid Firm Power Purchasing Program, an initiative launched by the Electricity Generating Authority of Thailand, aiming to make renewable energy a stable supplier of future power.
As the IPP, Super Energy prioritizes the plant's long term efficient, safe and stable operation. Sungrow will supply its industry-leading PV plus ESS solution, incorporating the most advanced liquid-cooled energy storage system, which can significantly save on delivery and installation costs and prolong the overall life of the system. The battery cabinet and PCS enclosure also adopt high levels of protection, enabling the system to maintain an efficient yield without derating in Thailand's hot and wet environment.
Super Energy President, Jormsup Lochaya, commented: "We are very happy to have Sungrow as our long-term strategic partner for this big step in technology, to provide the Thai people with solar power on a 24/7 basis".