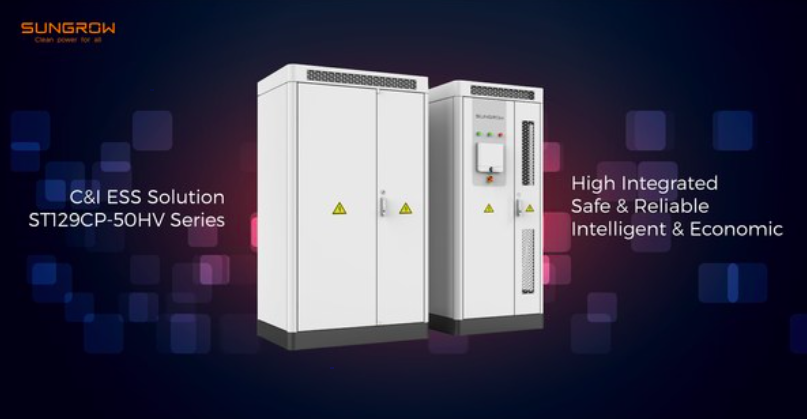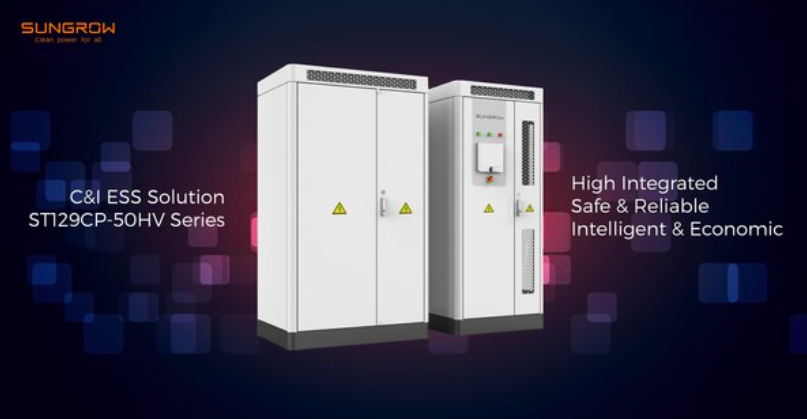 Sungrow has launched a new energy storage system for the APAC commercial & industrial market. The powerful ST129CP-50HV series lays claim to being the world's best C&I ESS solution, combining simplicity, security, intelligence and cost-efficiency. It supports numerous applications, including demand management, peak & valley arbitrage, self-consumption, power backup and micro-grid.
The series is highly integrated, containing only two core components – a battery unit, with key devices such as battery module and heating ventilation air conditioning (HVAC), and a PCS unit, comprising PCS, transformer and energy management system (LC&EMS). The level of integration saves space and reduces weight, making transportation and installation easier, with the product also adopting a uniform communication interface in the form of three-tier communications including interconnected device exchange, local control and remote monitoring. To cater for differentiated customer requirements in terms of power capacity, Sungrow based the series on a modular design, supporting more flexible configuration and a larger on-grid power range from 50kW to 1MW.
Reliability and safety are addressed, with the outdoor cabinets for the battery and PCS units having a high protection level and C5 anti-corrosion capability, being able to withstand extremes of temperature from -30℃ to 47℃ and high sand and wind corrosion. Professional thermal design prolongs battery and PCS lifetime. A protection device is able to automatically and quickly detect a fire and the product is also equipped with a Virtual Synchronous Generator (VSG) mode to enhance grid stability.
One of the highlights of the series is the integrated EMS, an intelligent system developed by Sungrow which can handle different functions such as demand management, peak & valley arbitrage, backup power and micro grid support, while also providing remote monitoring and O&M.
It is estimated that in 2021 the global ESS market will see over 20 GWh of capacity installed, with this figure exceeding 100GWh by 2025.