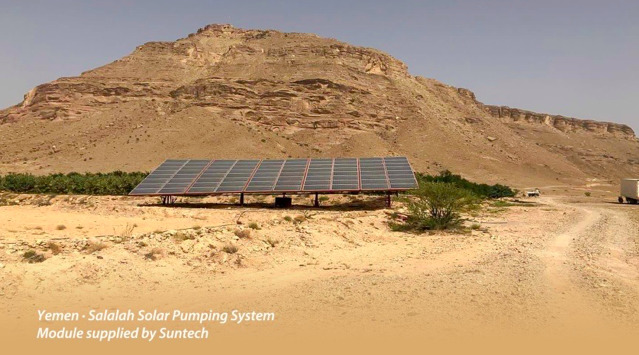 Since the last quarter of 2019, Suntech has supplied 10MW of high-power PV modules to Yemen for the construction of a PV pumping and irrigation system, the first part of which was built and put into use in March 2020.
Yemen is a country in which around 70% of the population is involved in agricultural activities and where water for domestic use and farm irrigation has to rely entirely on groundwater. In the past, diesel pumps have been the most commonly used irrigation system to draw groundwater. In recent years, however, many farmers have found themselves unable to afford diesel pumping due to a shortage of diesel fuel and climbing oil prices, a situation which has obviously had a negative impact on the production and operation of their farms. To overcome this problem, Yemen has begun to use solar power to alleviate local irrigation issues and secure farm production yields.
At the end of 2019, Suntech signed a supply agreement for 10MW of PV modules with local Yemeni distributors. Their projects will use the company's large size 158.75mm mono PERC half-cell modules with 78-cell format design, which enable power output to reach up to 410W. The unique design of the modules also allows for a significant saving in installation space, reducing BOS costs.
Once connected to the power supply, the pumps are able to deliver continuous groundwater for local use, irrigating the arid land. According to an on-site survey, each group of solar pumping and irrigation systems using Suntech modules to generate electricity is delivering 800 tons of water per day, 30 tons for domestic use and 770 tons for the irrigation of some 65 hectares of orchards.
In recent years, Suntech has increased its focus on the Middle East market. In response to the increasingly stringent requirements of the market in terms of PV module power, efficiency and reliability, Suntech has been quick to deploy its high-power modules and will also continue to enhance its sales and after-sales service in the region.