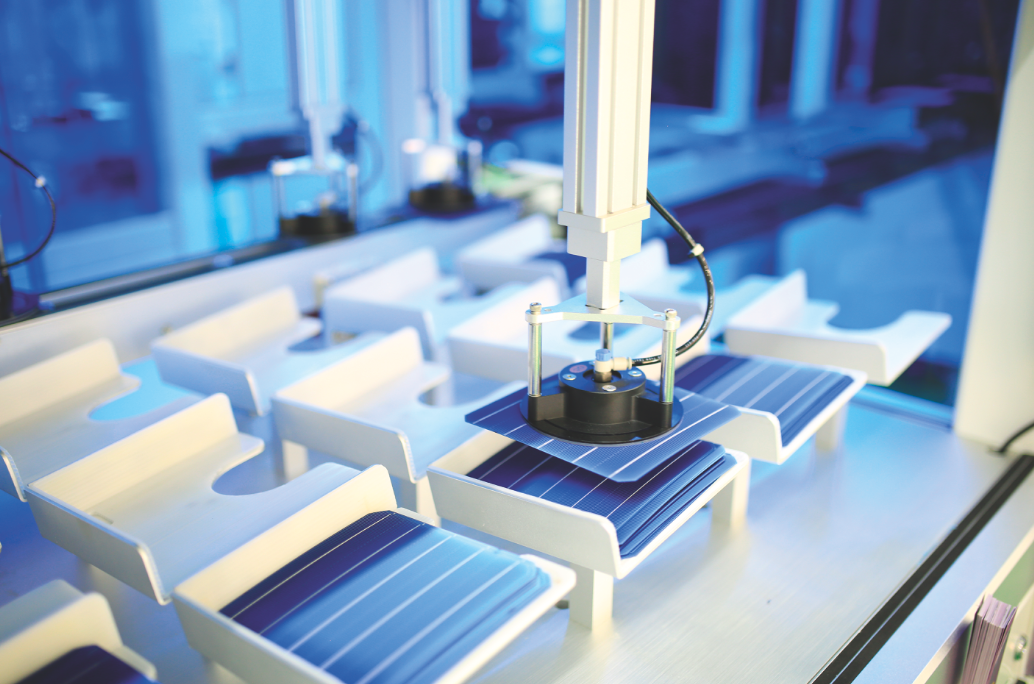 Tongwei has announced plans to expand its capacity through a staged 30 GW high-efficiency solar cell and supporting project, at an investment cost of 20bn RMB. Based on the company's mid-term plan, its high-purity crystalline silicon business and cell production capacities are expected to hit 290,000 t and 100 GW respectively by 2023.
Tongwei has built its core competitiveness on strong layout and efficient synergy of industrial chain links and has, over recent years, become one of the leading companies in the PV industry. The company's ultimate ambition, however, is to become what it describes as a "world-class clean energy enterprise".
Tongwei's announcements focused on its 2020-2023 development plan for its high-purity crystalline silicon and solar cell business and on the investment and building of a high-efficiency solar cell supporting project with an annual capacity of 30 GW.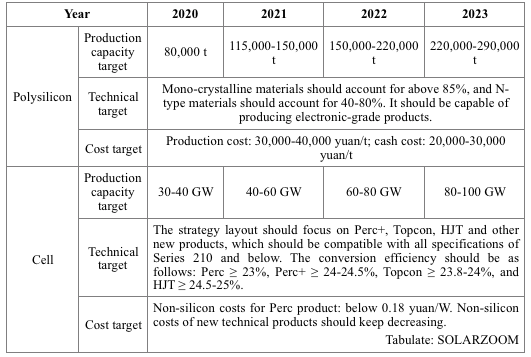 In the announcement on its mid-term development plan, Tongwei states that its accumulated production capacity targets for the high-purity crystalline silicon business will be 80,000 t in 2020, 115,000-150,000 t in 2021, 150,000-220,000 t in 2022 and 220,000-290,000 t in 2023. Mono-crystalline materials should account for above 85%, and N-type materials for 40%-80%; production cost and cash cost should be 30,000-40,000 yuan/t and 20,000-30,000 yuan/t respectively, with a sharp decrease in production capacity cost.
In addition, the accumulated production capacity targets for the solar cell business will be as follows: 30 GW-40 GW in 2020, 40 GW-60 GW in 2021, 60 GW-80 GW in 2022, and 80 GW-100 GW in 2023. The strategy layout will focus on Perc+, Topcon, HJT and other new products, which should be compatible with all specifications of Series 210 and below. Non-silicon costs for Perc should be lower than 0.18 yuan/w.
According to the second announcement, Tongwei Co., Ltd. and its subsidiary, Tongwei Solar, plan to sign the 'Investment Agreement for PV Industry Base' with the People's Government of Jintang County (Chengdu City), for the construction of a high-efficiency solar cell and supporting project with an annual capacity of 30 GW. The project will be implemented in stages with a total estimated investment of 20 billion yuan. Phase I (7.5 GW project) is to be launched before March of this year, to be completed and put into operation during 2021. Subsequent projects will be gradually completed and put into operation over the coming 3-5 years, based on market demands.
Estimates based on the current price of mainstream cells in the market suggest that the 30 GW high-efficiency solar cell project will, once completed and put into operation, provide the company with an operating income of 30 billion yuan/year.
Tongwei's announcements had an immediate impact on the PV capital market, with several PV stocks witnessing opening limits, and Tongwei stock closing at 16.39 yuan/share.
This is not the first time that Tongwei has announced similar planning and expansion. Over several years, the company has created many "firsts" and made a number of significant achievements at extraordinary speed. Irrespective of whether the industry is in a "rising period", "stagnant period", "period of confusion" or even the "frozen period" after May 31, 2018, the company has always maintained its strategic focus and adhered to its implementation plan, often achieving its targets ahead of time.
Tongwei's significant move this time seems a little different, amid the overall background of PV parity and industrial integration.
The company has topped the global rankings for cell production capacity and shipments for 3 consecutive years with a market share of about 12%. In addition to championing the high-efficiency cell industry, Tongwei has also demonstrated its ability to move from catching up to leading the industry in terms of the business layout of high-efficiency crystalline silicon in the past two years. Yongxiang Co., Ltd., a Tongwei subsidiary, has reached a production capacity of 80,000 t of high-purity crystalline silicon after several technical improvements and upgrades, and is now among the top three enterprises worldwide, taking the lead in product quality, various consumption levels and costs.
However, Tongwei has ambitions beyond its current position and market share within the industry. On this occasion, the near 100 GW capacity expansion plan launched by the company will undoubtedly change the inherent pattern of industry competition, enabling Tongwei, over the next two or three years, to take the absolute lead in the core links of the industrial supply chain. For the Tongwei Group, 2020 will mark a new milestone in its strategy, with the company's planned production capacity for both silicon materials and cells in 2023 exceeding the total production capacity of China in 2018. According to several global research organisations, the annual newly installed volume worldwide will be in the region of 200 GW in 2023, so it can be inferred that, at this point, Tongwei's global market share in the silicon material and cell fields could hit between 30%-50%.
Despite the positive momentum of the clean energy sector in general, the PV industry still faces a number of uncertainties, so why is Tongwei so confident about the outcome of its continued expansion?
Firstly, based on comprehensive analysis, Tongwei believes that clean energy in China and around the world will usher in an era of tremendous development. Secondly, Tongwei is confident that China will provide strong and long-term support for clean energy from a national policy level. Thirdly, Tongwei believes in the fundamental role of the market in resource allocation. In other words, Tongwei has absolute confidence in its own comprehensive capabilities from research and development, technology, manufacturing and cost control to overall management.
Tongwei derives additional confidence from its strong business performance. Black Hawk Solar has carefully analyzed the company's financial reports and, as of the first three quarters of 2019, several core elements of operating data including revenues, net profits, total assets, investment in foreign countries and capital reserves, have set the company's highest levels since its listing.
With regards to specific production and operation links, taking Tongwei Solar as an example, it has achieved full production and sales, posting continual profits and 100% rate of operation, for 66 consecutive months. From another viewpoint, Tongwei's rapid layout and expansion also represents how a leading enterprise can ultimately achieve PV marketization via market-oriented methods. At present, the PV industry in China is in the final stages of the battle to move away from subsidy dependence. The result of the advent of grid parity is likely to bring an end to the industrial integration of the past decade, along with the rapid rise of the strongest, competitive PV companies and the accelerating demise of the weakest and uncompetitive.
Production expansion will expedite the elimination of low-efficiency and legacy capacity, fuelling the industry's rapid development. Equipment and material manufacturers in the industrial supply chain will also see benefits from this transition.
The Secretary of the China Photovoltaic Industry Association, Wang Bohua, also believes that corporate 'champions' and mainstays in each link of the PV industry will continue to expand in the future, increasing their market share and improving their competitive edge through technology, investment and market advantages. Veteran observers believe that, post grid parity, several leading organisations have the potential to reach one hundred billion yuan in market value – Tongwei is undoubtedly one of them.