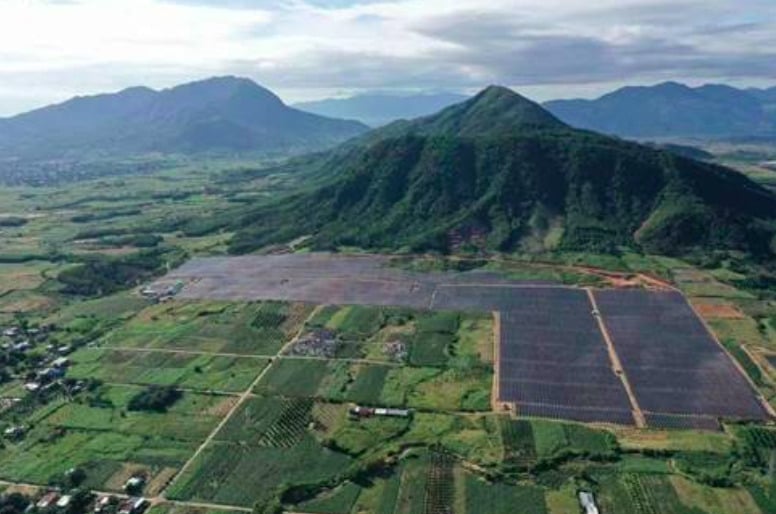 Trina Solar has completed construction of the 35MW Trung Son Power Plant in Vietnam. The project has entered commercial operation and is the company's second utility scale solar plant in Vietnam, following its 42MW Phong Phu project. Trina served as turnkey solution provider, incorporating development, design, construction and on schedule connection of the plant to the 110kV grid of EVN, the Vietnamese Electricity Power Company. The company is now in charge of the plant as it enters the Operation & Maintenance phase and has assumed responsibility for plant safety and operational energy output.
The Trung Son Plant has a DC capacity of 35MW, with an estimated annual power generation of 67,368 MWh, the equivalent of the yearly energy consumption of 35,700 average Vietnamese households. Taking into account the high temperature and humidity of the environment, the solar power system adopts bifacial-dual-glass modules with single-axis trackers to ensure optimum power generation capacity. It is also equipped with a comprehensive O&M Monitoring System which helps with fast troubleshooting and securing the highest possible Energy Production and Performance Ratio (PR) for the plant.
The plant is built on 40.5 hectares of land in Khanh Hoa province in south-central Vietnam, around 25km from the provincial capital, Nha Trang.
"We are proud of the on schedule completion of our second utility scale solar plant in Vietnam. The construction of this project only started in August, but our APBU team was able to deliver the plant in just 4 months, due to a combination of Trina Solar's years of experience in overseas downstream markets and our successful localization strategy in Vietnam. We remain fully committed to accelerating renewable energy development in local communities, combining our technologies and experience in solar project development, financing, construction and operation", commented Simon Li, President and General Manager of Trina Solar's Asia Pacific Business Unit (APBU).