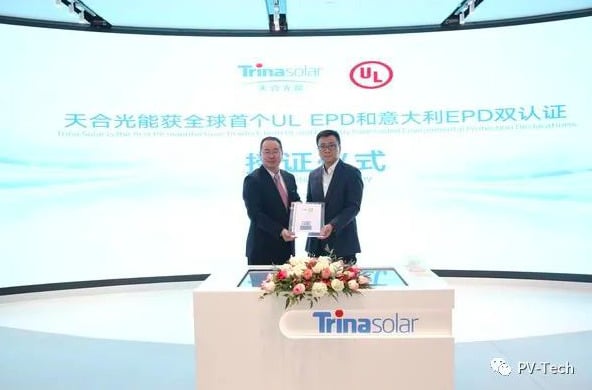 Trina Solar has announced that is has been awarded dual "Environmental Product Declaration" (EPD) certifications from UL, the global independent safety science certification institute, and EPDItaly. This is the first mutually recognized EPD in the photovoltaic industry and recognises the company's environmental performance and sustainability.
Complying with industry standards ISO 14025 and EN 15804, EPD certification is a safety validation for sustainable products. By tracking full-process environmental impact, encompassing raw material procurement, manufacturing and processing, transportation, production and recycling, it provides photovoltaic investors and owners with authoritative data on the environmental performance of solar products and services. Each EPD is valid for five years and is applicable globally, including to the European and North American markets.
"Obtaining these EPD certificates further underpins Trina Solar's commitment to environmental protection and innovation. As a company, we will spare no effort to further resolve the contradiction between technological development and resource consumption, to explore new paths for sustainable development," commented Mr. Bo Cao, Trina's Deputy General Manager.
Mr. Jun Shi, General Manager of UL-CCIC, added that it was a great honour to witness and recognize Trina Solar's efforts and achievements in sustainable development, with the certificates awarded reflecting the company's commitment to the environment.