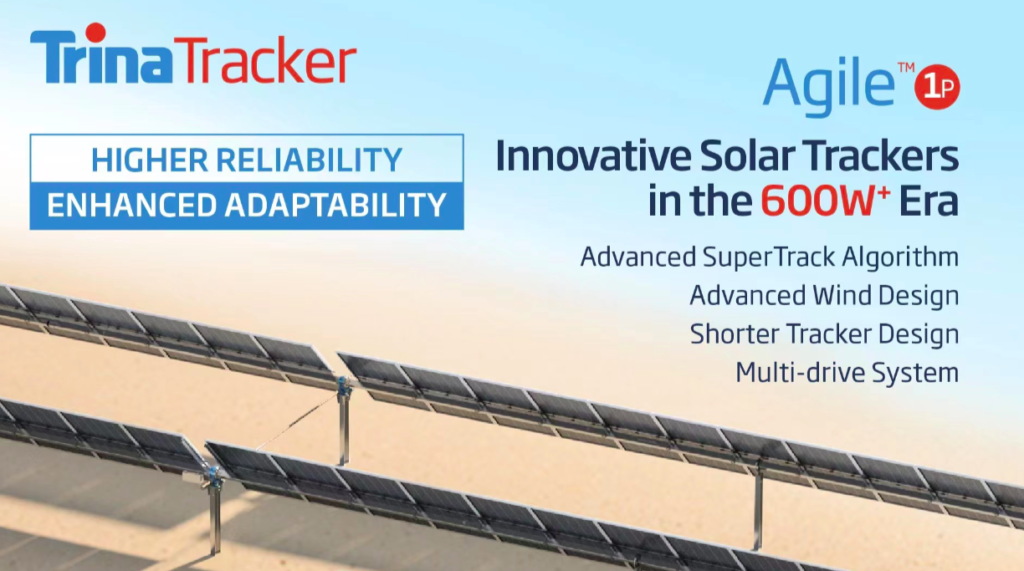 Trina Solar has announced the official worldwide launch of the Agile 1P dual row tracker. It is fully compatible with ultra-high power modules ranging from 400W to 670W+, with the Agile series becoming the latest member of the TrinaTracker portfolio after the launch of the Vanguard series in December. TrinaTracker's global installation capacity has now exceeded 5 GW, with 8 GW of annual production capacity in 2021.
At the official launch, Jason Duan, head of the TrinaTracker business unit and Antonio Moralejo, head of the unit's product & engineering department, gave a comprehensive presentation on the new product. César Hidalgo, principal engineer in solar systems at DNV, went on to elaborate on the research methodology used in measuring tracker bankability, with both the Vanguard and Agile systems having already been evaluated by the company.
During his presentation, Moralejo revealed that CPP, a world-renowned wind tunnel test organization, had put the tracker through a series of comprehensive wind tunnel tests, including dynamic and static as well as full aeroelastic, simulating operations under actual conditions. Following each testing phase, TrinaTracker continued to optimise tracker design to ensure all components met the desired levels of reliability and adaptability.
Agile 1P leverages an innovative multi-drive (dual-slewing) system and exclusively patented spherical bearing to improve its overall stability, effectively reducing the system aeroelastic effect, improving load transmission efficiency, avoiding rotation errors and enhancing the overall structure. The spherical bearing can minimize structure stress and deformation and further improve reliability and adaptability in complex terrains. In addition, Agile 1P is equipped with a sophisticated stow strategy, protecting the tracker from structural failure in gusty wind conditions. The dual-row design shortens its length to only 72 meters, enabling installation of up to 120 modules per tracker, thus achieving 15.6% higher installation capacity. A 'SuperTrack' algorithm can increase power gain by 8%.
With cleaning robot technology effectively eliminating build up of sand and dust on the modules, system power generation can be enhanced by more than 10%. Optimized BOS can reduce the number of trackers required by 33%, when compared with conventional single-row 1P trackers in a typical 1MW layout, saving 9% in DC cabling.
The spherical bearing features self-alignment with angle adjustability of 30%, which can correct installation deviation and reduce failure rates as well as operation and maintenance costs. Furthermore, an innovative upgrade to the installation process integrating the patented 'Trina-Clamp' reduces installation time by half.
Upgraded from the TrinaTracker Cloud, the upcoming SCADA system will feature remote monitoring, early warning, intelligent diagnosis and troubleshooting. The system will boost effective operating time under different weather conditions, diagnose real time tracker problems and perform troubleshooting accordingly, reducing maintenance costs and increasing operational efficiency.
Duan commented: "Trina Solar's tracker business has to consider developments from all perspectives. Currently, the tracker industry's primary areas of focus are on wind engineering and structural enhancement, but we also need to consider software development such as intelligent tracking algorithms and SCADA systems. By embracing full compliance with well-established industry standards via state-of-the-art technology, as well as upstream and downstream integration, Trina Solar will enhance the value of trackers and facilitate the continued growth of the global tracker market."