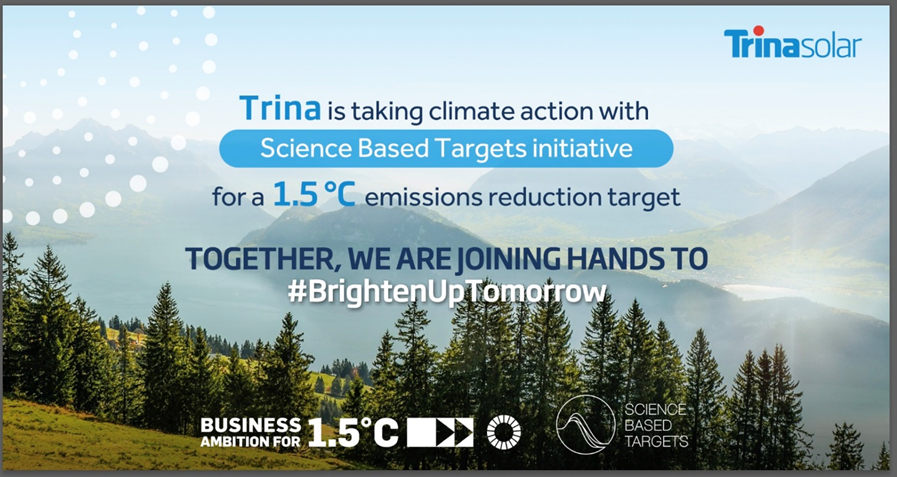 Trina Solar has underlined its commitment to leading the industry towards new levels of sustainability. In a session themed 'The Road to a Sustainable Future' with a number of major renewable energy investment companies in London in October, Trina outlined its vision for advancing to a net-zero future by providing smart solar energy solutions.
The company's strategy actively supports all relevant global Sustainable Development Goals (SDG) shaped by the United Nations and is a member of the Science Based Targets initiative (SBTi), contributing to the common goal of limiting global warming to 1.5°C. This year, the company has also been one of the first to adopt ESG (Environmental, Social and Governance) reporting standards.
Today, Trina Solar's total carbon emissions during production, operations and R&D are, remarkably, less than the total emissions offset by green electricity generation through its PV power plants, roof generated electricity, green electricity purchase and energy conservation.
Trina is additionally pursuing closer vertical integration in its new manufacturing bases, including the N-type factory in China's Qinghai province, which covers almost the entire PV manufacturing chain from polysilicon production to modules, thus inherently achieving maximum supply chain traceability.
"The environmental challenges ahead of us require a major shift in mindset and leadership. The UN has defined clear Sustainability Development Goals, driving transformation from the top. Likewise, Trina Solar's senior management has shaped a sustainable way of doing business from the founding of the company 25 years ago. We are fully aligned with the UN's defined goals, and are contributing actively to reaching them", commented Gonzalo de la Viña, the company's head for Europe.
De la Viña added: "As part of the PV industry, our responsibility and commitment is to drive technological innovation along the value chain to push for the transition to a carbon-free world. Our customers, especially renewable energy investors, have a high and increasing demand for ESG related information, not least because they are required to report on these topics to their own stakeholders. At Trina Solar we are more than ready to provide maximum transparency and traceability, because our sustainable way of doing business is deeply engrained in our DNA."