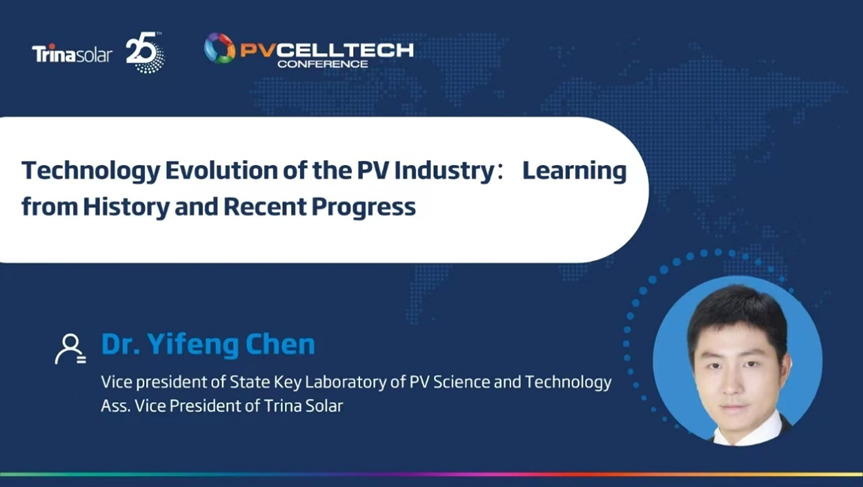 Dr. Yifeng Chen, Vice President at the State Key Laboratory of PV Science & Technology and Assistant Vice President at Trina Solar, has delivered a keynote speech at the PV CellTech conference held in Berlin, offering an interpretation of the PV industry's technology evolution from the perspective of size, efficiency and cost. Representatives from leading international institutions, including Fraunhofer ISE, Forschungszentrum Jülich, INES, TNO and IMEC attended the conference, in addition to key industry figures.
Chen focused on 6 empirical areas of learning for the industry, including the "50%-10 years" law for wafer size, which states that any new size should have a significant increase (like 50%), to become a new industrial standard for the following 10 years. He also discussed the "3 years – 50%" law with regard to equipment, whereby the CAPEX of solar cells drops by 50% every 3 years.
For efficiency improvements, Chen pointed out, the industrialization of n-type cell technology is the major developing trend within the industry, with Trina Solar at its forefront, having recognised the potential of n-type as far back as 2015. As of the end of 2022, the company's 210mm n-type i-TOPCon cells and modules had both entered mass production.
Chen also familiarised the conference with Trina's newly upgraded n-type i-TOPCon products, in the form of the Vertex 210R (rectangular cell) 605W and 210 (square cell) 695W modules, with an efficiency of up to 22.4%.