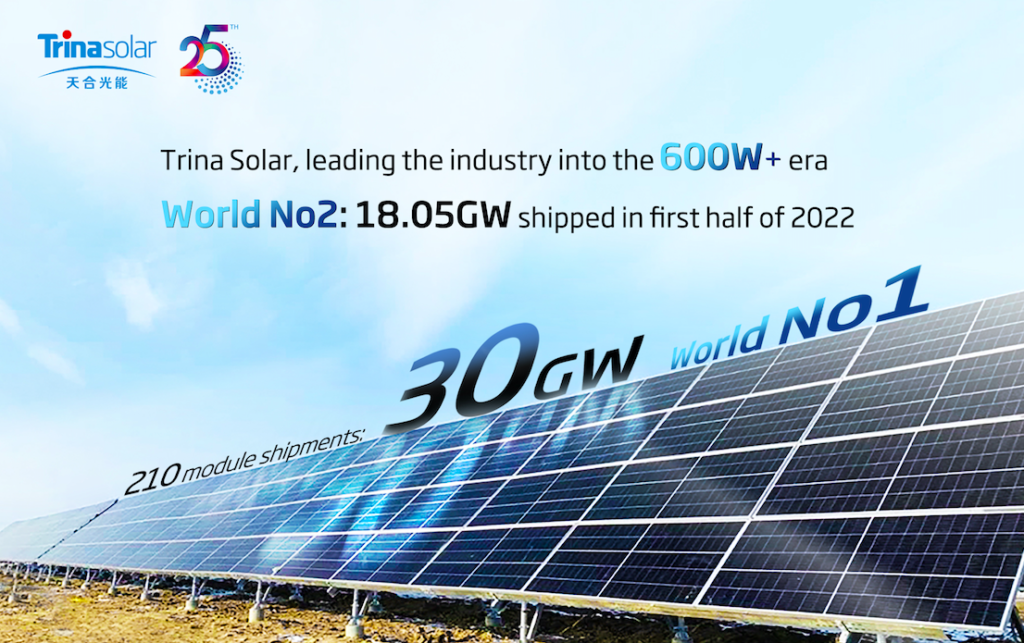 Trina Solar global module shipments totalled  18.05GW in the first half of this year, a 72% increase compared to the corresponding period in 2021, thus maintaining the company's second place in worldwide shipment rankings. In the six months covered in the company's half year report, revenue amounted to RMB 35.73 billion (US$ 5.51 billon).
Trina's module business has continued to thrive, with its overall market share increasing to 15%. Distributed power generation (DG) shipments doubled year-on-year, accounting for over 60% of the total shipment figure, with 210 modules representing more than 80% of total shipments. The company has itself now shipped more than 30GW of 210 modules, with the industry as a whole seeing over 50GW shipped as of June, less than two years since the entry of 210 modules into mass production. The current market share for 210 stands at around 50%.
Trina Solar's production capacity for cells and modules is expected to reach 50GW and 65GW respectively by the end of this year, with 90% attributable to 210 products. Leading the industry with 600W+ modules, the company's steady growth and strong market performance has benefited from the trend toward large-format high power products, with the Vertex 600W+ ultra-high-power module leading the way.
Moving forward, Trina is at the forefront of the development of next generation, high-efficiency N-type cell technology. The company's Suqian 8GW TOPCon cell project was officially launched in April and is expected to be gradually put into production during the second half of the year, with the new production capacity facility at Qinghai Industrial Park exclusively based on 210 modules and N-type technology.