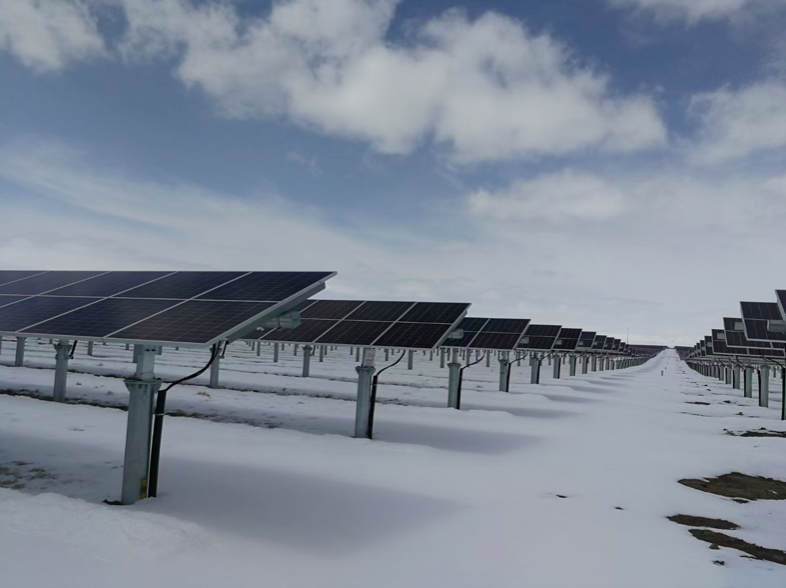 TrinaTracker has demonstrated the stable and efficient operation of its Vanguard product over a period of one year in a ±800 kV UHV DC Power Transmission Project in Qinghai-Henan, China.
The line from Hainan prefecture in Qinghai province to Zhumadian in Henan province is the first long-distance UHV line in the world built to only transmit renewable energy. It is estimated that the project will provide an annual 40 billion kWh of power to central China. As a designated solution provider, Trina Solar is the only supplier providing both PV modules and trackers for more than 600MW of the 2GW project, contracted by the State Grid Corporation of China (State Grid), with the first phase connected to the grid last September.
With an average altitude above 3,000 meters, Qinghai province has unique climatic characteristics, such as low temperatures at night, long hours of strong solar irradiation and scarce and short periods of rain. The area is prone to meteorological extremes, including droughts, hailstorms, frost, snowstorms and strong winds. These conditions present serious challenges for photovoltaic modules and trackers, but TrinaTracker has successfully overcome them by installing its Vanguard trackers, which are specifically designed to operate under the most arduous of circumstances.
After a year of operation, the Vanguard trackers have fully proven their stability, rigidity, adaptability and efficiency in the harsh environment of the western Chinese region. Additionally, TrinaTracker's 'Supertrack' intelligent algorithm dynamically optimizes the tracking angle, contributing to an energy gain of up to 8% above traditional astronomical algorithms.
Jason Duan, head of Trina Solar's tracker business unit, commented: "In response to the trend of increasing the power and format of modules and diversifying application scenarios for trackers, Trina Solar is designing trackers based on its forward-looking ideas. We will also step up and optimize technology upgrades to further reduce system costs and LCOE in diverse environments, delivering more value to customers. The production sites and supply chain network for our trackers will guarantee products of the highest quality while, with a shortened delivery cycle, we are also able to ensure customers are provided with the best service."