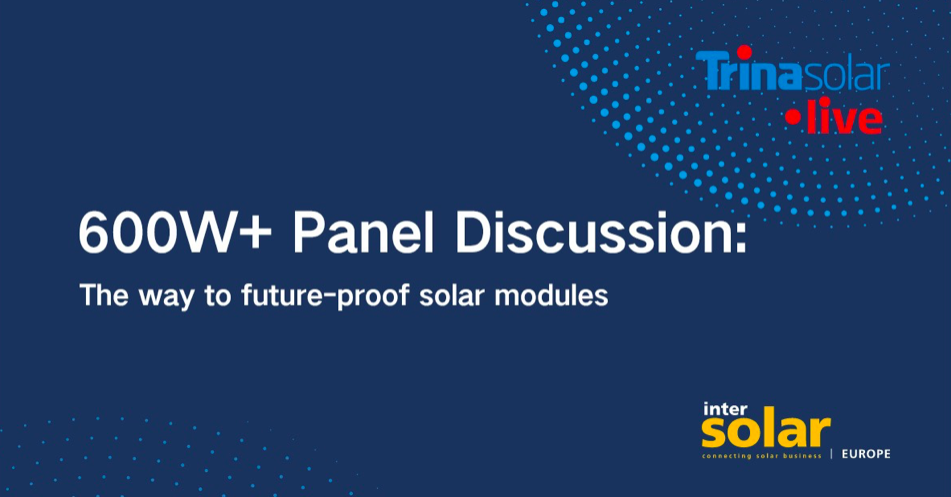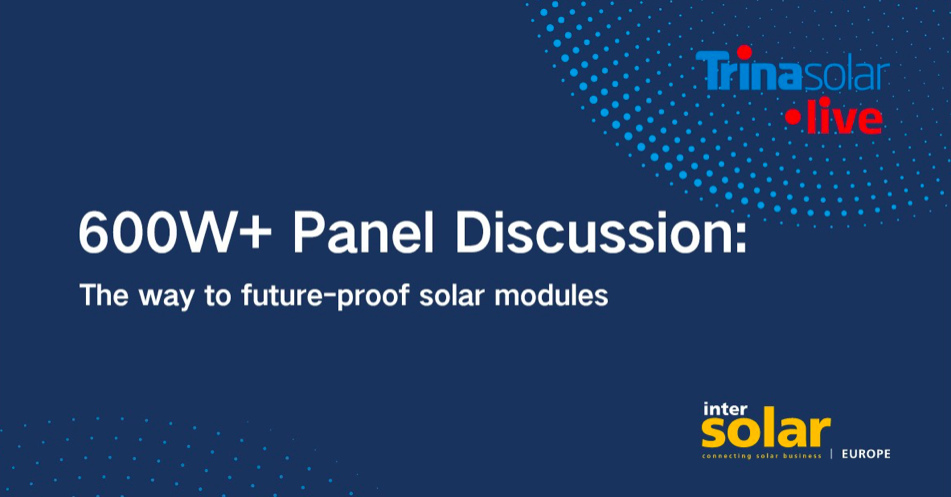 Trina Solar hosted a webinar on the final day of Intersolar Europe to discuss matters relating to 600W+ panels with industry leaders. The panellists included representatives from Canadian Solar and Risen Energy.
The webinar incorporated an in-depth discussion on the 210 technology platform, standardisation of 210 technology, LCOE and advantages in reliability of 600W+modules.
210 has become a technology platform
The industry has quickly adapted to 210 technology over the past 18 months, embracing modules, inverters and mounting structures. Gao Lei, a product expert at Trina Solar, suggested that the main reason for the fast adoption of 210 technology has been collaboration with partners along the value chain on innovation, including manufacturers of ingots, wafers, cells, modules, inverters and trackers, plus EPCs and asset owners.
210 is not merely an innovative product technologically. It also provides greater value because it establishes a highly innovative product technology platform. Through the synergy of upstream and downstream innovation and R&D, the problems of product reliability, guarantee of raw material supply and systematic compatibility have all been resolved.
Standardization of 210 technology significantly boosts chain efficiency and system value  
In the panel discussion, Marius Kaiser, Director of the Technical Department and Product Management for EMEA at Canadian Solar, shared his analysis, commenting that standardisation is another reason for the rapid spread of 210 technology.
Yifeng Song, Head of Product Management at Risen Energy, also contributed his view that, with standardization, a customer doesn't need to adopt a number of sizes, as they can purchase products from any suppliers of 210 panels.
The 210 standardisation process has already achieved significant results in that the uniform size of 210mm wafer, cell and module has been adopted by more than 20 module manufacturers, EPCs and testing organizations, further details of which are expected to be formally released in October by the Chinese Photovoltaic Industry Association.
210 module's LCOE advantage verified by third party
LCOE saving is the ultimate goal for all new technologies. The experts in the meeting all analyzed the reasons for lower LCOE being provided by 210 technology. According to Canadian Solar's Kaiser, 210 modules lead to lower electrical system costs. Due to low-voltage and high string-power design, more modules per DC string generate more power, with lower cabling and labour costs resulting in lower BOS costs.
Risen Energy's Song commented that mechanical elements, such as lower mounting structure and civil work costs, in addition to the optimized packing design for highest capacity per container, also contribute to a low LCOE, explaining the increasing popularity of 210.
Trina's Lei quoted from the Fraunhofer ISE's latest study, that the new generation of 210mm (G12) and 182mm (M10) modules both perform better than conventional 166mm (M6) modules in terms of both CAPEX and LCOE, with the performance of G12 modules superior to that of M10.
The LCOE of Trina's Vertex G12 670W module is 4.5% lower than that of an M10 585W module and is up to 7.4% lower than that of an M6 455W module. The ongoing studies into LCOE by Fraunhofer ISE and DNV all demonstrate the outstanding system value of 600W+ modules.
Mechanical reliability fully verified, after passing 6 rigorous tests
210 modules are much more powerful and also larger in size than conventional solar modules and reliability becomes the next topic for the panellists.
Gao Lei shared details of the 6 tests: static mechanical load, non-uniform snow-load, extreme low-temperature mechanical load, hail, extreme DML and extreme wind tunnel tests. The results achieved all provided an across-the-board validation of the excellent mechanical load reliability of the 670W Vertex module.
210 technology has become accepted by the market in a very short time. By working with partners along the value chain, the 600W+ industry chain innovates with future-proof technologies, continuing to position solar energy as one of the main energy sources going forward into the future.