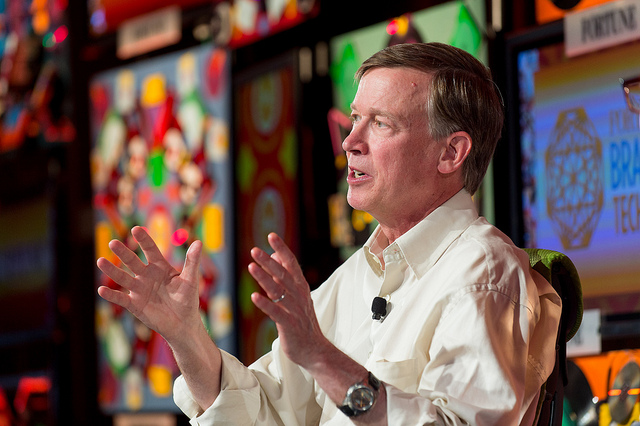 Colorado will continue to push ahead with renewable energy despite president Donald Trump's order eliminating many restrictions on fossil fuels, governor John Hickenlooper has said.
Hickenlooper announced during a news conference at the state Capitol yesterday that Colorado will continue to work towards eliminating air pollution – even though the Clean Power Plan is under challenge in the Supreme Court and faces suspension or rescission by the Environmental Protection Agency (EPA).
However, Colorado is firmly on course to meet its emissions reduction goals under the Plan by 2030 – the deadline for states to cut their emissions by 30%.
Even though the Plan may be eradicated in full, and several restrictions on fossil fuels were lifted under the order – including a moratorium on coal-fired plants – Colorado will continue to focus on its environmental goals, Hickenlooper said.
"Clean air, clean water continues to be an important part of Colorado's brand," he said.
Colorado became the first US state to enact a renewable portfolio standard (RPS) by ballot initiative in 2004. The state's target is to procure 30% of its energy from renewable sources by 2030. In 2010, the state enacted a law requiring utilities to replace some coal-fired electrical generating plants with natural gas facilities. However, despite increasing its soalr capacity by 70% last year, Colorado's solar ranking fell out of the top ten as other states increased their capacity even more aggressively this past year.
Despite Trump's new order, Colorado is just one of many states pursuing business as usual, and carrying on with its clean energy mandate. Industry stakeholders predicted on the back of the order that it would do little do derail existing progress in the sector.
Hickenlooper said he doubted that Congress or Trump's administration would attempt to overturn state air pollution rules that are stricter than federal standards. "I'd be pretty shocked if they suddenly said, 'Sure, you're saving your air, it's too clean,'" he said.
Hickenlooper joins the governors of California, New York, Washington and Oregon who openly criticised the executive order.
"[The] Executive Order by the president pulling back on policies addressing climate change will not deter Colorado's efforts. Natural gas has become more economical than coal, and Colorado is a national leader on wind and solar energy, which are a boon to our economy, jobs and the environment," he said in a statement.
"Our efforts to clean our air and protect the natural environment are part of what draws young people, families, and businesses to Colorado. Our outdoor recreation industry, which helps create jobs all across the state, is dependent upon cleaner air and water. We have a history of solving complex problems and taking action to move the state closer to meeting its clean air goals, and we have shown that we can have cleaner air and reduce harmful carbon emissions at essentially no additional cost ‒ potentially even saving money for Colorado families.
"We will keep building a clean energy future that creates Colorado jobs, improves our health and addresses the harmful consequences of a changing climate."