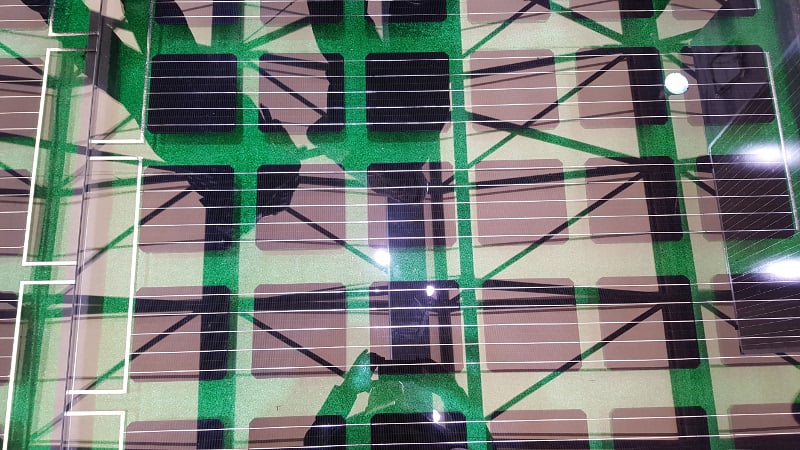 Struggling former 'Silicon Module Super League' (SMSL) member Yingli Green Energy is putting greater emphasis on high-efficiency N-PERT monocrystalline 'PANDA' bifacial modules as a key part of its potential business turnaround.
Having previously supplied its bifacial modules to the largest dedicated ground-mounted project to date, a 50MW plant in China under the 'Top Runner' programme, Yingli Green is touting the significant performance gains over conventional mono-facial modules from actual generating data from the plant.
Yingli Green noted that the cumulative output of the plant had reached 60.88 million kWh in the 10-months since it was grid connected. According to the company, the increase in energy yield of its bifacial modules, compared to conventional multicrystalline mono-facial modules had ranged from a 10.4% gain each month to a much as a 15.6% improvement.
The company also noted that it had a database of yields of all its bifacial PV systems, noting that yields on a monthly basis range from an increase of 20% to over 30%, compared to multicrystalline mono-facial modules capabilities.
At PV CellTech 2017, Dr. Feng Li, deputy general manager of Technology Center Yingli Energy, presented key data on its N-PERT bifacial cell technology and module yields, highlighting that its cells had reached front-side conversion efficiencies of 21.52%, and 19.54% on rear side, with the promise of further manufacturing process enhancements to take efficiencies to 22% and bifaciality of over 95%.
As an early developer of high-efficiency bifacial technology, Yingli Green has also highlighted the efforts being undertaken to set international testing standards for bifacial modules, which a required to provide accurate nominal module output figures that can be used for system design and yield forecasts, amongst other required criteria.
Bifacial solar cells and modules were the hottest new product item at SNEC 2017.