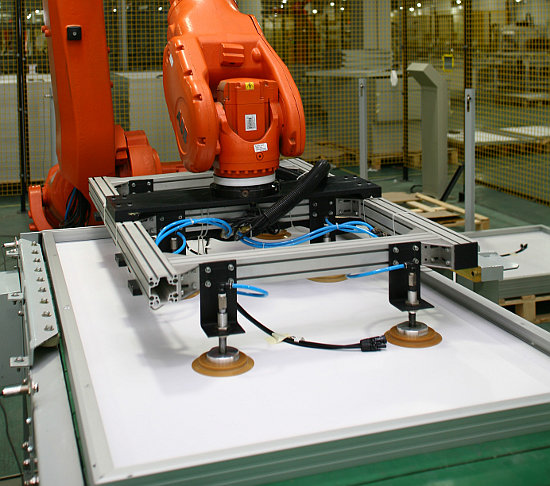 Leading up to the PV ModuleTech 2017 conference, less than 3 months away (Kuala Lumpur, 7-8 November 2017), this blog series explains why this dedicated two-day industry event has the potential to provide some key answers for EPCs, developers and asset owners, in terms of understanding the key metrics that underpin solar modules going forward, ultimately mitigating risks during site design and build-out, while optimizing overall return-on-investment for more than 20 years in the field.
In part 1 of the blog series yesterday, we focused on the problems in tracking solar PV market demand and module supply, and presented a new methodology that sees the industry shipping more than 90GW in 2017 and over 100GW in 2018.
Part 2 here addresses module quality concerns and what the downstream-active segments of the market need to be aware of today, in order to make informed judgements on module supplier and technologies designed into utility-scale deployment going forward.
Recap on module supply trends in 2016
Before we look at module supply in 2017 and 2018, let's have a quick review of which companies shipped the most modules last year. We have extended this analysis also, in a continuation of the China/non-China issues discussed in part 1 of the blog series yesterday, by showing the leading module suppliers to the Chinese market alone and perhaps more crucially for many, which module suppliers dominated the non-China part of the global market.
The 2016 rankings tables look slightly different from our early market research blog on PV-Tech.org, done back in January 2016, before any of the companies had announced Q4'16 shipment levels, but the top player, JinkoSolar, remains well ahead each time we adjusted the shipment data.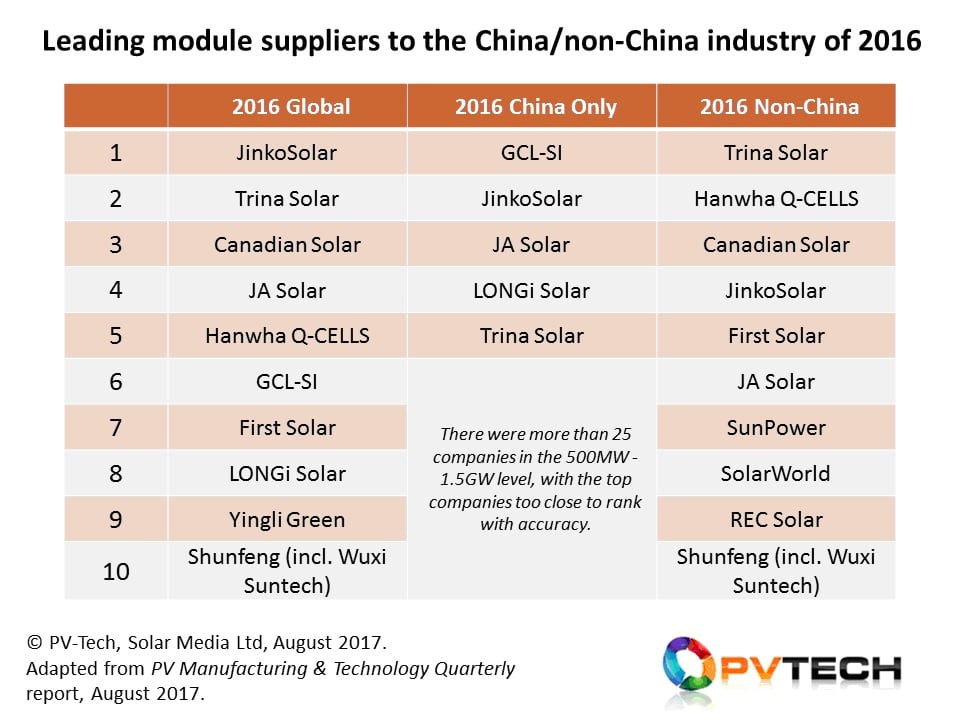 Aside from JinkoSolar pulling away from the leading pack, in terms of module shipments, there are a number of key points to make about the companies included above, as we move through 2017 and enter 2018, in respect of both China and non-China shipments.
Looking at 2017 shipment forecasts, the top-10 globally is identical to 2016. The main changes relate to LONGi Solar rising to sixth place, followed by GCL-SI. In fact, this forms the fundamental basis for our Silicon Module Super League (SMSL) grouping of JinkoSolar, Trina Solar, Canadian Solar, JA Solar, Hanwha Q-CELLS, LONGi Solar and GCL-SI – the specific grouping we identified that would each ship in excess of 4GW of modules in 2017, some distance ahead of any other module supplier.
Our original prognosis on this was made some 18 months ago, and looks like coming to fruition on cue. (There will be more on the SMSL on PV-Tech in the next week, with news also of these companies' representation at the PV ModuleTech 2017 conference.)
Not seen before, the new segmentation above shows the top-5 in terms of 2016 shipments to the China market, and the top-10 that made up the non-China part of the industry last year.
We have limited to 5 only for the China part, as ranking the chasing pack below is subject to a few MW here or there that is not adding a great deal of value for now. The main takeaway of course is the strong showing of LONGi Solar and GCL-SI: the two companies we flagged in the blog yesterday that are now in the process of seeking to have a global supply footprint, in line with the other 5 SMSL players.
If you are not a Chinese-run cell/module manufacturer (and let's include here Taiwan cell makers and Hanwha Q-CELLS), then you essentially play in the non-China (or rest of the world) solar industry only; in this case, competition and supply strength is best gauged by looking at the table column to the right in the above image.
The top-10 module suppliers to the non-China segment remains dominated in 2017 by market-share allocations in the US, India and Japan, to a lesser degree Europe, and finally add in the lumpy nature of emerging region auction/tender wins. This is where companies such as First Solar, SunPower, SolarWorld and REC Solar play, and also explains why First Solar and SunPower have been stepping up efforts to grow shipment levels in China this year.
Finally, if we go forward to 2018, then we are currently seeing a list that is formed by the same top-7 SMSL suppliers (again some way ahead of all others) and then a chasing pack in the 2-2.5GW range that is too close to call at this point. The one potential re-entrant remains SunPower with the swing factor here coming exclusively from the company's ability to enact on its P-Series roadmap, and offloading non-IBC modules into the Asian markets of China and India.
Volume growth in shipments: but what about quality?
While the standard line from module suppliers across the board remains stoically affirmative, the sub-heading here is truly the sixty-four-thousand-dollar question for those dependent on module performance over 20-30 years in the field. While true for everyone from the 2kW homeowner to the GW portfolio asset-owner, it is firmly the latter category that stands to lose most by choosing to acquire sites that have underperforming modules.
Quality, reliability and third-party certification is a subject matter best addressed with solid data and educated analysis and discussion, and falls somewhat outside the scope of this blog. Instead, in the remainder of the narrative below, I will focus on some of the issues that give cause for concern and how these have arisen and will continue to be important as the industry shifts from a subsidy-led market to a post-subsidy environment, accompanied by strong annual growth metrics.
Rather, those wanting to find out the details, see the data and hear from the main stakeholders in module quality and performance, can sign up to attend PV ModuleTech 2017. Much of the facts and figures will hopefully come to life then.
Lastly, I will touch below upon one of the key barriers to quality metrics being universally accepted and understood within the industry today; the mismatch in language being used by module suppliers and asset owners and how this potentially holds back the credibility of the whole industry to external investors assessing the viability of solar within the global energy mix going forward.
Capacity expansions, technology upgrades and cost reduction still top drivers
Currently, for most leading PV module suppliers, there are multiple drivers, each placing strong pressure on internal business units to act quickly. Some of these are listed in the sub-heading above, but the other factor critical to solar module deployment is that of module quality, traceability, and long-term field reliability.
Delivering on each of these concurrently is certainly a challenge, and for most module suppliers, doing new capacity expansions (often at the GW-level nowadays) and process flow upgrades for concepts such as PERC, while at the same time having to ensure quality of module supply is not compromised, is new territory altogether. In fact, many of the cell/module suppliers in China have done very little by way of R&D in the past decade, and if PERC-upgrading was the only task at hand, it would alone raise alarm bells on satisfactory execution.
While the above is rather speculative in nature, there are two other issues that surely have an impact on the quality and reliability of modules supplied to the end-market:
• Third-party outsourcing of modules to contract manufacturers in Southeast Asia, including new manufacturing countries such as Vietnam and Thailand
• Heavy reliance of third-party produced cells from multiple cell suppliers across a range of different countries all across the APAC region
While most module suppliers talk about implementing strict quality control procedures from OEM suppliers, it does not take a rocket-scientist to conclude that manufacturing quality is high up on the red-flag warning alerts.
Until now, very few of the leading PV module suppliers has played the 100% in-house produced components card with any real fervour, leading one to conclude that everyone is guilty to some degree of outsourcing cells or assembled modules as and when sales pipelines dictate. This conclusion is in fact further substantiated in reading the announcements from Chinese based companies that secure business in the US and Europe, but have no manufacturing capacity for cells or modules located outside China. Almost by default, one can assume that modules have in fact been rebranded from any one of the multitude of low-cost contract manufacturers across the Southeast Asia region, and more often than not these days, from Vietnam.
If one scans the circa 100 PV module suppliers that make up >95% of the solar industry these days, and China-made/China-supplied modules are excluded, then there is no more than a few leading module suppliers that can truly claim to have 100% of cells and modules manufactured in-house at self-regulated and controlled production sites.
As a consequence of technology differentiation firstly, but also coming from a core corporate mandate that underpins production quality control, First Solar may in fact be the only module supplier across the top-10 module suppliers to the solar industry that can truly claim to have 100% traceability across every module that is shipped to the end-market, either for in-house projects or the third-party customers.
Modules from the c-Si suppliers tend to have up to 50% of cells coming from various third-party sources, and very rarely are all modules made within in-house facilities. Of the c-Si companies making up the Silicon Module Super League, JA Solar and Hanwha Q-CELLS can lay claim to having the highest portion of modules supplied using in-house produced cells. It is not a coincidence in this regard that JA Solar and the original Germany/Malaysia Q-CELLS operations were companies whose growth as PV manufacturers originated from a pure-play cell production standpoint.
Just last week, Hanwha Q-CELLS made reference to its use of in-house cells for module supply, broadly in the context of being able to have a good handle on PERC module supply that is truly LID free; but it remains surprising that in-house quality control of components and materials is not used more by a few in the industry as a key marketing issue differentiating their product offerings to downstream companies.

Mono or multi, PERC or Black Silicon, LCOE or grid-parity: Confused?
Anyone that spends time talking to upstream component suppliers and downstream solar portfolio owners on a regular basis will realise very quickly that the two sides of the upstream/downstream solar value-chain often have very little understanding of what metrics are important to focus on, direct into marketing campaigns, or project credibly from a positioning standpoint.
Pension funds don't get mono-PERC as much as module suppliers don't get the relevance of levered IRRs; and in the middle of this we have project developers, EPCs, O&Ms and asset managers that are left to join the dots or sink-or-swim based on somebody's upfront assumption on module supplier, technology choice or the bill-of-materials sitting on a 100MW solar farm expected to perform to plan for more than 20 years.
Only a few of the leading module suppliers cited within this blog would appear to have this skill-set. And the same almost certainly applies if you were to contextualize this from the standpoint of the solar portfolio owner side.
It may seem far removed from projecting when the solar industry will exceed 100GW in annual shipments, or when mono will exceed 50% of c-Si market-share, but return-on-investment from solar module installations is quite simply the most important issue for the whole solar industry.

Creating a gathering of upstream module suppliers and downstream stakeholders that play at the multi-GW global level was our motivation for PV ModuleTech 2017, and if the end goal is to have consensus on the metrics that matter, then we will have gone quite some way to addressing the upstream/downstream language barrier that permeates final module supply choice today for much of the large-scale commercial and utility end-markets.
PV-Tech will be hosting a free webinar on the 30th and 31st August, covering PV Module Supply in 2017: Leading global suppliers, performance benchmarks & maximizing investor returns. Click here to register.