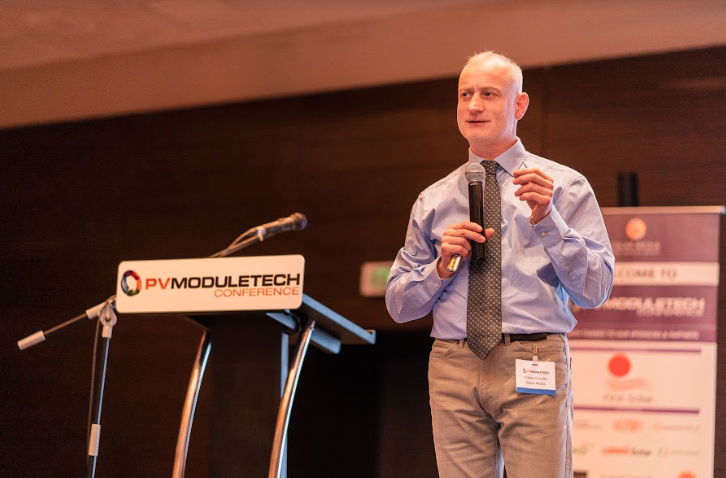 Choices, choices and more choices; this is the reality facing anyone hoping to procure solar modules over the next few years as the PV industry looks beyond its traditional trappings of 60 or 72-cell aluminium back-surface field (Al-BSF) based cell technologies. As if the array of new module offerings was not already bewildering to developers, EPCs and investors, the chances are it will be even more so in 12 months time as yet more innovations are presented to the sector, according to Finlay Colville, head of research at PV Tech & Solar Media. That is unless independent engineers (IEs) and third-party labs manage to reach consensus quickly not just on how to evaluate the latest technologies, such as bifacial or half-cut cells, PERC, HJT and n-type, to name a few, but also how they perform in specific conditions and on different mounting systems like trackers.
It was with this atmosphere of excitement mixed with uncertainty that PV ModuleTech kicked off for its second year, this time in Penang, Malaysia, with the whole value chain of the industry trying to come to terms with the newest module products. Traditional technologies look set to stay in play for a while longer, however, wherever cost or wafer supply remain constrictive to the spread of newer modules. Moreover, one key question was whether a standard 72-cell p-type multi-crystalline module is at present the only bankable module in the world, being the only relevant product to have had 20-plus years in the field.
Manufacturers can and do choose where to ship certain product
Nonetheless, it wasn't all rosy for the tried and tested technologies, with some shocking statistics presented about variability in solar panel supply. For example, Michelle McCann, partner at test lab, PV-Lab Australia, showed that when manufacturers knew their product coming into Australia would be examined, tests showed modules performing generally at or above nameplate power. However, when manufacturers did not know their product would be tested, deviation from nameplate power was far more variable, with up to 12% less power than billed in the worst case.
"We do get good product in Australia; we just don't always," added McCann. "Manufacturers can and do choose where to ship certain product."
It seems the trick is no longer just about what you buy, but also the way you buy.
Indeed, Lawrence McIntosh, another partner at PV-Lab Australia, showed evidence that product from the same tier-one supplier going to two different customers in the same country can often have significant variation in performance tests. The findings harked back to this time last year when we covered the inaugural PV ModuleTech 2017 conference in Kuala Lumpur; from which the takeaway phrase was 'all modules are not created equal'.
Scrutinising bifacial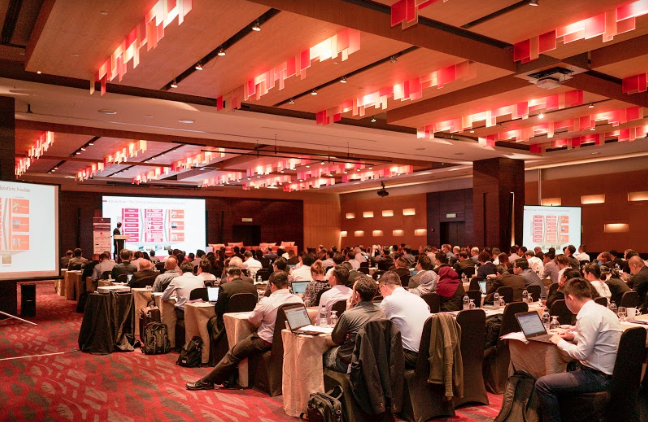 However, the overriding focus this year was grappling with the whirlwind of new technologies. One of the major questions facing the industry is how, when and whether to adopt bifacial modules, because if bifacial were to become the industry norm it would force all EPCs and plant designers to completely rework their assumptions about how to optimize site yields over 20-30 years. Many procedures that are standard to monofacial module installations are turned upside down by the bifacial concept given its ability to generate power from albedo on the ground on the backside of a sun-facing module. A whole new game in terms of Balance of System (BOS) would need to be played.
IEs and certification bodies all showed their work on bifacial testing so far, but it seems that a benchmark test for bifacial has eluded the industry and as one delegate put it "the industry is really excited but confused about bifacial technology". While there is puzzlement and risk-aversion, there are also early adopters taking the sector into unchartered territory. Offering one of the more bullish forecasts on where bifacial will be in 12 months' time, Paul Wormser, VP of Clean Energy Associates, reminded us in the final panel session that some players are starting to invest in and install hundreds of megawatts of bifacial modules already.
"We are going to see not just the data coming from the test labs and the pilot sites, but we're going to empirically see really big projects going in the ground now," said Wormser. "It's going to accelerate and so we're at the tipping point and I think when we come back here next year it's going to be the normal thing to do."
This suggests that some players have done their due diligence and fully trust this technology, having moved on from the pilot phase. Of course, only time will tell us how performance will be out in the field.
Colville noted a tendency in the solar industry for innovations to either vanish or become almost universal very quickly and this is why everyone in the sector needs to watch closely if bifacial starts catching on.
Another suggestion that bifacial technology simply cannot be ignored came from Helen Zhou, module technical director at China-headquartered manufacturer JA Solar, who said the firm would soon start only producing bifacial cells and even putting them in monofacial modules due to the prices coming down so far on bifacial cells…This was certainly food for thought.
Multi not dead…yet
The issue of multi vs. mono is still a huge question given that these technologies account for roughly 90% of the market still.
The rise of mono PERC modules has been undeniable, perhaps symbolised by some players in the aggressively price-obsessed Indian market starting to come to terms with it.
For Colville the global market is utterly dependent on wafer supply now and he went as far as to suggest that if there was enough mono wafer availability to supply the whole market today, then "multi is dead". However, wafer supply constraints mean multi should still be supplying multi-Gigawatts over the next three years and can still utterly dominate specific markets, with some Indian players, for example, likely to be procuring multi right up until the last standard polycrystalline module comes off the production line for an extremely low price in a few years' time.
In his analysis of the event, Vinay Rustagi, managing director of consultancy firm Bridge to India, aptly wrote: "There has been a common perception in India that solar industry is highly commoditized with multi-crystalline modules accounting for over 98% market share. But these modules are turning obsolete – worldwide share has already fallen from over 70% in 2015 to less than 50% now.
"As for the developers, there seemed to be a feeling that their job is becoming difficult in trying to evaluate different technologies and picking the right one. Some developers mentioned that they have to run as many as 30 different project design combinations before settling on a final plan."
What and when to pick
Indeed, Frank Faller, VP Technology, 8Minutenergy Renewables, one of the largest solar IPPs in the US, said that not only is p-type multi "disappearing" but there are easily 15+ technology options for modules and the trend is increasing. This dramatically increases the number of modelling iterations the company has to run to optimise its projects. This has made predicting the LCOE of a project more complicated and performing due diligence both more difficult and strenuous.
Faller also said that from a general developers' point of view, degradation modes on panels are still not fully understood, particularly as "degradation modes depend on the BOM and components and are unique for each single PV module brand and mode". He also described the finding that quality varies even between different workshops of the same manufacturer as "quite disturbing".
In a world of low cost mono you have got the sky in terms of what might happen next
A major difficulty is how to instil confidence in developers that in six months time the frontrunner technology won't completely change again, added Colville. The speed of technological progress means a newer, better module could be around the corner just three months into a project that takes 18 months to build, so how does one factor that into LCOE calculations?
"Everyone thinks it's great that there's all these higher performing modules and all this extra capability, but actually that's a problem if you are trying to develop something and have a fixed plan that you are giving to investors and demonstrating what the returns are going to be for 20 years," he said.
Besides the wafer supply issue already discussed, downstream growth will also play a key role in deciding the future of p-type multicrystalline. Colville said that if the market suddenly needed an extra 40GW next year, it is multi that would supply that demand, simply because there is not enough mono.
However, he added the caveat: "In a world of low-cost mono you have got the sky in terms of what might happen next. You have to deal with change quickly because in 12 months time or in 18 months or two years there could be a rapid transition to tens of Gigawatts of heterojunction (n-type) and then everything changes again. So maybe this is actually a warning time in the industry that it's just different now, that the industry and the cell processing have moved and we've got low-cost high purity wafers coming through for the first time."
Solar Media's cell technology-focused event PV CellTech will also be held in Penang on 12-13 March 2019, and the inaugural India-focused event PV IndiaTech will be held on 24-25 April 2019.
Bouncing back from 531
China's policy upheaval in May this year, that significantly cut the industry leader's projected growth, sent shockwaves through the industry, however, this week saw news emerge that the Asian giant may be considering enlarging its overall solar target to a huge 250-270GW by 2022. This will be sure to affect the rising demand from the rest of the world across Southeast Asia, Latin America and the Middle East, which have been absorbing the surplus capacity in China caused by the 531 announcement.
The resulting decline in ASPs has caused the whole industry to squeeze. Colville said this decline is entirely due to the supply of polysilicon and wafers, which is controlling both technology and pricing – adding: "The pricing of modules in the last few years has been held relatively high you'll be disappointed to hear if you're a manufacturer."
Quality
Declining ASPs of course puts pressure on manufacturers to increase energy yield while also decreasing costs.
"The gap between the ASP and module cost is quite small and this is a huge pain for all of us in the industry, which means nobody is really earning money," said Mirko Meyer, head of product management, at major equipment supplier Meyer Burger. "So then the question is how can we overcome this? Of course we can reduce module costs but this is hard without suffering on quality. The whole industry is squeezing and quality becomes a pain."
To make matters harder, Colville also added that a rebound on prices is very unlikely anytime soon.
"There's not a lot of margin in module manufacturing especially after China 531," said Tristan Erion-Lorico, Head of PV Module Business, Laboratory Services, at quality assurance and risk management company, DNV-GL. "People are getting squeezed, but for the most part they are surviving, but if they are not getting a healthy margin to survive then cutting corners is an inevitable thing to turn to rather than closing the company down."
Quality was indeed a major feature of PV ModuleTech and we heard throughout the conference a long list of problems including underperforming modules, poor quality backsheet choices, replacement of modules after only a few years, and micro-cracks, to name a few.
For example, due to many first-time Indian developers entering the market during the "gold rush" of 2014/15, Vinay Rustagi said: "There is a big problem in India that many projects don't have the necessary amount of quality focus that they should have had. Many projects we know are underperforming very badly. There is high module degradation, there are warranty problems being reported etc."
Sudeep Tiwari, senior manager, PV Module technology and Supply Quality at Indian developer and EPC Mahindra Susten, said the firm has been actively taking a stand over quality before signing contracts and looking at BOM very carefully, perhaps marking a steady change of habits in India, and Rustagi said quality is likely to even out over a period of time with the industry consolidated and new government-led quality standards being introduced, but it will remain an issue for another 1-2 years.
However, besides emphasis on price, many delegates noted the importance of third-party labs and IEs having a strong voice for the industry to rely on.
Lou Trippel, vice president of Product Management at US-based thin-film solar manufacturer and developer First Solar, said: "In terms of energy prediction – these things are hard enough without even considering some of the biases that may be present. We end up with a bit of an arm wrestling match here and we luckily have some referees that can jump in. As an industry we need to recognise the importance that these independent roles play in trying to drive toward that level of unbiased and absolute correctness."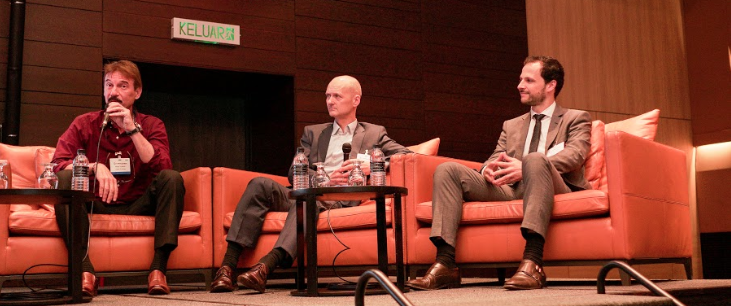 Fabian Wany, head of sales EPC, SEA, at developer Conergy, also said it was easy to be "puzzled" by all the module innovations on offer – adding that the firm had been lucky over the last few years to build projects using either mono or multi modules and then simply having to work out the best radian, structures and cables. However, now "everybody is getting into a panic", worrying about missing out on the latest trend and extra energy uplift that it could yield for a project.
Wany added: "The precedence of the tech is not there yet. We need more evidence in order to trust the data. Some people have tried their luck and tried to make it work and that's helpful for the industry to push forward, but essentially we need more third-party certification."
Bankable bifacial
Ralph Romero, senior managing director, Black & Veatch Management Consulting, which plans to introduce the industry's first bifacial module rankings through tests in the Nevada desert, said: "In the US, there is a lot of excitement about bifacial modules, but the reality is there is still a lot of uncertainty with regards to module availability and module quality and first and foremost is the lack of a widely accepted energy forecasting tool for bifacial module performance. That's probably the single most significant limitation today that I see in the US market for deployment of bifacial technology. There are still hurdles to be overcome – it's not that everybody is now going crazy about bifacial modules; there's still a lot of hesitation."
Romero said that B&V's bifacial tests show on average a 5% module efficiency gain over mono, which is significantly less gain than the 15%+ gains that many manufacturers have touted. He added that the large variability in bifacial forecasts across the industry means that they need to be taken with a grain of salt. Regardless of that, the conference still heard of some developers considering sites of up to 300MW capacity using bifacial modules.
Nonetheless, Romero added: "The reality is that most manufacturers have bifacial products, but not very many actually have high volume commercial production of them."
Repowering
Other themes that emerged during the conference were:
a strong desire for data on how PERC technology is performing in the field after its rapid adoption over the last year;
manufacturers highlighting the increasing importance of working with tracker and mounting suppliers for mutual benefit when designing new modules, especially for example in the US market which is now dominated by single-axis trackers;
Light and elevated Temperatures Induced Degradation (LeTID) becoming a hot topic;
more types of tests being discovered regularly.
As a final thought, Colville asked a panel if repowering – replacing the entire module selection from old plants with cheaper and more efficient new modules – could become economically viable in the near future. We then heard of potentially Gigawatts of such repowering happening in Italy over the next few years. However, manufacturers said there are Balance of System (BOS) problems when replacing older vintage modules with new ones, because the new module specifications often have different sizes.
Solar Media's cell technology-focused event PV CellTech will be held in Penang on 12-13 March 2019, and the inaugural India-focused event PV IndiaTech will be held on 24-25 April 2019.