Vietnam Energy Online, the official media arm of the country's Ministry of Industry, Trade and Clean Energy Associations, has released its rankings for module shipments in 2020. Statistics show that JinkoSolar has ranked first in Vietnam for the third consecutive year, reaching a total shipment volume of more than 2.5GW.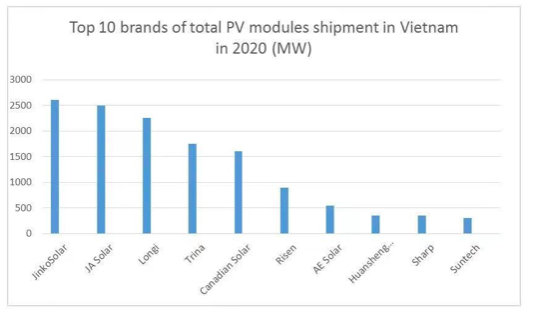 With the rapid development of the Vietnamese PV market, the country's total annual installed capacity in 2020 was over 13.4GW, 9.205GW of which came from rooftop projects. Thanks to the support of the FIT2 policy, over 2.3GW of modules were installed in the month of December alone. JinkoSolar shipped more than 2.5GW throughout the year, translating into a market share of over 18%, of which the utility segment accounted for more than 36.8%.
Vietnam, as the third largest PV market after China and the United States, has a rising requirement for modules. High power generation, high efficiency and suitable module size are all important factors for customers in the rooftop segment. JinkoSolar's Tiger Pro series modules are a perfect fit, with their ultra-high power output, efficiency and size, and have become the first choice for the sector.
JinkoSolar's CMO, Mr. Gener Miao commented: "Vietnam is one of the fastest-growing countries in the Asia-Pacific region and our three consecutive years of market leadership is testimony to the excellence of our products and customer service."