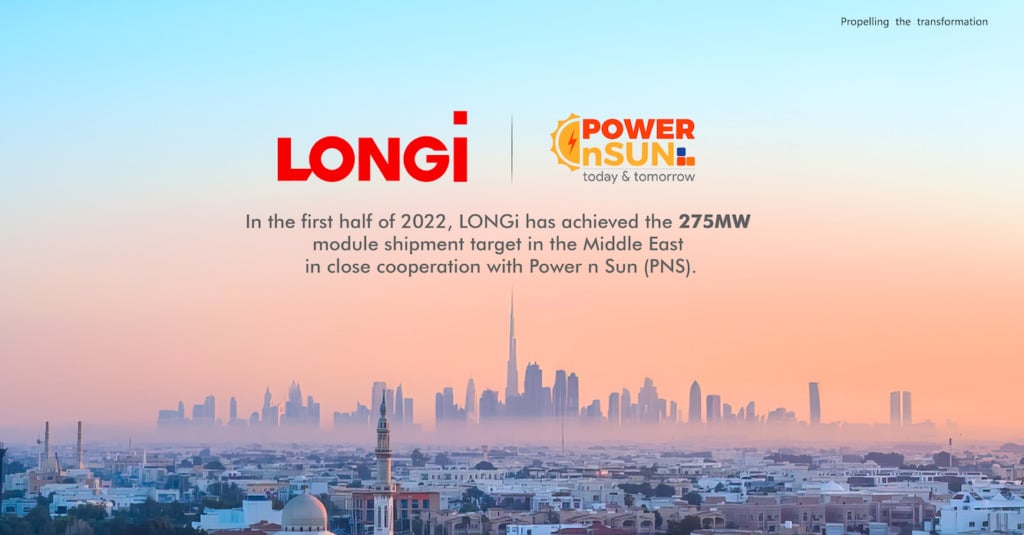 LONGi has announced that, in collaboration with Power n Sun (PNS), one of the major players in the Middle East's distribution market, total shipments of its Hi-MO 5 modules to the region exceeded 275MW in the first half of 2022.
Power n Sun is a solar solution, supply and system company supporting residential, commercial and industrial solar installations in the Middle East and Africa regions. It is viewed as a "one stop solar shop", engaged in the wholesale distribution of PV modules, inverters, DC cables, structures and other BOS materials.
The company's managing director and founder, Mr. L.K. Verma, commented: "PNS is committed to speeding up solarization in the Middle East region at the least possible cost and in the most simple, agile and optimized way. This will be achieved by aggregating and aligning market demand, improving on product availability, ease of transactions through a one-stop-shop approach and creating the required value in the demand chain."
"275MW was the target agreed between our two companies and represents a remarkable achievement that will drive our efforts and encourage LONGi and PNS to continue to provide the best products and services to the local market and together reach new heights in the Middle East," added Amy Liu, LONGi GM for the Middle East.
LONGi Hi-MO 5 modules have now been delivered to clients in 94 countries, with total shipments exceeding 30GW, underlining the product's continuing popularity with customers. Hi-MO 5 modules are not only ideal for utility-scale power plants but are also widely applicable for the DG market. In-depth analysis suggests that Hi-MO 5 is widely considered to represent the optimal product based on size, compatibility with the industrial chain, product value and life cycle reliability.