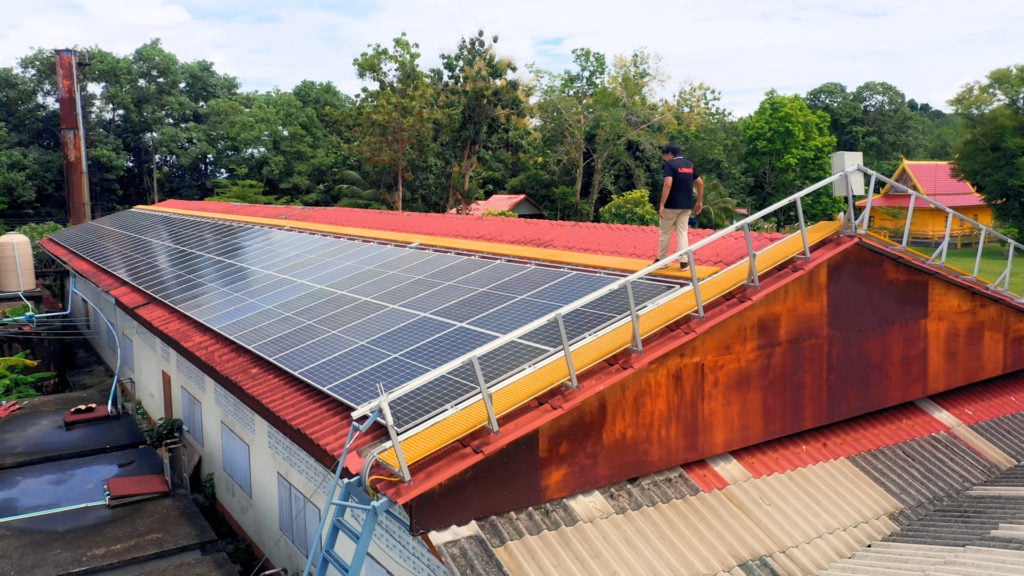 LONGi has partnered with Symbior Solar and Blue Solar to complete a 72kWp PV + 266kWh ESS + 60 kVA genset micro-grid system on Thailand's Koh Jik island.
The Koh Jik ReCharge project has been developed by Tanai Potisat, founder of ReCharge Energy, with Symbior and Blue Solar the project investors. In addition to the overall setting up of the system, Koh Jik ReCharge also involves the local community in organising a tariff structure and managing daily operations. The project showcases a new generation mini-grid for the electrification of Thailand's off-grid islands and a proof-of-concept for the private-community social enterprise model.
Koh Jik is a small fishing based island located in Chanthaburi province and is one of the first islands in Thailand to build a renewable energy micro-grid, its power previously mainly diesel generated.
As a result of detailed analysis of the island's load and consumption habits, it was decided that an optimized system should consist of 72kWp high efficiency solar modules, a 266kWh lithium-ion battery and a back-up diesel genset. The ReCharge project design allows battery storage to replace diesel consumption, making it possible to achieve a 95% share of the load provided by solar energy.
With the new system in place, the cost of energy generated is reduced from 30~50 THB/kWh to 13 THB/kWh and monthly diesel consumption is lowered by 80% from 2,000 to 240 litres. The ReCharge project was also successful in selling its carbon emission reductions and positive environmental benefits to a global organisation, the proceeds returned to the community as a retail electricity tariff rebate of 1THB/kWh.
Dennis She, LONGi Group Vice President, commented: "We are delighted to be part of such a flagship project and greatly appreciate the trust placed in LONGi by Symbior and Blue Solar. A micro-grid project tends to be extremely difficult to develop as its business model is usually unsustainable. We hope that the Koh Jik ReCharge project can set a good example in the region and more people can benefit from rural electrification."
Tanai Potisat added: "We are proud to announce the completion of Koh Jik's electrification with solar energy. This project sets course to change the paradigm, living proof that community operated microgrids can be technically and financially sustainable over the long-term. For this, we and the entire community are confident that LONGi's high efficiency panels will be able to support and produce electricity for the next 25 years."