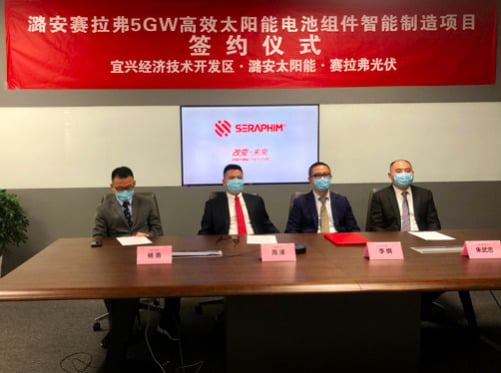 On February 28th, Jiangsu Seraphim Solar System Co. Ltd. (Seraphim Solar) and Shanxi Lu'An Photovoltaics Technology Co. Ltd. (Lu'An Solar) jointly signed a contract with the Jiangsu Yixing Economic Development Zone committee for the construction of a new factory.
The new 5GW module plant, at a total investment of RMB 4.0 Billion (USD 565 Million), will be manufacturing Seraphim's high efficiency modules and is an important part of the 2020 Yixing "Major Projects to Build a New Energy Industry Highland". The whole project, with a total investment of RMB 12 Billion (USD 1.70 Billion), is designed to accelerate Yixing's transformation from traditional fuel energy consumption to green energy production.
Huang Qin, Secretary of the CPC Wuxi Municipal Committee, said that "with the Lu'An Seraphim project settled in Yixing, both Yixing and Wuxi will enhance their reputations as highly industrialised modern cities."
It is not the first time that the two companies have jointly invested in a module manufacturing plant. In March 2019, a 1GW plant was established in northern China's Shanxi province, to mainly produce high-efficiency half-cell modules. Seraphim has great experience in the research, development, production and innovation of PV products, with a global module capacity of 5GW and more than 8GW of modules already installed in over 40 countries worldwide. Lu'An Solar is, for its part, a wholly-owned subsidiary of the Lu'An group, a Fortune 500 company. It also has a capacity of over 5GW in high efficiency PERC cells.
The new manufacturing plant covers an area of 33.3 Ha and will be constructed in two phases. Once the factory is completed, it will deliver an average of RMB 8 Billion (USD 1.13 Billion) in annual revenue.