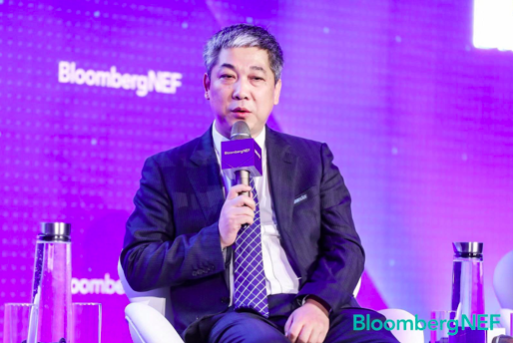 The use of bifacial (double-sided) modules is gradually being accepted and recognized by markets as an effective way of reducing system costs, says Rongfang Yin, executive vice president of Trina Solar.
"Globally, the United States, the Middle East, Australia and China will be the main power station markets for popularizing bifacial modules," Yin told the Bloomberg Energy Finance Summit in Shanghai on Dec 3.
Yin discussed the development of photovoltaics with other participants in the keynote forum 'Next Era of PV Development: Deeper and Wider.'
"In terms of the future development of bifacial modules, we predict that the results will exceed the expectations set by the industry analysis agencies and will have about 25 percent of the global market share for modules," Yin said.
Regarding the module sizes most talked about in the industry recently, Yin said: "From the technological perspective, we consider more the value that can be created for the industry and customers by the application and popularization of a technology. The current understanding is that larger sizes can increase the power and efficiency of individual modules and improve cost-effectiveness of the products, which is the trend for the future.
"The specific range of size increases depends on the technological conditions and the maturity of the supply chain and the size increase also imposes higher requirements on companies' manufacturing processes and know-how. From the system perspective, to understand the specific benefits of such technological applications as bifacial and larger modules, we need to comprehensively consider the compatibility between modules and the tracking system, as well as coupling and other factors in the entire power generation system."
"In addition to considering the application and selection of module technologies, how to improve the overall efficiency of the power generation system and reduce system costs, thereby further reducing power generation costs, is also a challenge that needs to be tackled for subsidy-free grid parity", Yin said.
"In response to this challenge, Trina Solar launched its TrinaPro products last year. TrinaPro uses bifacial modules with high power output and reliability that have also incorporated such technological applications as MBB, half-cell solar modules and large silicon wafers, which can increase the power output of modules while reducing system costs.
Trina Solar will continue to use innovative technologies and integrated solutions to reduce cost and improve efficiency in new ways during the new era of photovoltaics, and create greater value for its global customers".