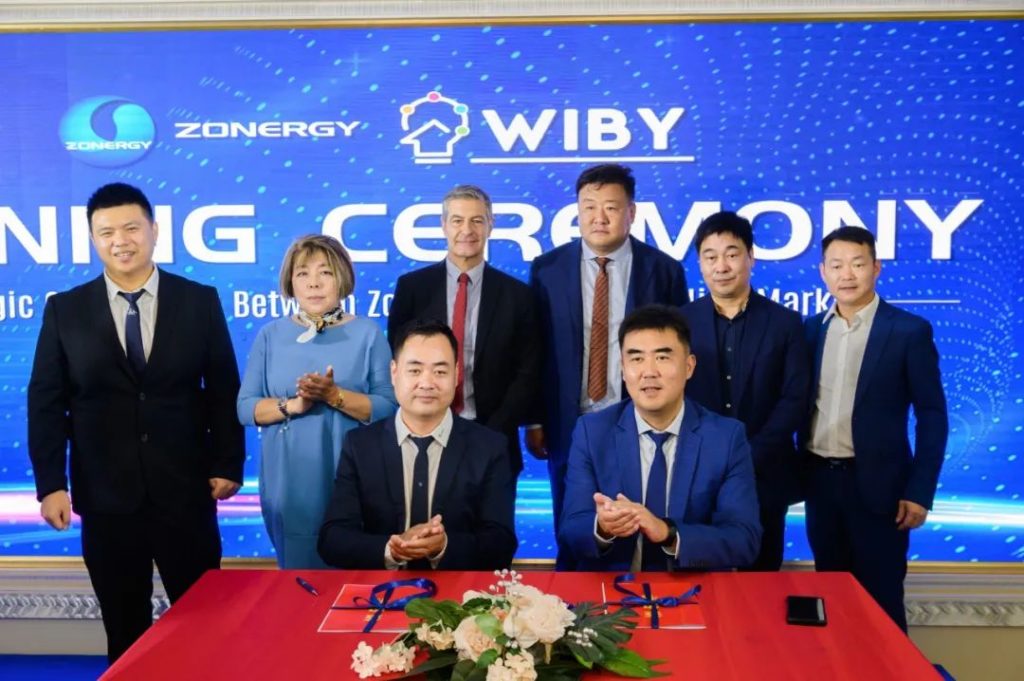 ZONERGY Europe has announced the signing of a cooperation agreement with WIBY, a well-known brand in the Italian smart home market, experts in store channel integration, logistics, distribution and technical installation. Among local industry figures attending the signing ceremony were Dr. Ugo Papi, Special Advisor to the Cabinet of the Mayor of Rome, Guo Jun, Executive Director and President of ZONERGY SRL, Huang Xinhua, secretary-general of the Chinese Chamber of Commerce (Italy), Li Jiang, general manager of ZONERGY Europe and Dai Zhiguang, executive president of WIBY SRL.
Europe is key to ZONERGY's globalisation strategy, with the company having launched a series of high quality power converters and energy storage products tailor-made for the European market. It has also established a management, sales and service platform for Europe, with Italy as its hub, as well as two major warehouses, delivering efficient logistics.
Under the agreement WIBY, as one of ZONERGY's major distribution channels in Italy, will use its expertise in channels, logistics and after-sales to promote the sales of photovoltaic products in the Italian market.
Speaking at the signing ceremony, Mr. Guo said that, in order to achieve the global goal of zero carbon, European countries have introduced more active energy related policies. Since the beginning of this year, photovoltaic products have shown explosive growth in Europe and, as a world-renowned provider of integrated solutions for smart microgrids, ZONERGY SRL has based its product offerings on an in depth analysis of the European market.
Dai Zhiguang, WIBY CEO, also addressed the attendees, saying that the cooperation between the two parties is of great significance and the strong alliance between the two will usher in a new chapter for ZONERGY SRL in development of the Italian photovoltaic market.