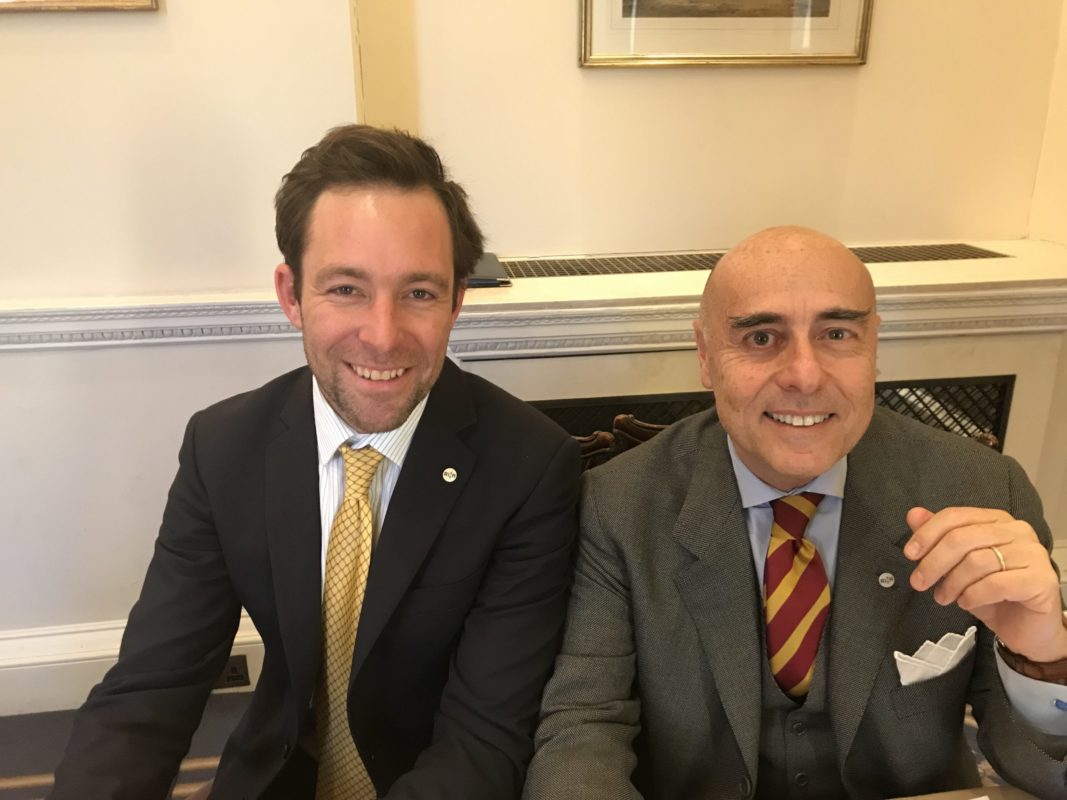 With experience offering technical advisory services for multi-gigawatts of solar PV and other energy projects around the world, Italian firm RINA has overseen the boom of PV in many markets as well as the introduction of the newest solar technologies. PV Tech caught up with Ugo Salerno, chairman and CEO of RINA, alongside the firm's technical director for power and renewables, Simon Turner, to discuss a range of trends in industry:
How easy it to retrofit solar projects with energy storage?
We are working with a number of the larger PV portfolio owners in the UK who are looking at the possibility of installing batteries on their sites. It is possible, but only in certain locations and certain areas of the world, because in most cases you need the grid connection capacity to import the electricity as well as export it.
it was just build build build because we've got to hit these dates
If you have a 10MW battery, you need a 10MW import, which you can't always get if the solar project is already operational. PV projects normally just have a 100kW import so that's quite a big difference on the load that the grid can cope with.
You've also got planning restrictions, so there's quite a lot of work that needs to be done in order to retrofit, but technically, yes it should be fairly easy to retrofit batteries with solar.
How difficult was it financing Lightsource's floating solar project on London's Queen Elizabeth II reservoir?
Anything new gets credit committees a bit twitchy. When we first started working with RBS, they had never financed a ground-mounted PV project and so the due diligence exercise was a hundred page report. It took weeks and weeks to convince them and their credit committee to invest in solar. Now they know what the risks are, they've spent £1 billion investing solar in the UK so they are experienced.
For the floating project we had to concentrate on the mix of electricity and water and the floating parts being securely fastened to the bed of the reservoir. We subcontracted a specialist off-shore engineer to make sure the design of those floats was suitable and would last 25 years as well. It was all designed by Ciel & Terre.
Are you seeing a lot of action in repowering and upgrading solar plants in Europe?
Operational services are our key focus in Europe at the moment because while there's quite a big installed base, there's not much being deployed, although we are now getting subsidy free projects.
With the tariff regimes there were always cut offs every year where the tariff dropped. This meant it was always a rush to get things built and no one was really worried about operation, it was just 'build build build because we've got to hit these dates' until the tariffs all went. As a result, we do have an awful lot of installed capacity that was built in a rush. I'm not saying its all low quality, but some of it is not sufficiently reliable.
There is a lot of work to be done on operational services. We haven't seen much repowering yet. The whole asset base is still fairly young, but we are seeing a lot of optimisation, trying to improve the way the plants work. With solar there are hundreds of thousands of connections and there are lots of things that you can just change a tiny bit that will have a big overall effect on your plant.
One of the advantages of solar is that you rarely get plant failure. You might get strings down or consistent fuse problems, but nothing that's going to completely ruin your investment, but there is room to improve the output of projects.
The main thing we've seen in terms of a plant-wide change is retrofitting some earthing to make sure projects work properly.
The risk with subsidy-free projects is really to do with energy pricing rather than the technical risk, so our roles largely remain the same except for maybe using new materials or different types of cheaper designs. We've seen people try different orientations, they are not all south facing, they can be East-West facing to fit more onto the site. Small changes in designs but the main risk of subsidy free is the market price – the spot market.
Simon Turner has previously discussed issues around the warranties of modules from bankrupt manufacturers with PV Tech as well as the World Bank's plans to introduce a 'Scaling Solar and Storage' (SSS) programme, on which RINA is advising.