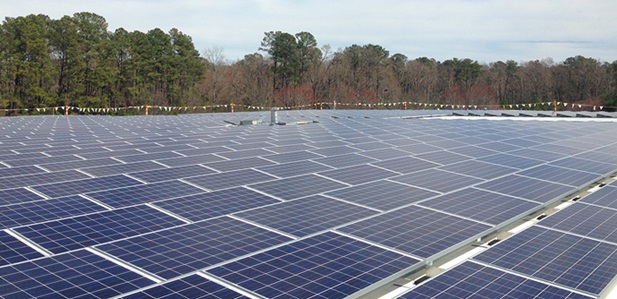 Renewable energy firm SunEdison has completed the second phase of a deal to acquire a 33% interest in US utility Dominion's 567MW portfolio of solar projects for US$117 million.
Simultaneously, Terra Nova Renewable Partners acquired SunEdison's interest in the transaction for the same price. Terra Nova is a strategic equity partnership between SunEdison and institutional investors advised by J.P. Morgan Asset Management – Global Real Assets.
Terra Nova now owns the 33% interest, which accounts for nine projects in Dominion's solar portfolio, including:
Pavant, 62.3MW
Cottonwood Carport, 1.1MW (under construction)
Cottonwood Corcoran, 14.7MW
Cottonwood Goose Lake, 16.9MW
Richland, 33.7MW
Alamo, 23.7MW
Maricopa West, 28.2MW
Catalina 2, 24.3MW
Imperial Valley, 25.9MW
Dominion's overall 567MW portfolio consists of 24 projects in Indiana, Georgia, Connecticut, California, Tennessee and Utah.
Through an indirect subsidiary, Terra Nova now has the option to buy the remaining 67% of Dominion's portfolio. This completes both phases of the Dominion transaction that was reported in September last year along with the formation of Terra Nova.
SunEdison also has the option to repurchase the projects from the partnership for a period of five years. The company may also assign call rights to the projects, should they be repurchased, to its yieldco TerraForm Power.
Brian Wuebbels, SunEdison's chief financial officer, said: "We are pleased that the Terra Nova partnership has invested in Dominion's diverse domestic portfolio of solar assets. With Terra Nova acquiring the assets, we retain an option to acquire high quality contracted cash flows in the future."