After the 630 installation rush, enterprises, industry experts and investors began to think about the next trend for Chinese PV industry. It is predicted by senior staff from an investment company that 2017's plant development would be tripartite, led by the 'Top Runner' (leading group) projects, distributed systems and poverty alleviating PV programmes.
Within the industry, the utility-scale ground-mount plants would be replaced by Top Runner projects and the FiTs would tilt towards distributed systems and poverty alleviating PV programmes. In short, Top Runner projects would take over the dominant market share from ground-mount systems in China.
Under this circumstance, whoever comprehends the game rule changes and meets all the requirements of the Top Runner projects is going to obtain the first-move advantage in the next key downstream market in the country.
Top Runner keywords: Technology updates and FiT cuts
The Top Runner project is a dedicated PV supporting programme initiated by China's National Energy Administration (NEA) in 2015. The project is to facilitate the deployment of advanced PV technologies and the upgrading of manufacturing for the entire industry. It is hoped that this project could promote the transformation of domestic PV manufacturing from scale-expansion driven industry to a quality-and-efficiency driven one. In return, achieve the transformation from high subsidy and policy dependent operating mode to low subsidy and increased competitiveness mode.
After more than one year exploring and deploying the first Top Runner project base, Shanxi Datong National PV Demonstration Base on Coal Mining Subsidence – Phase I, recently witnessed its PV plants accomplishing grid-connection and full operation. As the first advanced technology demonstration base that has finished the whole process of being sanctioned, completed and grid-connected, its entire planning and construction procedure provides good technical and experimental references for other Top Runner projects.
It is reported that the Datong Top Runner base has a planned nameplate capacity of 3GW, being implemented over three years with the 2015-2016 period as the starting up phase when technical standards and FiTs remain roughly at the current level. In the 2017-2018 timeframe the technical standards would be increased gradually whereas FiTs being decreased gradually. In the 2019-2020 timeframe when the technical standards are expected to be raised further, the FiTs would decline further.
It could be seen from the above three phases that Datong demonstration base has closely followed the two keywords – technology and FiTs in the hope of exploring the possibilities of reducing FiTs by technical upgrades.
New circumstance forces technical competition; high efficiency brands lead the way
When looking at the detailed regulations in terms of advanced technologies, Top Runner projects expressly stipulate that polysilicon and monocrystalline PV modules must have conversion efficiencies of 16.5% and 17%, respectively (see Table 1). This compares with the average PV project only requiring 15.5% and 16% module efficiencies, respectively. The higher standards are expected to force PV companies to pay more attention to the unit cost and to develop more efficient products.
The results for Datong's 1GW phase 1 project was recently reported by PV Mates. A total of 12 companies module products stand out for deployment, within which JA Solar accounts for nearly half of the share, followed by Lerri and JinkoSolar. (See figure 1)
Known for its 'high efficiency' products, JA Solar currently has five module series that meet or exceed the requirements from the Top Runner project. Among the 420MW high efficiency PV modules JA Solar supplied to the Shanxi Datong demonstration base, a total of 150MW are 'Percium' brand monocrystalline modules.
The Percium modules were developed by JA Solar utilising PERC (Passivated Emitter Rear Cell) technlogy, first launched in October, 2013 that went into mass production on 20 June, 2014. The modules were the first P-type cells industrially-produced with 20%+ conversion efficiencies.
As of today, the efficiency of the Percium modules has reached 21%, making a 60-cell module possessing an output of 295Wp, and 72-cell modules generating 345Wp. It is also reported that Percium modules have better low light performance, lower temperature coefficient, lower LID and better anti-PID properties, compared to conventional module technology.
Yingli Green Energy was represented in the list with a 50MW module quota. This is viewed as good news for a company struggling with financial problems. Yingli Green has announced that its TwinMAX 60-cell (PANDA n-type monocrystalline) bifacial series glass/glass modules have been used in the plants in Datong. The module conversion efficiency was said to be as high as 18.8%.
Trina Solar also recently announced that its P-type mono-PERC cells (156x156m2) had reached 21.1% efficiency level in mass production, and the module utilising this cell have a power output of 300Wp.
This P-type mono-PERC cell utilises large surface industrial Boron-doped Cz wafers as substrates, back surface passivation. Zhiqiang Feng, VP of Trina Solar and director of State Key Laboratory of PV Science & Technology (SKLPVST) noted that going into mass production for this product would cater for the market's demand for high-efficiency PV cells and modules.
Apart from those companies (JA Solar, Trina Solar, JinkoSolar and Yingli Green) which have 'historically' made modules, new comers such as Lerri, Jinergy Technologies, GCL System Integration and Sunport Power have also garnered attention. Lerri has primarily been promoting high-efficient monocrystalline modules that includes its new 'Hi-MO1' series in May, 2016. The modules are claimed to have an initial LID (Light Induced Degradation) rate more than 50% lower than average mono-module, with full-area efficiency as high as 18.35% and output of 60-cell modules reaching 300Wp.
President of Longi Solar, Li Zhenguo, told PV Tech that the situation for mono-silicon products' deployment in the downstream markets has already shifted. To further promote the development of mono-modules at the end of 2016, Longi is planning to announce a new series of high efficient mono wafers with a 0.2% efficiency increase and less LID problems, assisting cells to break through the 20% efficiency barrier.
To better fit in the trend of new market development and advanced technologies, GCL recently announce that they would invest around US$1.6 billion on a 1,600MW high efficiency, differentiated solar cell plant, and a 250MW high-efficiency heterojunction cell line.
The above projects would utilise PERC technology, overlaid with black silicon technologies, N-type dual surfaced technology with efficiencies of 19.5-20.5% and 20-21%, respectively.
Inverter winners in Datong Phase I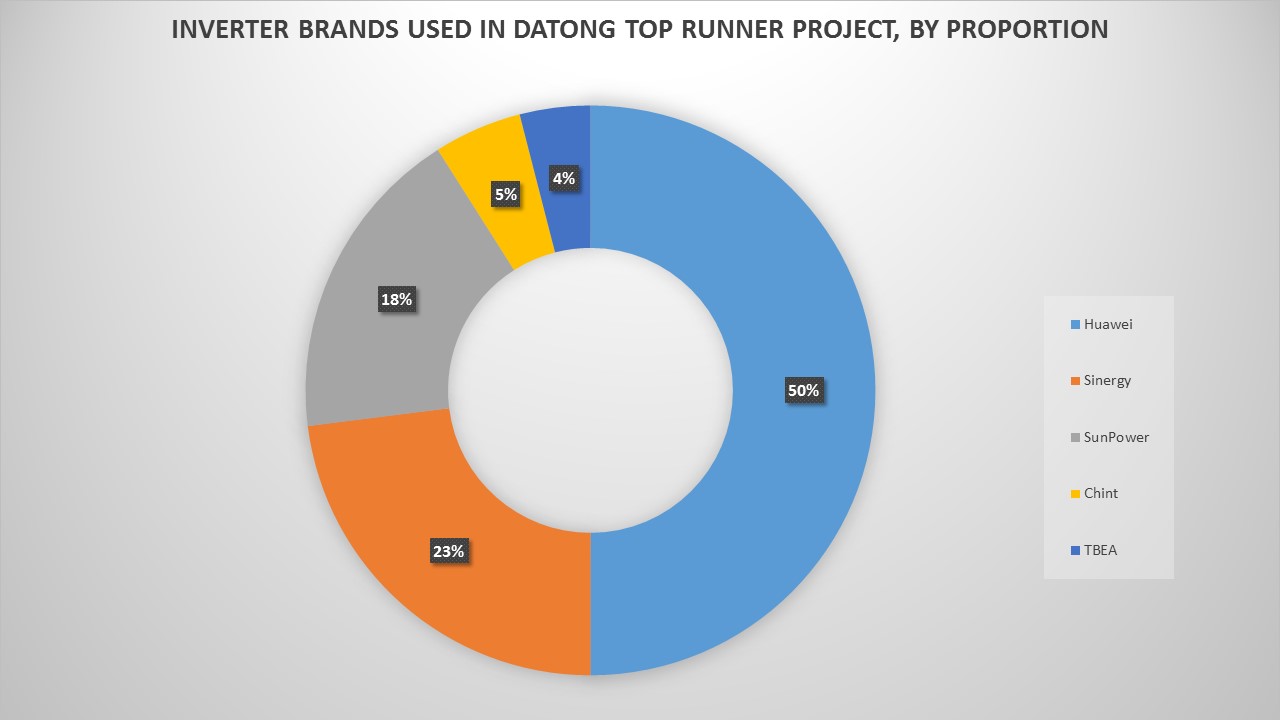 The PV Top Runner projects also initiated the fight in the area of another important component of PV power plants, inverters. According to the projects' regulations, the inverter products used in Top Runner projects need to meet the requirements that the manufacturing company should have an annual shipment of no less than 200MW. Transformer based inverters need to have an efficiency of no less than 96%, while transformerless inverters need to have an efficiency of no less than 98%. The inverter products need to have zero voltage ride through capability; centralized inverter products should have the ability of operating normally for more than 2 hours under 1.1 times of nameplated power.
From the collected data, there are five inverter companies who meet all the requirements and have been selected for the Phase 1 Datong National PV Demonstration Base, which includes Huawei, Sineng Power, Sungrow, Chint, and TBEA (see figure 2).
Among the 1GW total of 13 projects, Huawei supplied 500MW, therefore accounting for 50% of the total amount, becoming the biggest inverter winner in this round of projects. Sineng Power came in as the second highest share with 231MW, followed by Sungrow in the third place with 184MW.
Since entering the PV industry in 2012, Huawei swiftly won market acknowledgement, pioneering new technologies. In 2016, Huawei launched the advanced Smart PV Solution 3.0 that is not only deployed in ground-mounting scenarios around the world, but also used in many new application scenarios including agriculture PV, fishery PV, rooftops, hillsides, watersurface PV/floating PV, etc. Huawei also formed a comprehensive cooperation with plant developers on O&M technologies.
It is reported that Huawei inverters use Hisilicon chips and operation systems making power transforming devices into smart controllers. Huawei's inverters meet IP65 standards, and have a fuse free/natural cooling design, to ensure a safe and reliable operation within products lifetime. The products also has 4 MPPT to minimize the effect of module miss-match, bringing the overall production of the plant up by 3%.
The Datong Top Runner project is located in a complicated subsidence area with constant earth subsidence, ravines crossbar, widespread locations, which are objective disadvantages for construction firms and O&Ms. Huawei's smart PV solutions, compared to conventional solutions, need no inverter rooms, or DC junction boxes, or DC power distribution boxes and auxiliary devices, therefore could realise a simpler and easier-to-assemble system.
As one of the top telecommunication solution providers in the world, Huawei's 4G-LTE broadband wireless communication technology and the PLC (power line communication) technology carried by its inverters could replace the traditional cable communication and RS485 communication based solution, avoiding risks of cable breakage and disruption by earth subsidence. This solution could save the cost on communication cables and installations, and also could minimize the complexity and duration for the plant construction.
In the Datong Top Runner PV project – Phase I, JA Solar and Huawei are beyond doubt the initial winners. Besides the Datong project there are four other PV base projects utilising advance technologies from Baotou, Yangquan, Jining, and Huainan-Huaibei that have recently been approved by the NEA.
Jining and Huainan-Huaibei projects would be mainly for water surface PV innovation plants, and Huainan-Huaibei coal mining subsidence area is planned 100% for water surface plants. To further support better construction of the newly planned Top Runner PV plant bases, Sungrow has specially organised a conference for water surface PV systems, exploring the future of water surface PV with industry counterparts and expects to lead the next round of Top Runner bids.
Top Runner projects have presented an extended competition period with many key PV manufacturers making every effort to win new bids in the market and these are expected to be revealed soon.
Translated by Huangye Jiang