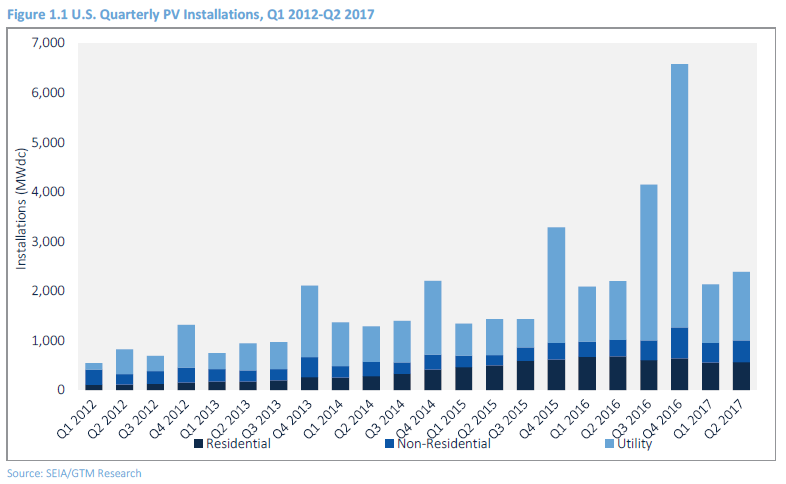 The US deployed 2,387MW of solar PV in Q2 2017, marking 8% year-on-year growth and its largest ever second quarter, according to the latest reports from GTM Research and the Solar Energy Industries Association (SEIA).
The Q2 report and market insight study for Q3, found that the US will add 12.4GW of new capacity this year, slightly down from GTM's previous forecast of 12.6GW. While the market is still expected to triple in cumulative capacity over the next five years, the looming Section 201 case brought by manufacturers Suniva and SolarWorld is expected to drastically reduce forecasts if successful.
In any case, US solar is expected to fall year-on-year in 2017 and 2018, ahead of a rebound in 2019, when multiple states start to build at scale and more than half become >100MW per year markets. The near-term fall would be partly due to an inability to recreate the massive record additions of 2016.
The report stated: "The near term will see relatively constrained growth compared to what we've seen previously in both the utility and distributed generation sectors. DG continues to face an ever-changing policy and customer-acquisition landscape, while the utility sector continues to reset as it builds out the post-ITC extension pipeline and restarts the origination process. Amidst all of this, the ongoing Section 201 proceeding concerning imported modules casts uncertainty across all solar PV segments."
In terms of states, Minnesota and Mississippi were surprise entrants to the top 10 for additions in Q2, joining PV stalwarts such as Arizona, Nevada and North Carolina. Meanwhile, Texas added 378MW – its strongest quarter ever.
Utility-scale still the 'Bedrock'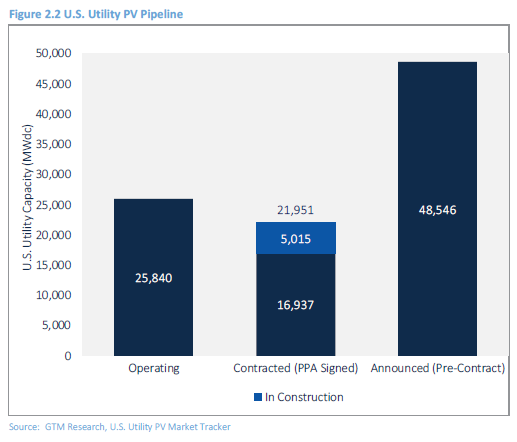 The US installed 1,387MW of utility-scale PV during the quarter, making it the seventh quarter in a row where more than 1GW was added. Meanwhile, the contracted pipeline currently stands at 23GW. Overall the US is forecast to deploy more than 8GW of utility-scale this year, despite build-out falling on an annual basis.
Growth has been driven by voluntary procurement, PURPA, off-site corporate procurement, and California-based community choice aggregators. These drivers now account for more than 75% of the current pipeline.
Right now 3.6GW of large-scale projects are in construction, and H2 2017 is expected to see over 5.6 GW of deployment.
Residential to fall y-o-y for first time
A total of 563MW of residential PV was installed in Q2, up 1% from Q1 2017, but down 17% from Q2 2016. Now residential solar is expected to fall year-over-year for the first time ever. This is partly due to customer acquisition challenges and a slowdown in operations from major PV providers as they prioritize profitability over growth.
Non-residential
The non-residential market saw 437MW of installations, growing 31% year-over-year, driven mainly by favourable time-of-use rates in California, expiring incentives in Massachusetts, and a record-breaking quarter in New York, where several net metering projects were brought online.