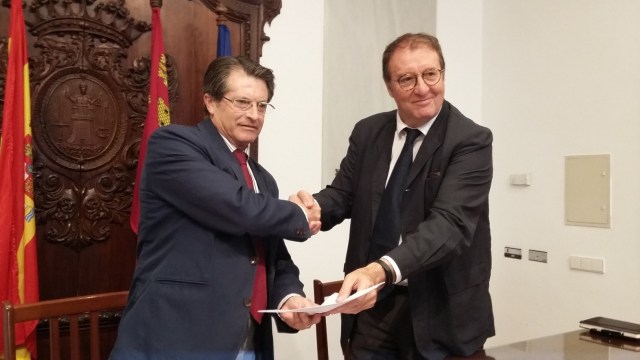 A 333MW PV plant is apparently set to be constructed by local PV company Andaltia in Lorca, Spain, requiring an investment of €400 million (US$454 million), according to the town's official website and local news outlets.
The Lorca Solar plant will generate enough electricity to power around 167,000 houses and will be situated in Zarcilla. It is expected to be operational by 2020, with construction beginning in 2018. According to the company, the plant is an unsubsidised effort – receiving no government aid or support. Financing for the project is scheduled to be closed at the end of 2017, according to reported comments by Andaltia's vice president of strategy, Pedro Sanchez, who met with the town's mayor to shake hands on the deal (pictured).
The solar plant in Zarcilla will be connected to industrial Aledo via a 40km evacuation power line. An agreement for the project was signed on Tuesday between the mayor of Lorca, Francisco Jodar and Andaltia's Sanchez. The agreement signifies a collaborative effort between the city and the Council to expedite the project process. The project has been in development by Andaltia since 2008 in one form or another.
The plant is welcome news for the country's solar industry, which has battled various obstacles this year. Most recently, Spain's Supreme Court rejected claims that cutbacks on the feed-in tariff (FiT) for solar in 2013 and 2014 were retroactive, resulting in just 20% of PV capacity under the tariff left to be rewarded. Therefore, many individuals who had invested more in their solar systems via trackers or more efficient panels, would no longer be rewarded for that. However, in a separate string of cases, the Supreme Court ruled that PV companies and investors would be compensated for new installations over amendments to the FIT. But earlier in January, the Court of Arbitration ruled against two companies who filed a lawsuit against the country over reforms made to the solar sector in 2010.
Earlier this year, there was a backlash against the so-called 'sun tax' which stipulated a ban on self-consumption of solar, with parties representing a majority stake in parliament signing an agreement to remove the punitive self-consumption policies.