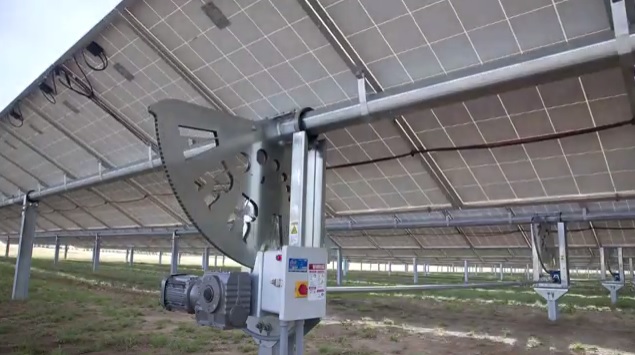 Array Technologies has launched it next generation DuraTrack HZ v3 solar tracking system for utility-scale power plants. DuraTrack HZ v3 offers unique features such as a single-bolt per module clamp and zero scheduled maintenance. This new version is designed to deliver a variety of efficiencies allowing faster installation times, elimination of scheduled maintenance costs and maximizes power plant up-time to deliver optimum LCOE (Levelized Cost of Electricity).
Problem
Solar module tracking systems need to constantly keep up with demands for greater reliability and faster installation of modules, while being flexible in a wide variety of ground conditions that support the lowest capital cost and LCOE.
Solution
The DuraTrack HZ v3 has a high power density, due to a reduction in module-to-module gaps to 1/4″ coupled with elimination of the gear box dead-space that has resulted in a 6% density advantage over its closest competitor system, according to the company. Greater reliability is provided by improved driveline design efficiencies that have allowed for 50% fewer motors and controllers per MW, with each motor driving 650-750kW. Motor assemblies are now located on the east or west edge of the tracker blocks, facilitating easy access. DuraTrack HZ v3 requires less than 1/2 the fasteners per MW with only 10,000 vs. 25,000 for alternative solar tracking solutions. Our ground-breaking single-bolt per module clamp is optimized for rapid deployment, streamlining the most time-intensive installation step. Zero scheduled maintenance is achieved with the drive train sealed and lubricated for life. The new system features passive wind management which does not require active wind stowing, or an uninterrupted power source (UPS). Additionally, v3 self-calibrates each row twice daily to ensure optimal performance.
Applications
Utility-scale PV power plants.
Platform
DuraTrack HZ v3 tracker rows are connected by a flexible rotary drive shaft. The rows can accomodate North-South slopes of up to 15% and angles of up to 40 degrees in the East-West direction.
Availability
June 2016 onwards.