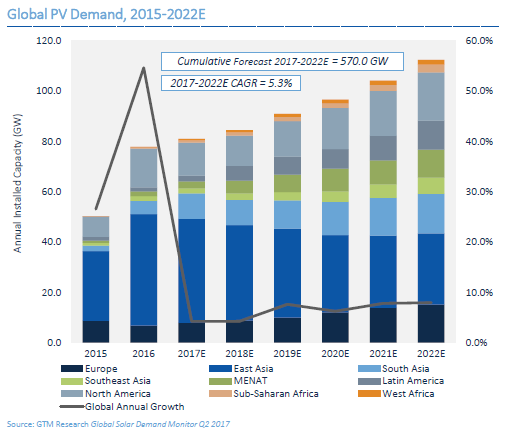 More than 80GW of solar PV will be installed just in 2017, despite a slowdown in annual demand growth, according to the latest 'Global Solar Demand Monitor Q2 2017' from GTM Research.
Back in April, GTM had predicted that global PV demand for 2017 could be as high as 85GW, but the firm has brought that upside figure down to 84.1GW in its new report.
Auctions
The analyst firm also reported that solar PV auctions are set to award 9.6GW of capacity in the third quarter of this year alone.
GTM is now tracking a 17.4GW pipeline of announced and confirmed solar auctions across the globe, of which a significant proportion (8.1GW) is coming from Europe. South Asia, led by India's National Solar Mission, has the second highest proportion (5GW).
France, the Netherlands and Ireland are expected to drive Europe's future demand.
The pipeline of auctions is expected to continue to expand as more countries take on the auction mechanism to dish out capacity while driving tariffs down and often simultaneously circumventing the need to offer subsidies. Already 48 nations have auction strategies with 27 other markets considering or planning such policies: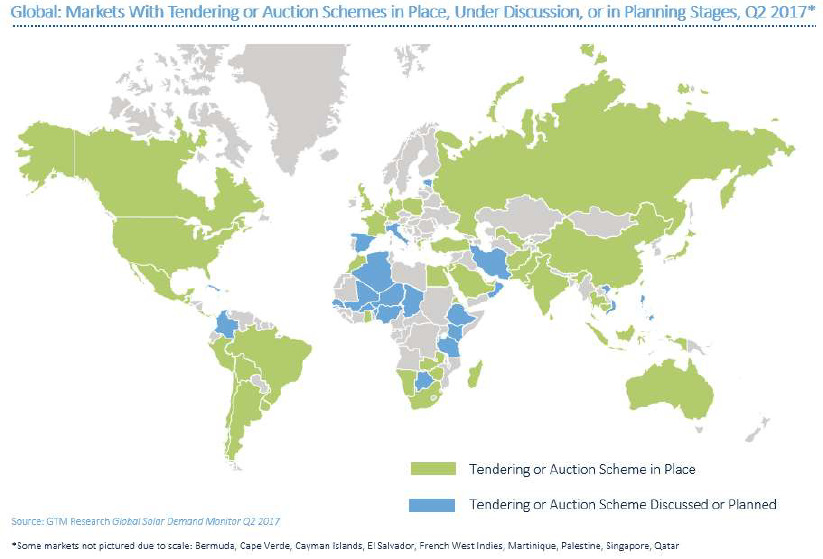 Ben Attia, GTM Research solar analyst and lead author of the report, said: "Mature solar markets including Germany, Japan and the United Kingdom have used competitive procurement as a market-capping mechanism to remedy subsidy budget deficits, market saturation, curtailment and grid-balancing issues and high costs.
"High-growth markets like India and Mexico have used the same mechanisms as a scale-up engine to centrally allocate projects on weaker grids, provide credit and off-taker guarantees or assurances, and create a low-cost, no-subsidy multi-gigawatt pipeline."
Demand
GTM has also projected that annual PV demand growth globally will slow dramatically from 55% in 2016 to a "more sustainable" 4% in 2017. This percentage of year-on-year demand increase will start to grow again to 6-8% from 2019. Again it is emerging markets that will make up for the slowdown in East Asia.
As expected, China will lead on demand with a total of 31.5GW, as forecasted three months ago by GTM. This will account for 39% of the global market.
Continued module oversupply and component price decreases will also make solar PV competitive in technology agnostic auctions.
India will remain a strong driver despite the introduction of the Goods and Services Tax (GST), which Mercom Capital Group reported yesterday, would now be set 5% for modules but at 18% or more for all other components. Japan however will continue to see much lower installations.
Looking to the future, GTM said: "The results of upcoming competitive reverse auctions in emerging markets such as Saudi Arabia, Malaysia and Zambia will provide signs as to the longer-term potential for solar to find new large markets."
Argentina, Brazil and Mexico in Latin America are all expected to grow with a CAGR of over 90% between 2016 and 2022. Algeria and Saudi Arabia will lead the Middle East and North Africa region, while in Southeast Asia, the Philippines will add 6.3GW of solar between 2017-22.