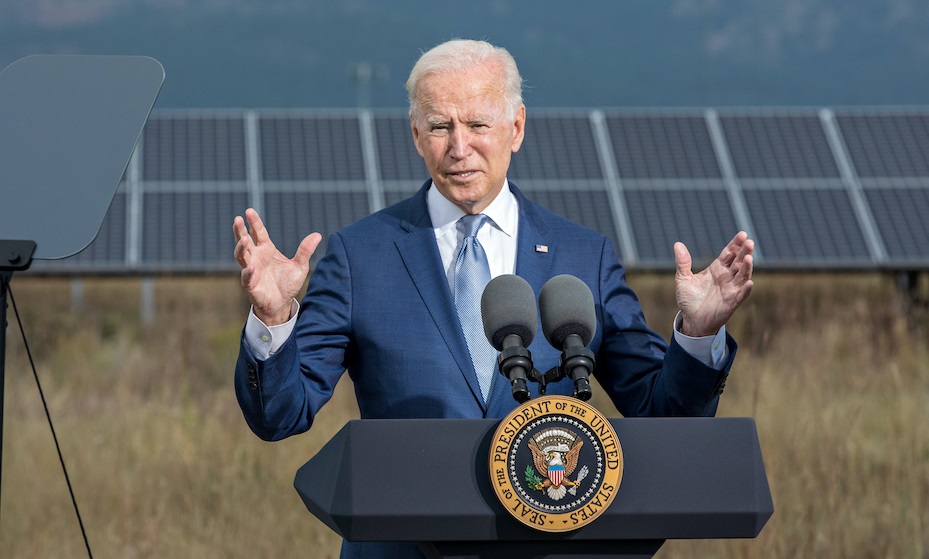 US President Joe Biden is to waive tariffs on solar imports from Southeast Asia for two years as part of a swathe of measures to boost renewables deployment.
First reported by Reuters earlier today (6 June 2022), the White House has this morning confirmed a two-year exemption from certain trade tariffs on solar modules manufactured in Cambodia, Malaysia, Thailand and Vietnam.
The measure will last for 24 months and has been described by the White House as a "bridge" for solar imports while "reinforcing the integrity of our trade laws and processes".
Imports of solar cells and modules from Southeast Asian countries named in the probe, launched in March, have effectively frozen amidst concern over prospective retroactive tariffs. As a result, solar project development in the country has stalled prompting concern over job losses and investment.
The two-year timing would take into consideration both the expected length of the Department of Commerce's investigation and any implementation period.
Meanwhile, President Biden has also authorised the US Department of Energy (DOE) to use the Defense Production Act (DPA) – Cold War-era legislation designed to incentivise the domestic manufacture of strategically important goods – to accelerate the production of five clean energy technologies, including PV modules and module components.
The White House and the DOE are to convene "relevant industry" and other stakeholders to "maximise the impact" of tools available under the DPA, the White House said.
The statement noted that while the US' domestic solar manufacturing output is expected to treble to 22.5GW by 2024, expansion need to occur more swiftly. President Biden's Build Back Better Act, which includes the proposed Solar Energy Manufacturing for America Act, itself a suite of tax credit incentives for domestic solar manufacturing, remains blocked.
The White House has also moved to stimulate demand for domestically-made PV panels by "putting the full power of federal procurement to work", introducing master supply agreements for PV systems made in the US and adding so-called 'Super Preferences' for domestic content for federal procurement contracts.
The full White House statement can be read here, however further details – most notably around how the DPA could be utilised – have yet to be revealed.
A subsequent statement issued by Commerce Secretary Gina Raimondo said her department "remains committed" to protecting the country's economic security and its trade laws.
"As we invest in expanding domestic solar manufacturing and strengthening supply chains to protect our long-term energy security, imported solar panels remain an important component to addressing the immediate demands of bringing additional energy sources online and addressing the energy needs of the American people," Raimondo said.
A 'much-needed reprieve'
Biden's intervention comes after months of concern over PV module supply to the US, with imports from Southeast Asia having all but frozen as a result of the Department of Commerce's investigation. While some manufacturers have indeed continued to service the US market, perhaps most notably Canadian Solar, contract terms and price premiums have been changed to reflect the risk posed by prospective tariffs.
Today's announcement has been warmly received by the US solar lobby, which has actively and vociferously campaigned against the investigation.
Abigail Ross Hopper, president and CEO at the Solar Energy Industries Association (SEIA), described the intervention as a "much-needed reprieve from this industry-crushing probe".
"We applaud President Biden's thoughtful approach to addressing the current crisis of the paralyzed solar supply chain. The president is providing improved business certainty today while harnessing the power of the Defense Production Act for tomorrow. Today's actions protect existing solar jobs, will lead to increased employment in the solar industry and foster a robust solar manufacturing base here at home," she added.
Gregory Wetstone, president and CEO of the American Council on Renewable Energy (ACORE), meanwhile, said: "Now that we have a reprieve from the destructive impacts of the Commerce inquiry, we look forward to working with the administration and our allies in Congress to secure the enactment of policies that strengthen our domestic supply chain, such as the clean energy tax package currently being negotiated that provides advanced manufacturing tax credits and long-term tax incentives for renewable power."
Michael Parr, executive director of the Ultra Low Carbon Solar Alliance (ULCSA), stressed the importance for a US solar supply chain that included solar wafering capacity, with nearly all wafer manufacturing facility located in China.
"The key thing we need is more wafer capacity outside of China… If we can get a good chunk of wafering capacity the cell and module scale can follow pretty quickly – a good place for the Administration to focus," Parr said.
An 'ineffective use of taxpayer dollars'
But Biden's intervention has caught the ire of the US' existing solar manufacturers. US-based thin film solar manufacturer expressed its disappointment in an announcement it said "only benefits China's state-subsidised solar industry".
"This sends the message that companies can circumvent American laws and that the US government will let them get away with it as long as they're backed by deep-pocketed political pressure campaigns," Samantha Sloan, VP of policy at First Solar, said.
Sloan also criticised the use of the DPA as an "ineffective use of taxpayer dollars" and one that "falls well short of a durable solar industrial policy" in comparison to the SEMA. "Quite simply, the administration cannot stick a band-aid on the issue and hope that it goes away. Had the administration consulted with America's solar manufacturers, they would have known as much," Sloan added.
First Solar's share price fell by around 3.8% to US$73.84 in trading this morning on the back of the news.
Other manufacturers have enjoyed better market responses to the development. Array Technologies (+18%), FTC Solar (+25.2%), Solaredge (+3.8%), Maxeon (+8%) and Shoals Technologies (+18.75%) all experienced notable increases in their stock prices today, while installers SunPower (+6.2%) and Sunrun (+10.3%) also witnessed jumps in value.