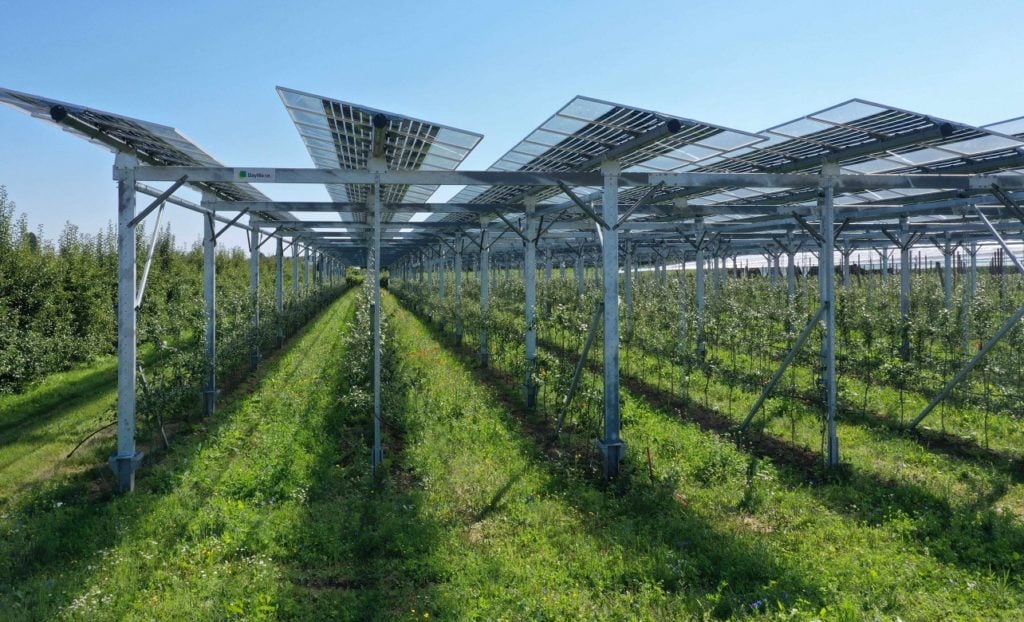 Germany's Federal Ministry for Economic Affairs and Climate Action (BMWK) announced a set of PV strategies in March to speed up installations in order to reach its goal of producing 80% of electricity consumption covered by renewable energy in 2030 as set out in the EEG 2023, including expanding ground-mounted systems, facilitating rooftop solar power systems, simplifying the procedures of building solar PV, and the elimination of tax law restrictions, to name a few.
Although the government offers direction, industry players could have different views and even demand more measures to increase the country's solar capacity. Therefore, PV Tech Premium talked to the German Solar Industry Association (BSW) and BayWa r.e. to examine the measures.
The German government targeted to reach 215GW of solar installed by 2030, up from the government's previous 200GW aim. As of the end of 2021, the country had 59GW of deployed solar.
"Against this background, we welcome the draft PV strategy presented by (economy minister) Robert Habeck, but (it has) also a few blind spots," said the spokesperson of BSW Solar.
"Questions about the mobilisation of storage and the appropriate assessment of required market premiums and maximum bid values for commercial PV investments are largely left out. In order to achieve the desired ramp-up of PV as set out in the EEG 2023, and to price in the rising costs for debt capital, components and labour, improvements should be made here," the spokesperson added.
However, BSW Solar was pleased with some measures announced in the PV strategies. For example, BMWK aimed to add about 11GW of ground-mounted PV systems a year from 2026 as laid out in the EEG 2023. According to BMWK, part of the future expansion will take place in open spaces, with preference including developing areas that are already contaminated or sealed, and areas that are less suitable for agriculture.
"We are pleased that the authority seemed to have recognised that the auction volumes of ground-mounted solar parks, which have already been increased in the EEG 2023, will only be fully subscribed in the future if sufficient eligible sites on disadvantaged areas and near farms are made available quickly enough," the spokesperson added.
However, renewables company BayWa r.e. believed that the compatibility of agriculture and PV needed to be strengthened. "In addition to agrivoltaics, solar parks that enhance biodiversity are an important factor. They could enable the land use that the agricultural sector has to provide for nature conservation anyway. However, we need the required framework conditions for this," said Daniel Hölder, head of global policy and markets.
BMWK also aimed to simplify landlord-to-tenant electricity supply and joint building supply.
BMWK said the roofs of apartment buildings were used far too little for PV. To better leverage the potential, BMWK aimed to simplify the existing option of the landlord-to-tenant electricity supply model and make it more widely used, as implementing such concepts entailed various obligations, such as the fulfilment of energy supplier obligations.
BSW Solar said: "It's good that the obligation to lay connection lines for PV ground-mounted systems is planned for property owners, which already exists in the telecommunications sector and has been called for by the BSW for some time as an important measure to speed up procedures."
In 2022, the European Union (EU) unveiled the REPowerEU strategy. Part of the strategy was to launch a European Solar PV Industry Alliance to facilitate the innovation-led expansion of a resilient industrial solar value chain in the EU, in particular in the PV manufacturing sector. It also targeted supply bottlenecks and the dependency on China.
But Hölder believed that more about re-establishing a European solar manufacturing industry along the entire production chain should be done.
"The regional diversification of the PV supply chains is urgently needed. The focus must be on a competitive European solar industry. Trade barriers would be the wrong way given the tremendous market growth driven by European and global expectations of capacity additions," he added.
Last but not least, the German government announced to change existing immigration policies in late March in order to attract skilled labour. The draft law estimated that it could increase skilled labour migration from non-EU countries by about 60,000 a year, roughly doubling the figures in 2019.
The German solar and storage sectors are also affected by labour shortages and therefore has been looking for talent from around the world. For example, PV Tech reported that BSW signed an agreement with the Indian Skill Council for Green Jobs (SCGJ) to integrate skilled workers from India into the German PV industry. 
"We are working on the curriculum and a pilot programme to offer them practical experience in our member companies. (We also have) partnerships with a dozen countries spanning from Mexico, the Middle East and North Africa, Africa and APAC," BSW Solar added.