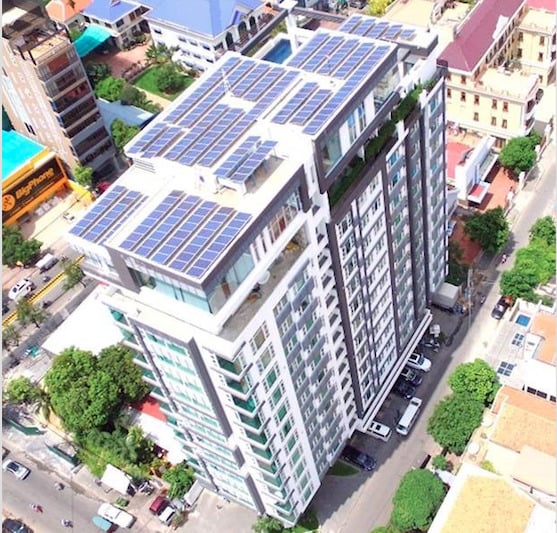 At the end of 2017, the Electricity Authority of Cambodia (EAC) asked the industry to give feedback on a draft regulation for solar, a sector that until then had been completely unregulated. There were fears that certain rooftop PV segments could be made illegal, but the draft did not mention low voltage (LV) users, leaving some level of industry optimism.
Subsequently, the official solar regulation published in February this year allowed only for medium voltage (MV) and high voltage (HV) solar customers to connect to the grid, and only under certain conditions. Meanwhile, grid-connected LV customers were not allowed.
When it comes to off-grid situations, solar is still allowed under the regulations.
Jeroen Verschelling, chairman and co-founder of Cambodia-based solar firm Kamworks, which has been active in the country since 2006, told PV Tech that it is the C&I sector that has been most affected by the ban since residential solar has yet to proliferate in the country.
However, Verschelling also noted there is still uncertainty around a new solar tariff. State-run utility Electricite Du Cambodge (EDC) is looking for a higher tariff to make up for any revenue lost to solar generation replacing its own power offering. The industry is still waiting be notified how high that tariff will be set.
Nodira Amd, programs director at Nexus, a Southeast Asia-based finance and network organization, also said it was not clear if the regulation on LV systems was retrospective, so one cannot be sure what will happen to the already installed LV systems. She added that the government is now working on the electricity tariff scheme and capacity charge for MV and HV consumers with or wishing to install solar, but with no particular timeline.
Nexus for Development works with many SMEs, particularly small home-owned businesses wishing to install solar, and Amd said that many of these customers are now on hold due to the ruling against LV grid connections.
On the other hand, Amd noted that Nexus sees strong demand for its financial product in off-grid areas. Even though Cambodia is aggressively expanding its grid to rural villages, targeting 100% electrification of villages by 2020, and 70% of households by 2030, there are still plenty of off-grid areas with solar opportunities in the Southeast Asian country. Amd said Nexus will target such customers for now, while it waits for the government's next action on small-scale systems.
The industry will be hoping for a relaxation of the regulation on LV systems, but this will require an ongoing conversation with the authorities over the coming year.
Anxious EDC
Perhaps the most obvious reason for EAC making its ruling against LV systems is that the utility EDC is nervous about new forms of generation coming online.
When the regulation was still in the draft stages, Pradeep Tharakan, senior energy specialist, Asian Development Bank (ADB), said that EAC had been worried about the proliferation of rooftop without adequate controls, grid codes and installation standards. It was also concerned about the effect of solar on EDC's business.
Tharakan suggested that there is a need for new business models for rooftop solar that give some benefit or incentive to utilities so that they feel less under threat.
Shawn Er, partner at International law firm, Watson Farley & Williams, noted three major concerns for developers of rooftop solar:
They must ensure they have the necessary building/zoning permits to install the PV equipment to the rooftop and to ensure that – upon installation – they do not inadvertently and unintentionally create proprietary rights to the equipment in favour of the building owner
The developers have sufficiently adequate rights to use the relevant rooftop duration of the PPA (or the lease term – if the solar solution is structured by way of a leasing model)
Their personnel must have timely access to the relevant rooftop for installation, ongoing maintenance and decommissioning
Watson Farley & Williams, in a recent industry note, said that Cambodia has superb solar irradiation levels and high existing electricity tariffs ranging between US$0.14-0.19/kWh in Phnom Penh and up to US$0.25kWh in more rural areas, which should help drive solar. The law firm also said that Cambodia has several minigrids as well as mini-utilities that operate under a franchise system with EDC and that the operators of these mini-utilities could also represent strong opportunities for solar development.
Looking at the utility-scale market, the law firm said that developers will need to navigate several land rights-related issues. For example, ownership of land by foreign investors in Cambodia is generally limited to 49%, meaning that foreign developers need to obtain local partners if their intention is to own rather than lease the solar project site.
Overall, there has been some progress in PV. For example, Kamworks and others have already built many hundreds of solar rooftop installations and Singapore-based clean energy firm Sunseap achieved financial close on its large-scale 10MW project at Bavet City in May last year, with support from ADB. Part of the capacity from a 100MW solar park is also due to be tendered this year, again with ADB support.
Extra comment from Shawn Er added.