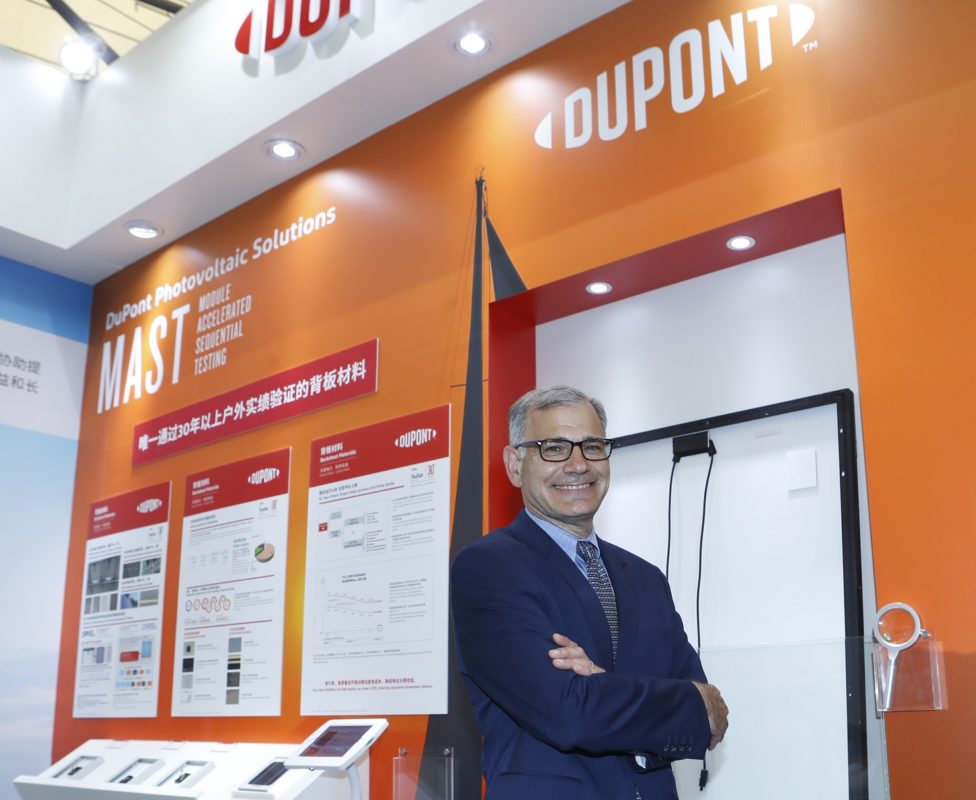 DuPont prides itself on being slow. That is to say, the slow and deliberate validation of the new materials it makes available to the global solar supply chain. To mimic behaviour in the field, the company runs proper sequential testing. It takes time but it is what's required to have confidence in its materials lasting 30 years.
But as the diversity of cell and module architectures continues to expand, it is now undergoing a change of tactics to make it easier to respond to any necessary tweaks without going back to the drawing board on validation. While the company is openly, and proudly, conservative, there is a more nimble operator beneath the surface as it matches its customers' varied requests. Speaking at the recent SNEC exhibition in Shanghai, Ethan Simon, CTO of DuPont Photovoltaic and Advanced Materials says half the paste products sold in any given year have been developed in the prior 12 months.
"That just goes to show you the pace of change that we're at today," he adds.
The company is faced with two seemingly conflicting facts; the pace of change in the solar sector, and its commitment to not rushing its new releases. The answer, according to Simon, lies in a pivot in the firm's research priorities.
"We're seeing an increased amount of effort looking at different cell types, which leads to the need for more customisation, particularly in front-side paste. So while we've always invested in research to understand how things work, we're increasing our emphasis on understanding the basics of how the raw materials come together to make a good product and how they come together with different customer processes to make an effective cell," says Simon.
Tedlar time machine
As the sector matures, the potential impact of products and materials that have perhaps undergone less scrutiny is beginning to bite. Simon argues that with Tedlar, his company has a major advantage over competing backsheet providers.
"We're lucky with Tedlar materials, we basically have a time machine, because they have been in the field for over 30 years. So we can develop a test and compare it with the field results to be sure the test is mimicking what happens in the field. We're lucky to be able to have such strong confidence in our testing. For example, we have white backsheets that have been in the field for more than 30 years and a transparent backsheet that's been in the field for 18 years as a BIPV install. Using our time machine concept we have been able to evaluate our newer product concepts and also do comparisons with other materials. This is why we have a strong belief that not all the materials being used in the industry will hold up for the long term and the failure will represent an expensive proposition." Essentially, DuPont's "time machine" makes the company more responsive but the modifications it develops don't diminish the veracity of those rigorous performance tests.
Worryingly, Simon is seeing extensive evidence of these failures right now.
"We have examples of the failure of polyamide backsheets in the field, that's well documented. Last year and this year we have been seeing an increasing number of failures of PVDF in different regions. Recently we found one particular field that provided a controlled comparison: we couldn't have designed the experiment any better. The field had about 40,000 modules, half with polyamide backsheets, one quarter with PVDF backsheets and the rest with PET backsheets and Tedlarbacksheets. After six years, the Tedlar is fine but all of the PVDF backsheets are cracking and all the polyamide ones are failing as well.
"Now the field owner is replacing these modules. We're developing data now about the true cost of having to do these replacements. It's not just the cost of the modules: it's the labour of doing the change as well as power loss due to unexpected delays. In this field the weather turned bad after the modules were removed so there was a delay in refitting them, resulting in a loss of revenue from power generation. In multiple climates and multiple regions, we're seeing PVDF failures. The failures happen sooner where there is more extreme thermal cycling, such as in deserts and high altitudes. The industry is going to have to grapple with this situation."
Transparent backsheet update
SNEC marked one year since DuPont's transparent backsheet was launched for standard framed modules. Since then JinkoSolar has launched its Swan module range, which took home an Intersolar Award prior in May.
"We're even more excited about the prospects of our transparent Tedlar backsheet than we were a couple of months ago," observed Simon, adding that more companies are lined up to use the technology.
"We're also working with several other module makers who are assessing this product."
While the weight benefits and associated labour savings of a one-person lift are fairly easy for an EPC to quantify, reliability is another concern for the glass/glass structure as the acetic acid generated from encapsulant degradation can not be released through the backside glass, leading to delamination found in many field inspections of glass/glass modules. DuPont is still working to build data on performance improvements with an anticipated temperature coefficient advantage over glass-glass bifacial modules.
"It is going to take some time to develop that data, we hope to have some results by the end of the year. We need to collect the data, get the statistics and go through a number of seasons as well. e We can't just cherry-pick data from the summer," says Simon.