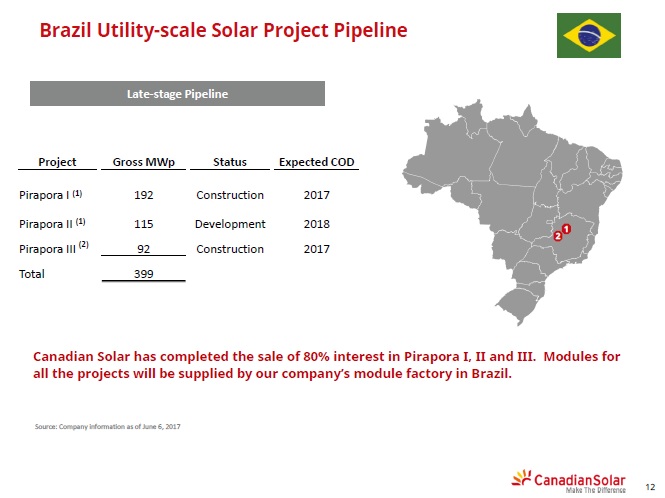 'Silicon Module Super League' (SMSL) member Canadian Solar has said that EDF Energies Nouvelles (EDF EN) has acquired an 80% interest in its 115MW Pirapora II PV power plant project in Brazil.
EDF EN has partnered with for two of our three of Canadian Solar's projects planned in Brazil as part of auctions undertaken in Brazil last year. Financial details were not disclosed.
The Pirapora II project, which is located in the state of Minas Gerais in Brazil, was awarded a 20-year Power Purchase Agreement in the first Reserve Energy Auction and is expected to start construction in the fall of 2017 and reach commercial operation in 2018.
Canadian Solar noted that in October 2016, EDF EN do Brasil acquired 80% of its 191.5MW Pirapora I project, also located in Minas Gerais and adjacent to the Pirapora II project, providing a combined 306.5MW that constitutes one of the largest solar energy projects to date in Latin America.
Dr. Shawn Qu, Chairman and Chief Executive Officer of Canadian Solar said: "The investment by EDF Energies Nouvelles in Canadian Solar's Pirapora II project is another testament to the quality of Canadian Solar's project pipeline in Brazil. We have now partnered with EDF EN for two of our three projects in Brazil with awarded long-term PPAs, totaling 306.5 MWp. EDF EN is an important strategic partner of Canadian Solar and we look forward to further expanding our cooperation, while we grow our project pipeline in Brazil and other countries."
PV modules for the projects are being supplied from Canadian Solar's 380MW nameplate module assembly plant in Brazil, operated by OEM giant, Flex.
The company has a total of 399MW of 'late stage' PV power plant projects planned in Brazil.