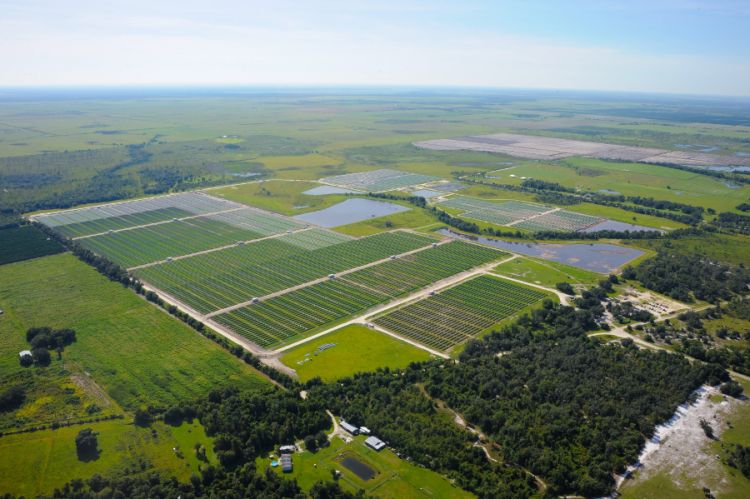 Utility Florida Power & Light (FPL) will develop a further 1.5GW of solar power plants over the next seven years.
These new plants are in addition to the 596MW across eight plants to be completed by 2018.
These plans were revealed in a filing with the Public Service Commission (PSC) from yesterday that laid out the company's 2017-2016 'Ten Year Site Plan'. Altogether, the utility plans to bring online 2.1GW of solar by 2023.
In addition to the new solar, FPL has plans to upgrade its first ever solar power site in Dania Beach, Florida; replacing existing equipment with natural gas technology that will save customers money and reduce the overall amount of natural gas that the system uses.
FPL also reached an agreement with JEA to close down the St Johns River power coal-fired plant in Jacksonville. Notably, the utility reports that its solar projects will outpace oil and coal combined as a percentage of the company's overall energy mix in less than three years.
This is symbolic of the fact that Trump's charge to stifle climate action and energy efficiency is not stopping the industry from following steps to promote clean energy and emissions reductions.
"We continue to advance affordable clean energy strategically – making substantial improvements year after year while keeping overall electric rates lower than they were 10 years ago," said Eric Silagy, FPL president and CEO. "We're currently building some of the lowest-cost solar ever seen in America, and our investments in more efficient natural gas technology are delivering enormous savings and environmental benefits for our customers and our state. Our strategy of making smart, long-term investments in clean energy infrastructure is working, and we're looking forward to keeping the momentum going with the major advancements announced today – which, combined, are expected to save customers more than half a billion dollars."
"FPL's modernization of its Dania Beach facility, which would produce more energy, significantly cut air emissions and reduce the company's overall use of natural gas, is a winner for South Florida. Coupled with the company's commitment to further expand solar power, FPL is helping to establish Florida as a national clean energy leader," added Doug Young, Audubon Florida board member and South Florida Audubon Society chief operating officer.