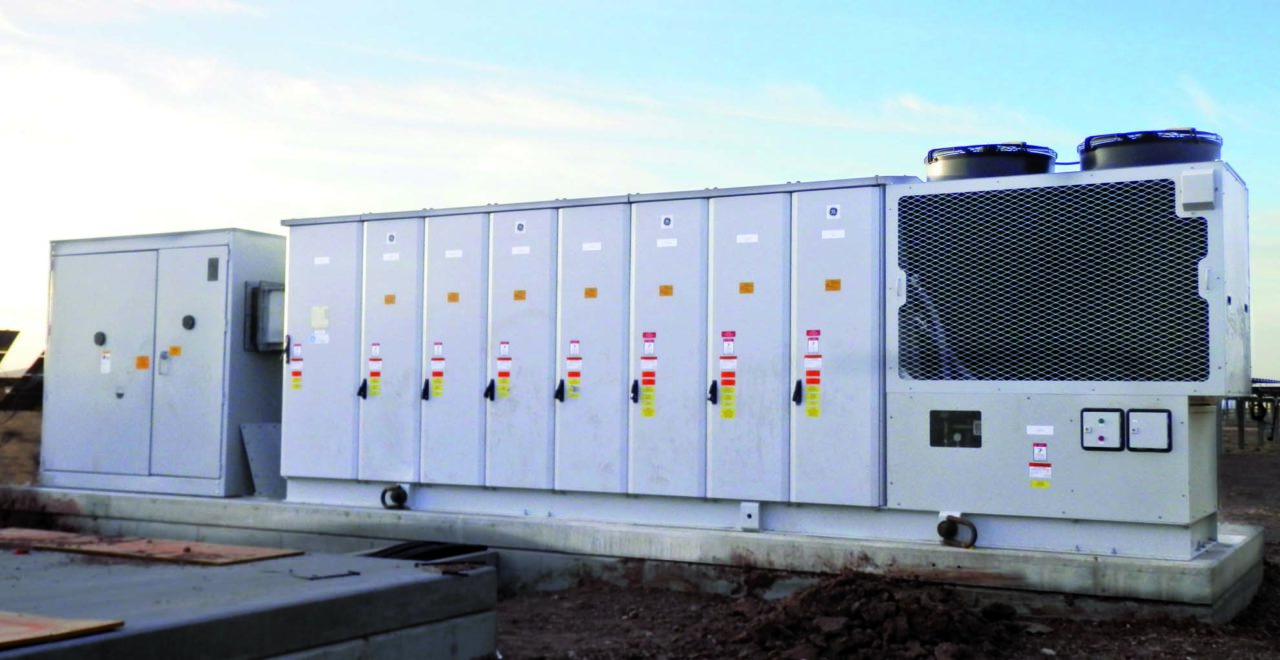 The prospect of a 30MW solar inverter may seem a long way off, but it is very much in the sights of power electronics giant GE.
In a briefing for journalists in London this morning, company executives outlined some of the next-generation technologies GE plans to implement across its fast-growing power conversion business, which encompasses solar, wind and other renewables. Much larger inverters and a shift to silicon carbide technology were both centre-stage in GE's plans.
In solar, arguably GE's most significant contribution to date has been the development of the 1,500V inverter, which is rapidly becoming the industry standard as developers look for technologies that will help them squeeze the most of out their projects. This was underlined by news today that GE has signed a deal to provide its 1,500V inverters for 150MW of projects being built by developer Solargise in India.
But GE wants to go further, and said it expected medium-voltage architectures to be the next development in large-scale solar plant technology, opening up the prospect of much larger inverters.
"The reason we are at 1.5kV is because at the IEC standards, 1.5kV is the limit of low voltage standards and regulations," said GE Power Conversion's chief engineering officer Vlatko Vlatkovic. "In terms of staying in low voltage this is where it's going to stop. But we are looking at higher power, higher voltage architectures now – so moving into medium voltage where we look at a lot larger blocks."
Vlatkovic said GE's largest inverter was around 4MW at the moment, but that at medium-voltage much larger units would be possible. "We'd be looking scale that up into 20-30MW blocks," he said.
Such a development would clearly take time, with the industry only just catching up with the emergence of 1,500V inverters and developing the modules and other equipment to match the higher power.
But Vlatkovic said GE had already developed medium-voltage technologies from its work in other industries that it could apply to solar.
"We would develop the standards, and make sure that the industry adopts those and is able to move to more of a medium-voltage operating code," he said. "In terms of technology, we are using technology from our medium-voltage drives, which is fairly standard technology, and scaling that up."
Peter Oram, GE's global renewables sales lead, added: "We would be using the same technology as we're taking from oil and gas and marine and using it in a solar farm, so you would have solar farms with DC-AC, big inverters of 20-30MW."
Silicon carbide
Another development GE expects to roll out imminently is to replace silicon with silicon carbide technology in all its power electronics products.
"It's being introduced commercially gradually over this year and next year," said Vlatkovic. "It took us 10 years to develop the technology, there's still work going on, but now it's mature enough that we're starting to apply it – first, in aviation and medical industries, and finally now it's starting to make sense in solar and wind."
Vlatkovic said the advantage of silicon carbide over silicon was its ability to operate at higher temperatures with lower losses. "This will further increase the efficiency of the converters, reduce the losses by half, increase the power density by close to 50% and continue to drive the cost of the electricity down by 2, 3, 4% in both wind and solar," explained Vlatkovic.
"So there's a long runway for continued innovation to drive the cost down and the efficiency. It's a very exciting time to be in this space, and we expect to continue to innovate," he concluded.